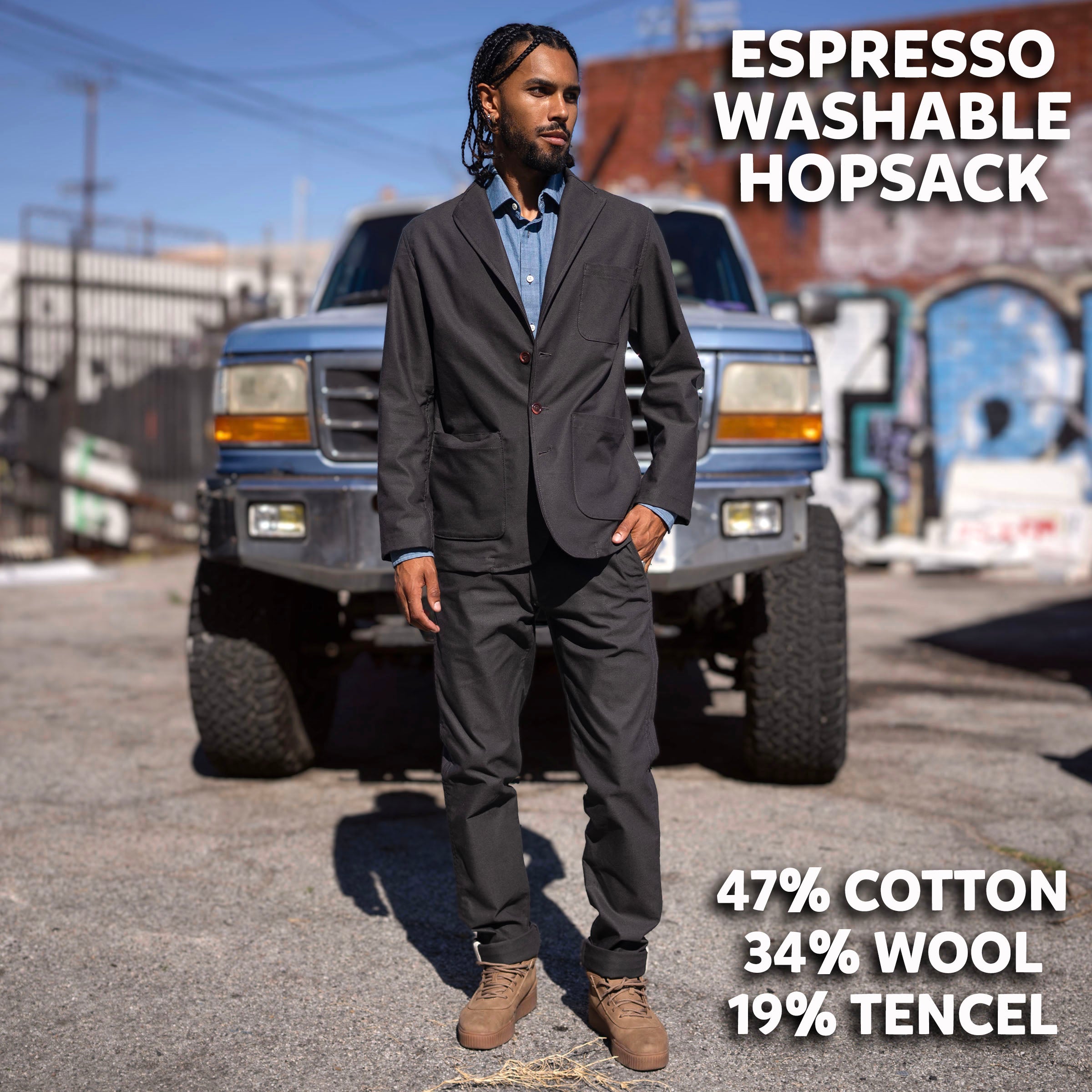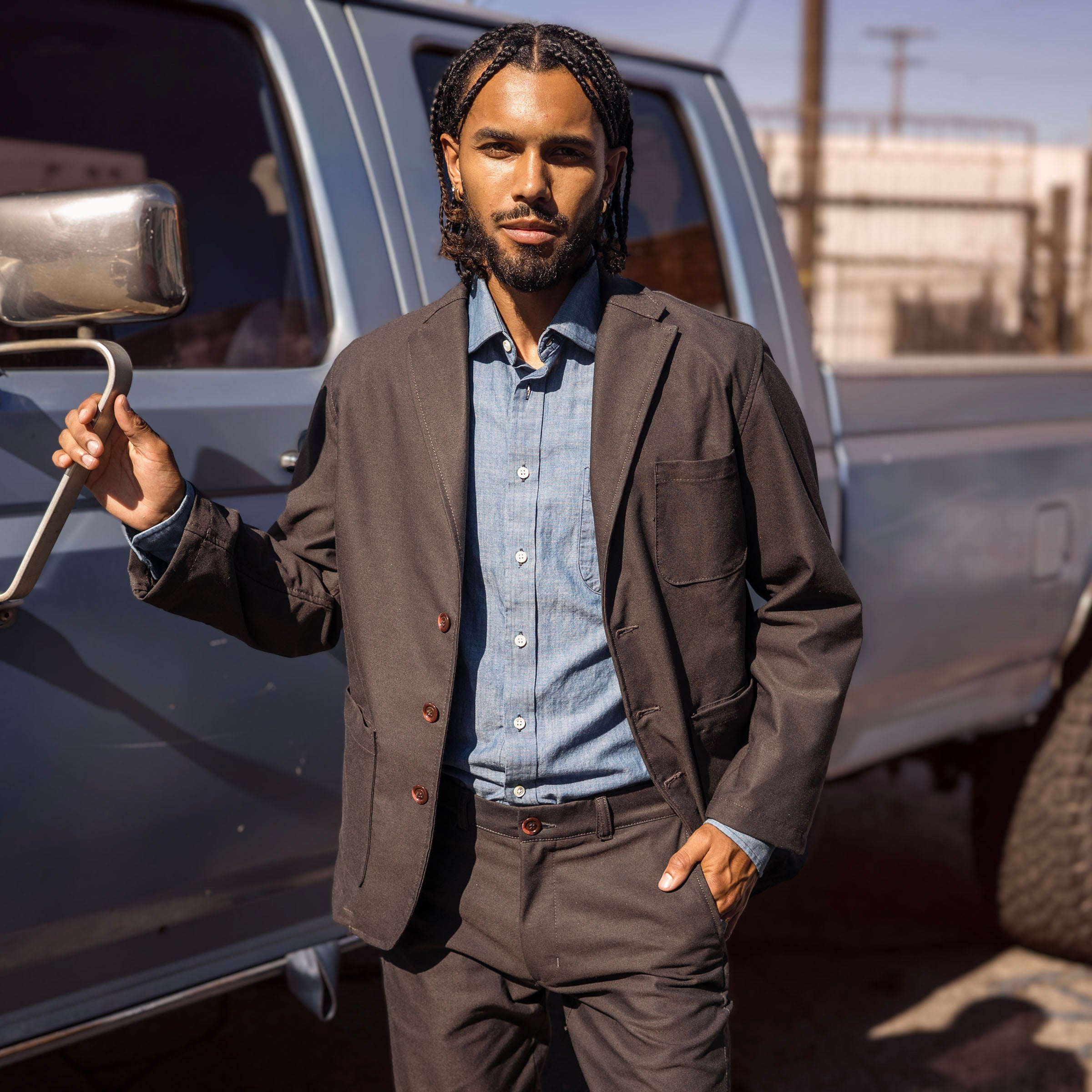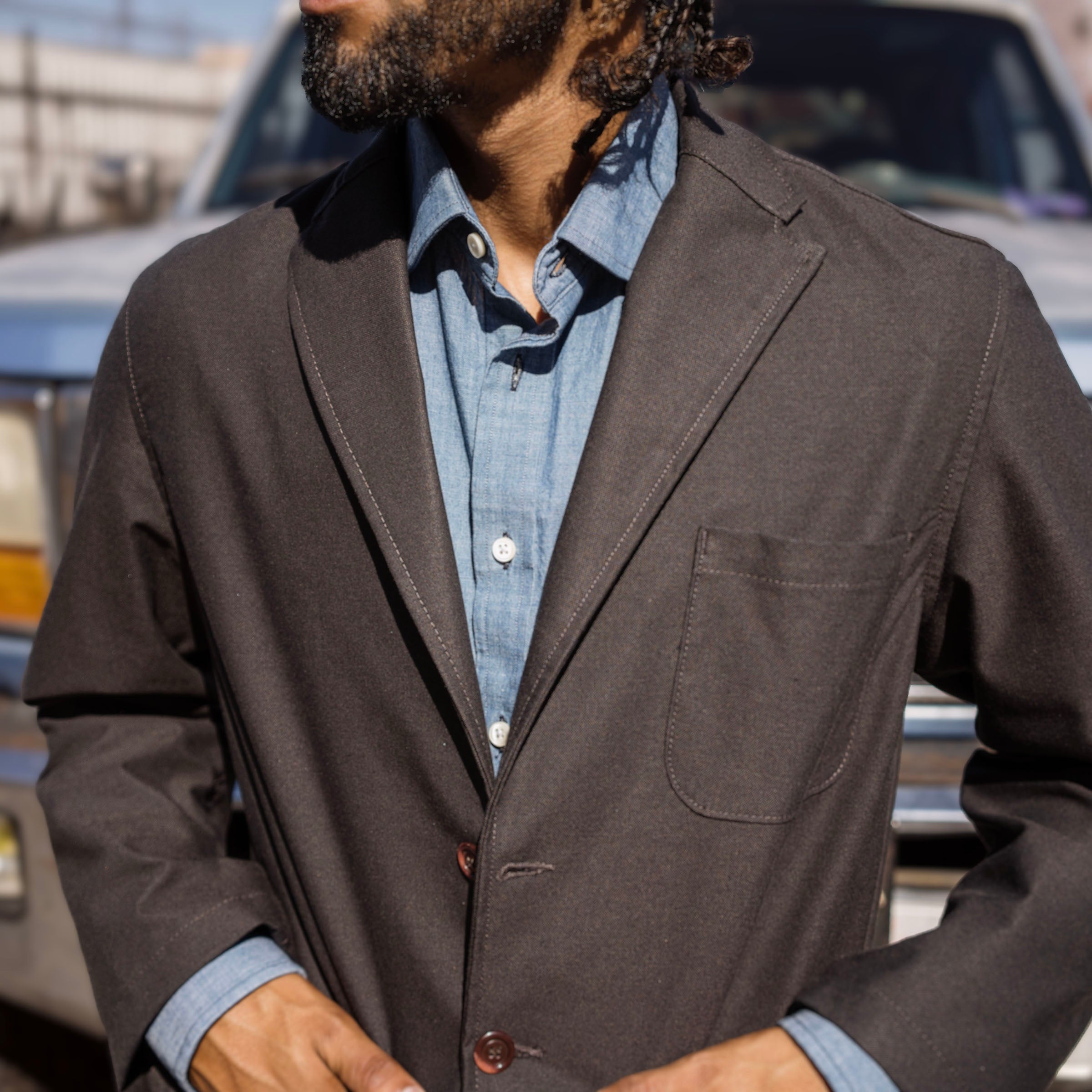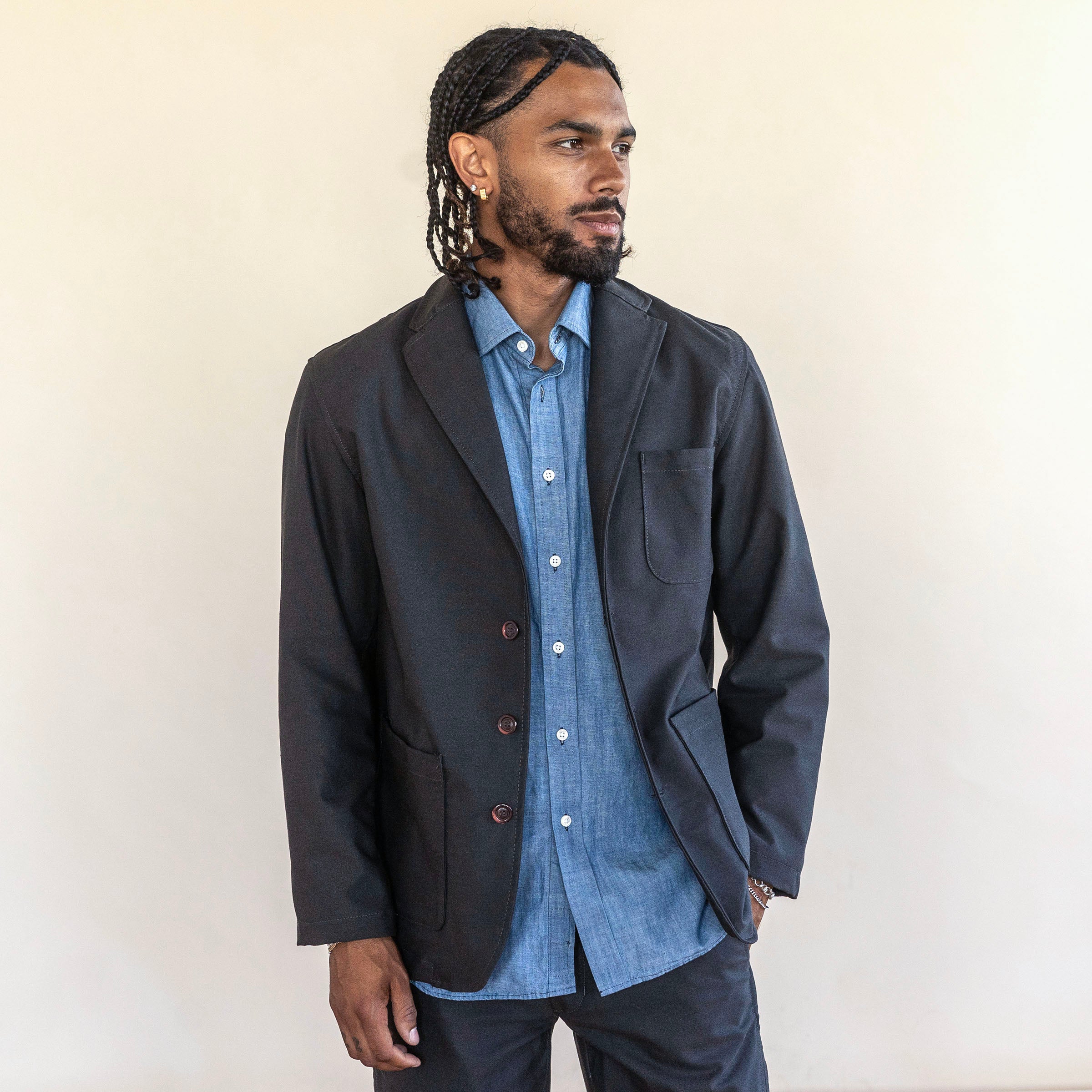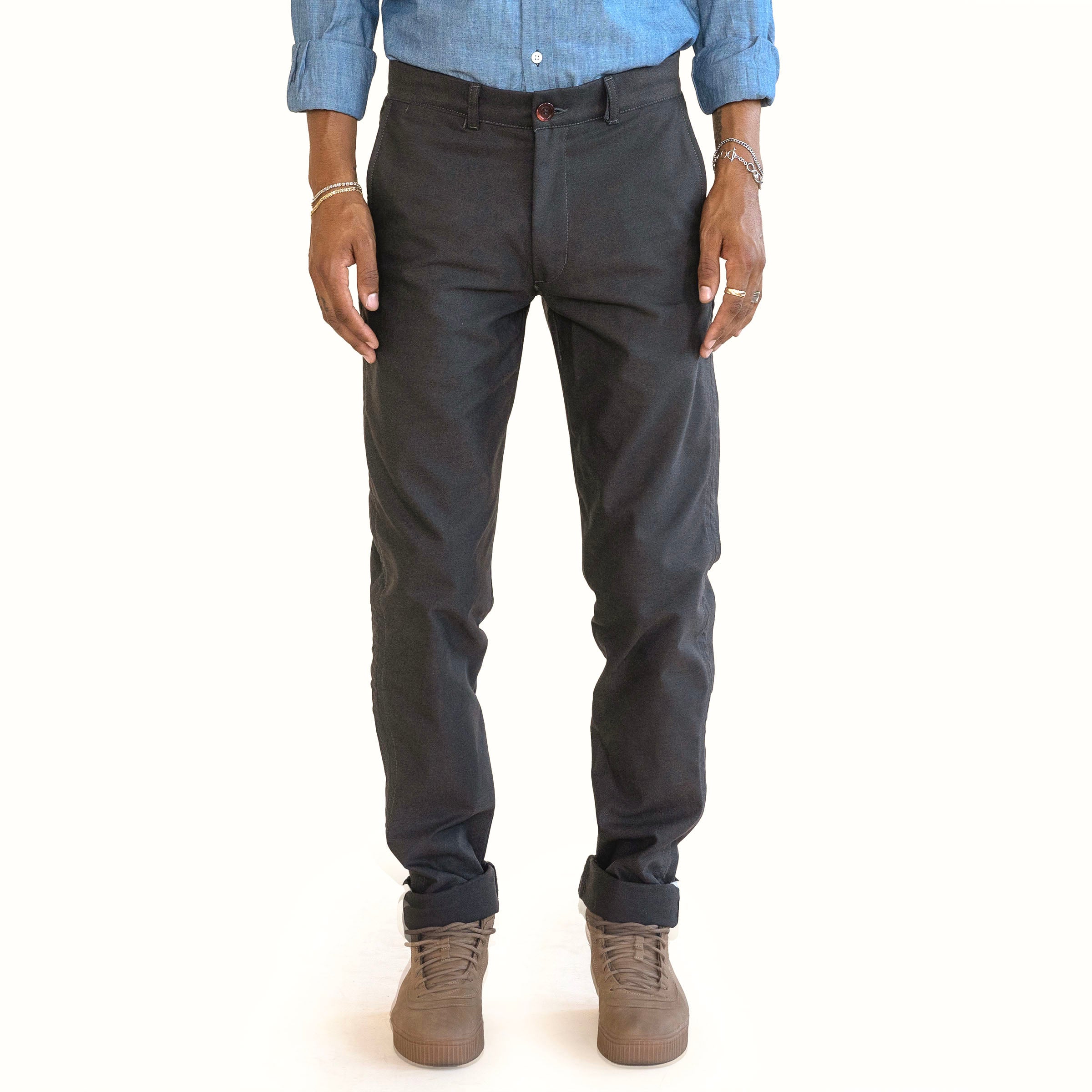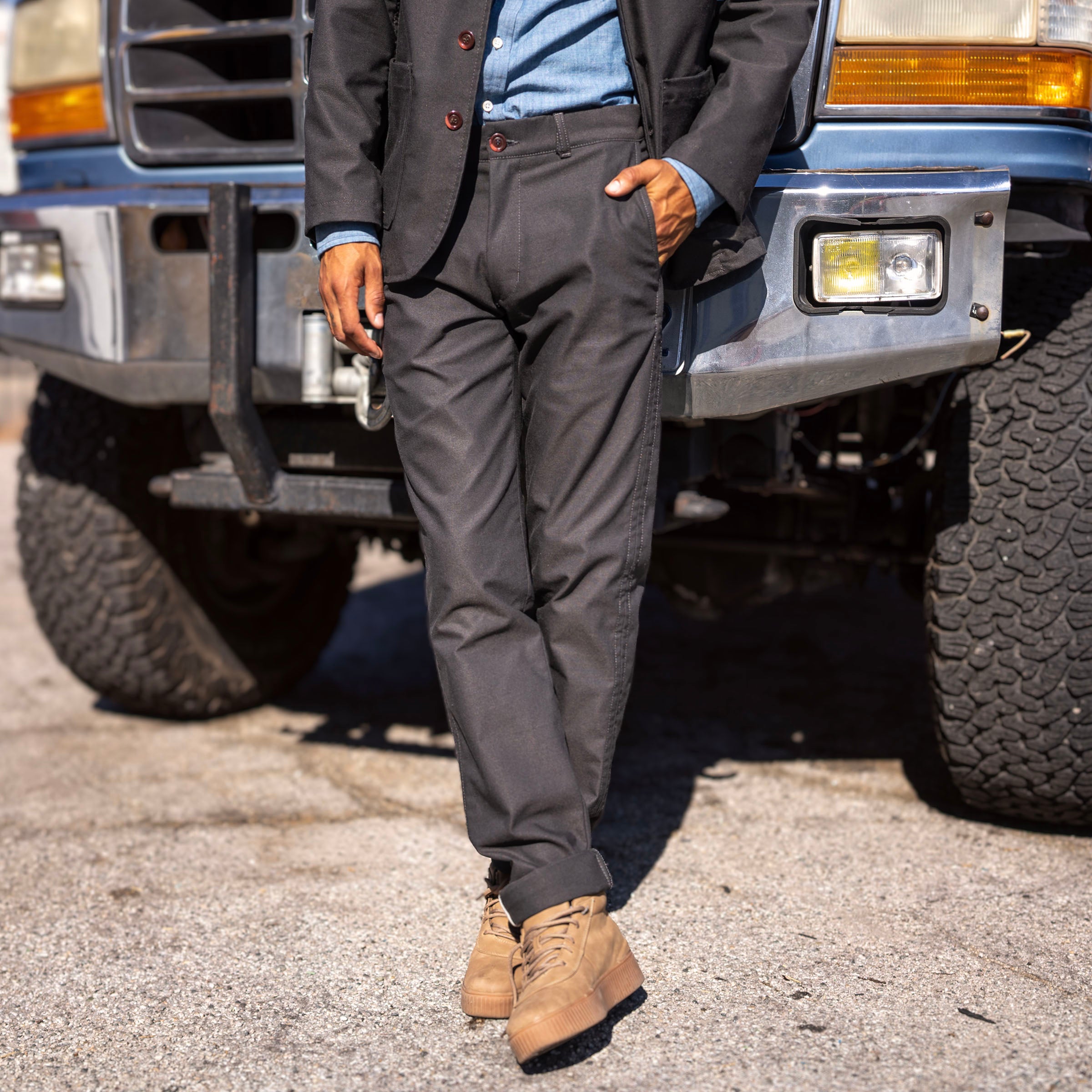 Casual Suiting in Espresso Washable Cotton/Wool Hopsack
---
 This is a pre-order project with delivery in October. All sizes are available to order, and all sales are final. 
Scroll down for detailed measurement charts for all garments. Use the chat function of this site if you require any assistance with sizing. 
To order: (1) select your shape, and (2) select either your sportcoat or pant size from their corresponding dropdown. If you want both the sportcoat and the pant, please repeat this process as second time. If you are only ordering one shape, there's no need to specify your size for the other shape. 
---
The second I saw this fabric, I knew that it would make for a perfect casual suit. The official name is "Essex Hopsack," and it's a comfortable blend of cotton, wool, and Tencel. 
The weight is 9oz, so it's wearable year round. These three fibers work nicely together.. the cotton is breathable, the wool gives it structure and drape, and the Tencel offers a soft hand and a smooth top finish. 
The color is a really handsome espresso brown. This is often one of our best selling tones in custom suiting, so I knew it would make up wonderfully in this casual set. 
The suit works great as a 2-piece, but this items also stand alone perfectly as separates. The jacket is easy to match to grey, navy, olive, and khaki pants. The chinos will underpin nearly any jacket that you want to pair with them. 
It's fully machine washable and I secured this cloth for a great price. This is a tremendous value for a very rare fabric. 
---
Although we will have limited open stock after delivery, preorders will save 25% to 30% off the MSRP. Only limited sizes will be offered as stock. 
This production will be done in single, coherent dye lots. We may offer similar colors in the future, but the only way to ensure a perfect color match for multiple garments is to order them together via this project.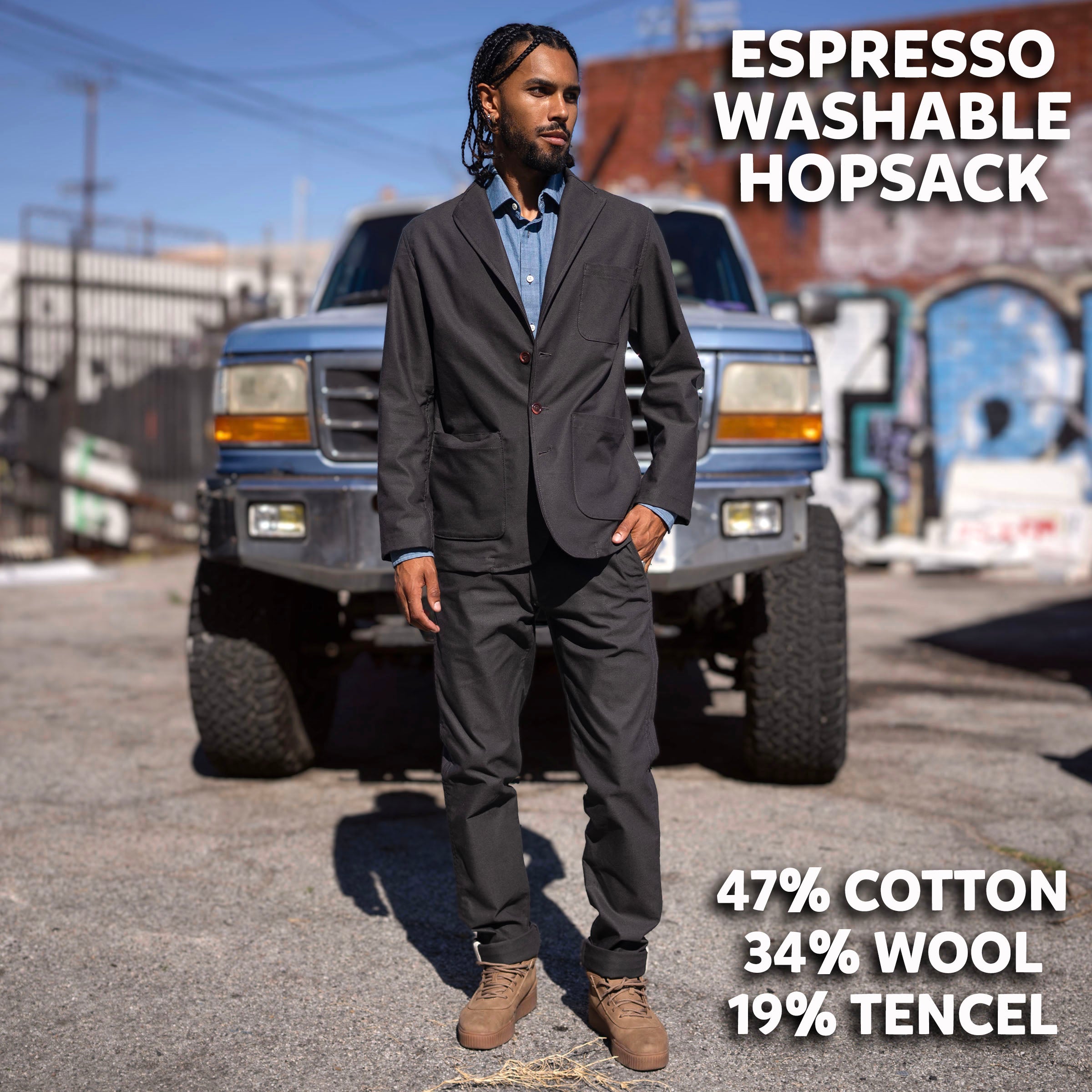 Casual Suiting Separates to Mix and Match
They work great together and on their own. They're easy, versatile, and machine washable.
Coordinated Essential Pieces
Our unconstructed sportcoat and our best-selling chino make for a supremely comfortable casual suit or easy standalone pieces. The fit is tailored, but slightly relaxed for a very current look.
Our fabrics are from coherent dye lots, so they'll match perfectly. They also coordinate nicely with each other, so feel free to pair the Washable Hopsack sportcoat with the Donegal chino. These pieces are meant to work seamlessly within your full wardrobe.
Sinclair Sportcoat
The Sinclair marries refined sartorial details to strong, rugged construction.
It has 3.75" lapels and an elegant front which can be styled as a 2-button or 3-button stance.

It has two-way front patch pockets and a plain cuff finish. This allows for endless variations in styling, and a versatile piece which looks just as good with a tie and trousers as it does with a t-shirt and jeans. 
Rivet Chino
Our signature casual trouser. It has the slim, tapered profile and medium rise of a jean, but the traditional pockets of a pant. The shape has two front hand pockets, two rear pockets, a heavy-gauge zipper, and a hidden coin pocket at the front waistband. 
Natural herringbone taping runs down the interior of the outseam. This detail is revealed when the chinos are cuffed. 
The unlined waistband is pitched for a close, comfortable fit. A chain-stitched rear lap-seam ensures long-term durability.
Sinclair Size Chart (We Recommend to Order Your Usual Doyle Size)
| Size | Chest | Shoulder | Sleeve | Length |
| --- | --- | --- | --- | --- |
| 34 | 19" | 17" | 23.5" | 27" |
| 36 | 20" | 17.5" | 24" | 27.5" |
| 38 | 21" | 18" | 24.5" | 28" |
| 40 | 22" | 18.5" | 25" | 28.5" |
| 42 | 23" | 19" | 25.5" | 29" |
| 44 | 24" | 19.5" | 26" | 29.5" |
| 46 | 25" | 20" | 26.5" | 30" |
| 48 | 26" | 20.5" | 27" | 30.5" |
Rivet Chino Size Chart
| Size | Waist | Front Rise | Back Rise | Thigh | Bottom |
| --- | --- | --- | --- | --- | --- |
| 28 | 14.5" | 9.5" | 14.25" | 24" | 14" |
| 29 | 15" | 9.5" | 14.25" | 24.25" | 14.25" |
| 30 | 15.5" | 9.75" | 14.5" | 24.5" | 14.5" |
| 31 | 16" | 9.75" | 14.5" | 24.75" | 14.75" |
| 32 | 16.5" | 10" | 14.75" | 25" | 15" |
| 33 | 17" | 10" | 14.75" | 25.25" | 15.25" |
| 34 | 17.5" | 10.25" | 15" | 25.5" | 15.5" |
| 35 | 18" | 10.25" | 15" | 26" | 15.5" |
| 36 | 18.5" | 10.5" | 15.25" | 26.25" | 15.75" |
| 37 | 19" | 10.5" | 15.25" | 16.75" | 16" |
| 38 | 19.5" | 10.75" | 15.5" | 27" | 16" |
| 39 | 20" | 10.75" | 15.5" | 27.5" | 16.25" |
| 40 | 20.5" | 11" | 15.75" | 28" | 16.25" |