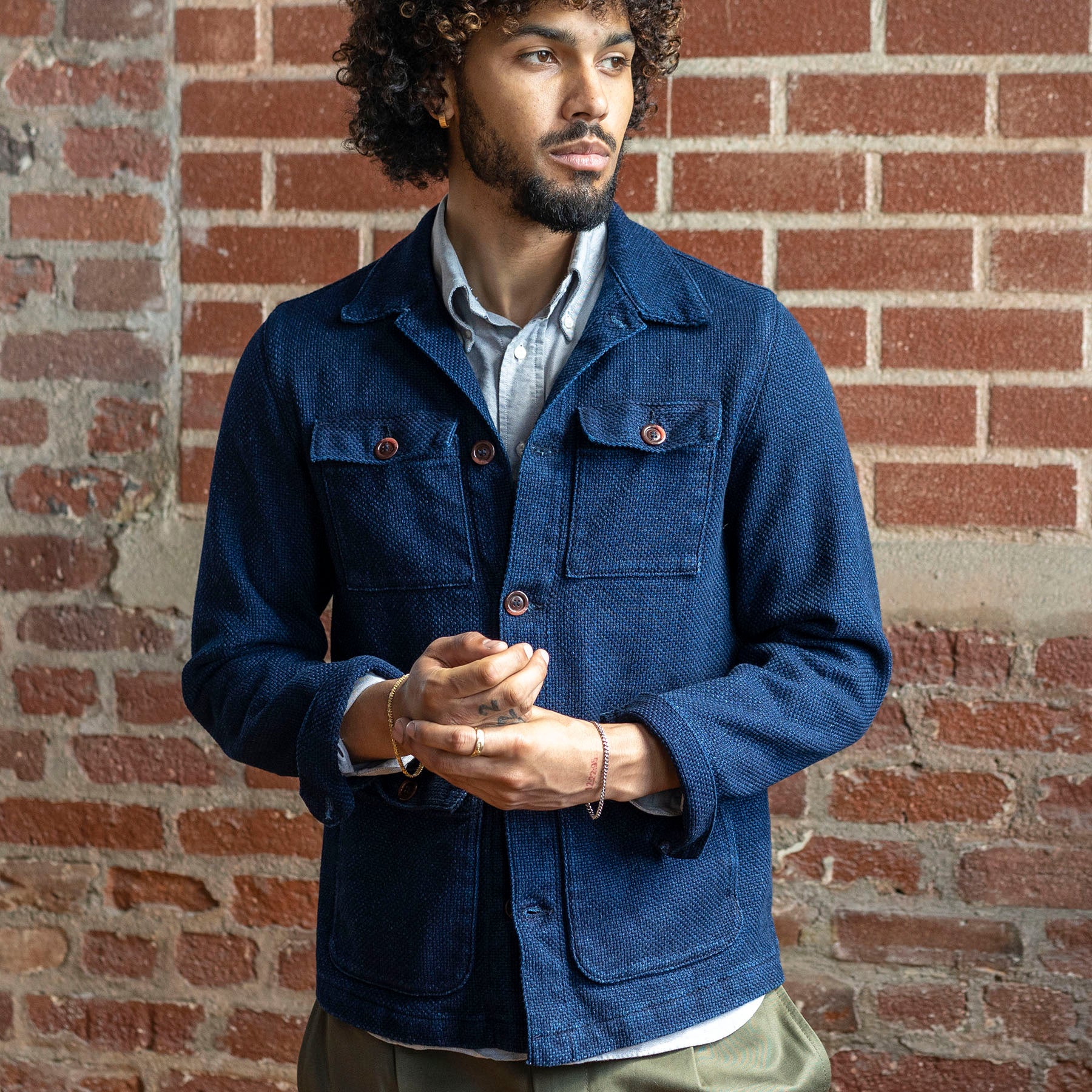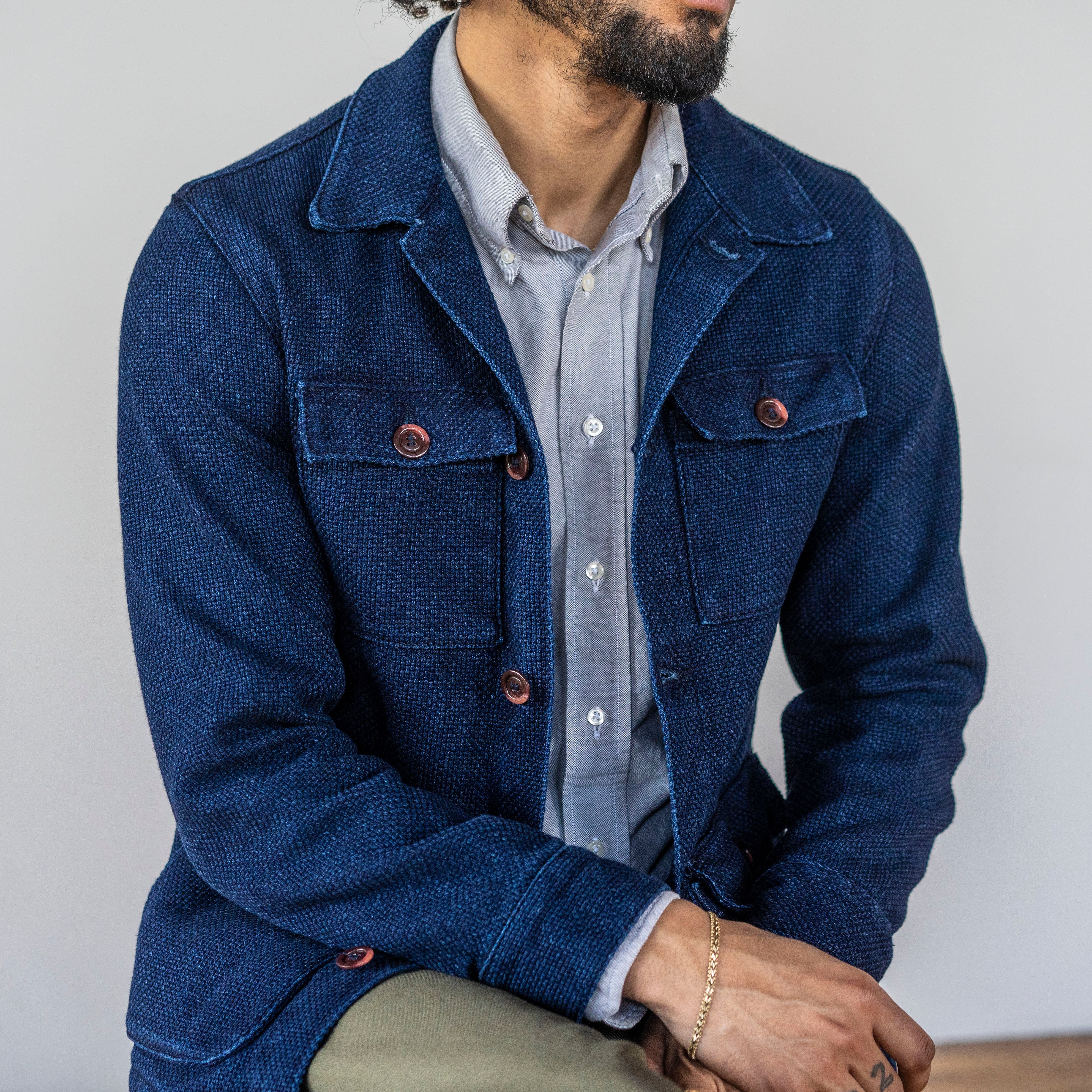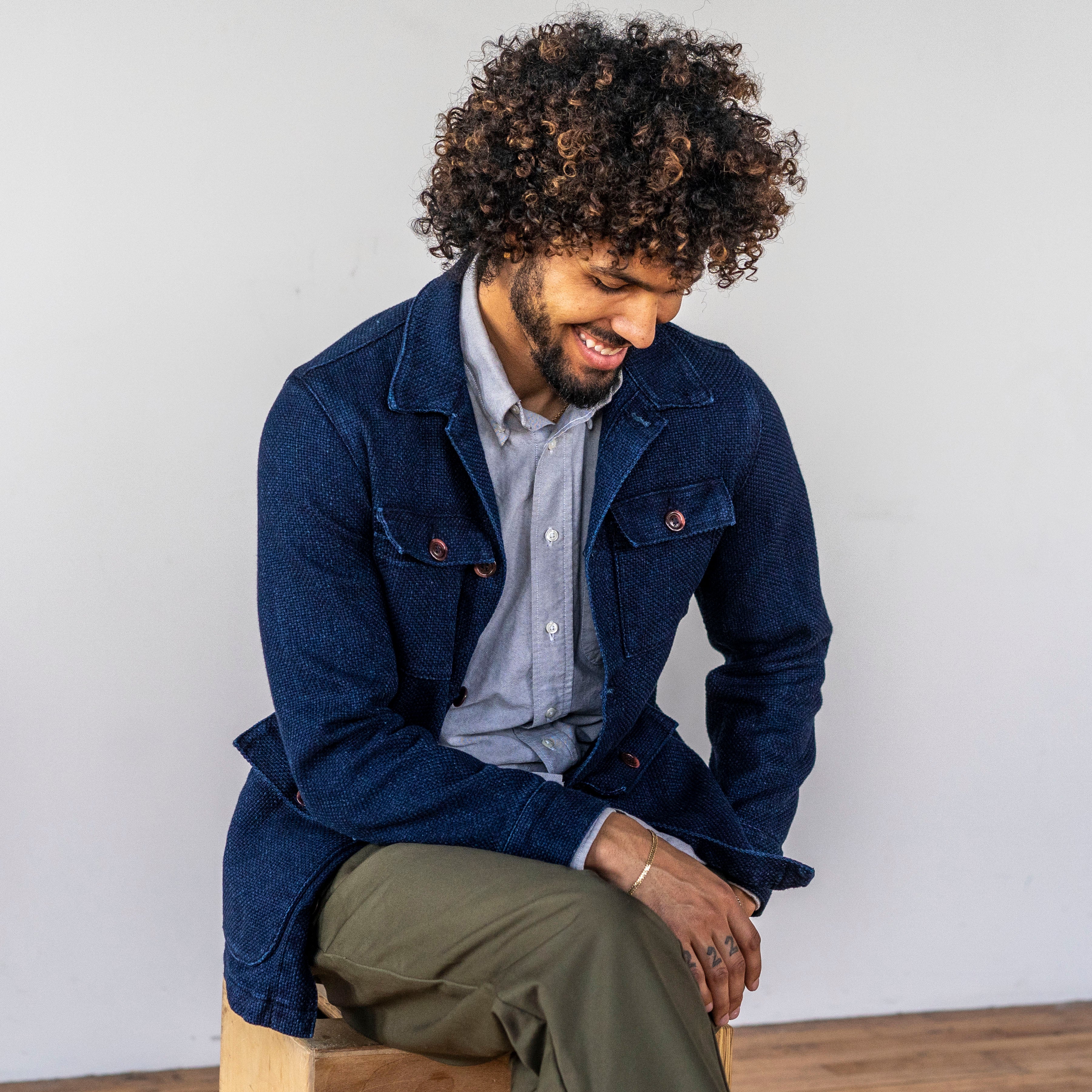 Field Jacket in Rope Dyed Indigo Sashiko Pumice Washed
---
PLEASE NOTE: All markdown items are FINAL SALE. No returns and exchanges can be accepted for these items. 
This Pumice Washed garment goes through a three stage process for aging. It's washed with coarse stones, bathed in an enzyme soak, and then treated with silicone. The result is an authentic light blue patina and gorgeous tonal variations at the seams. These pieces are soft, comfortable, and completely pre-shrunk. 
Compared to the raw Indigo sashiko, these are radically more colorfast, and any indigo bleeding will be minimal. It's a perfectly aged and broken-in piece. 
Milled in Japan, our 13oz Rope Dyed Indigo Sashiko is a comfortable year-round cotton that's designed to fade beautifully with use. Considered the best method for Indigo treatments, our rope dyed yarns are twisted into thick ropes and plunged into repetitive cycles of dye and oxidation. This method saturates the outer fibers but leaves a natural "core" on the inside. As you wash and wear the garment, the surface dye fades, and the inner core shows through, yielding a rich 3-dimensional patina. 
Introduced in 2017, our Field Jacket is a more "outerwear" focused variant of the Doyle.
It has four buttoned flap patch pockets at the chest and evenly splits the vibe of a hunting jacket and a safari jacket. Like the Doyle, the patch pockets at the hips have openings both on the top and the sides.
The sleeves and buttoned cuffs of the Field Jacket are identical to the ones used on the Doyle. The overall sizing and dimensions are the same. The sleeves close with a functional single cuff, and can be unbuttoned and pushed up your forearms. The rear is single vented and the soft top point collar cuts a rakish profile whether open or closed.
Japanese 13oz Sashiko
Our classic pure cotton Sashiko cloth is woven in Japan for use in martial arts uniforms.
Known as Dogi (cloth of the way), this fabric has a thick pique weave with well-defined "rice gain" structure. It allows natural stretch and flexing with movement, it absorbs moisture and stays away from your skin and it gains exceptional tensile strength. Given the large texture of the weave, you can expect a great fade with wear. 
Made in Los Angeles
Each Doyle is made by a handful of skilled operators at our Downtown Los Angeles facility. Every piece is cut and assembled by hand, and their proficiency is evident in the love and care taken with every garment.