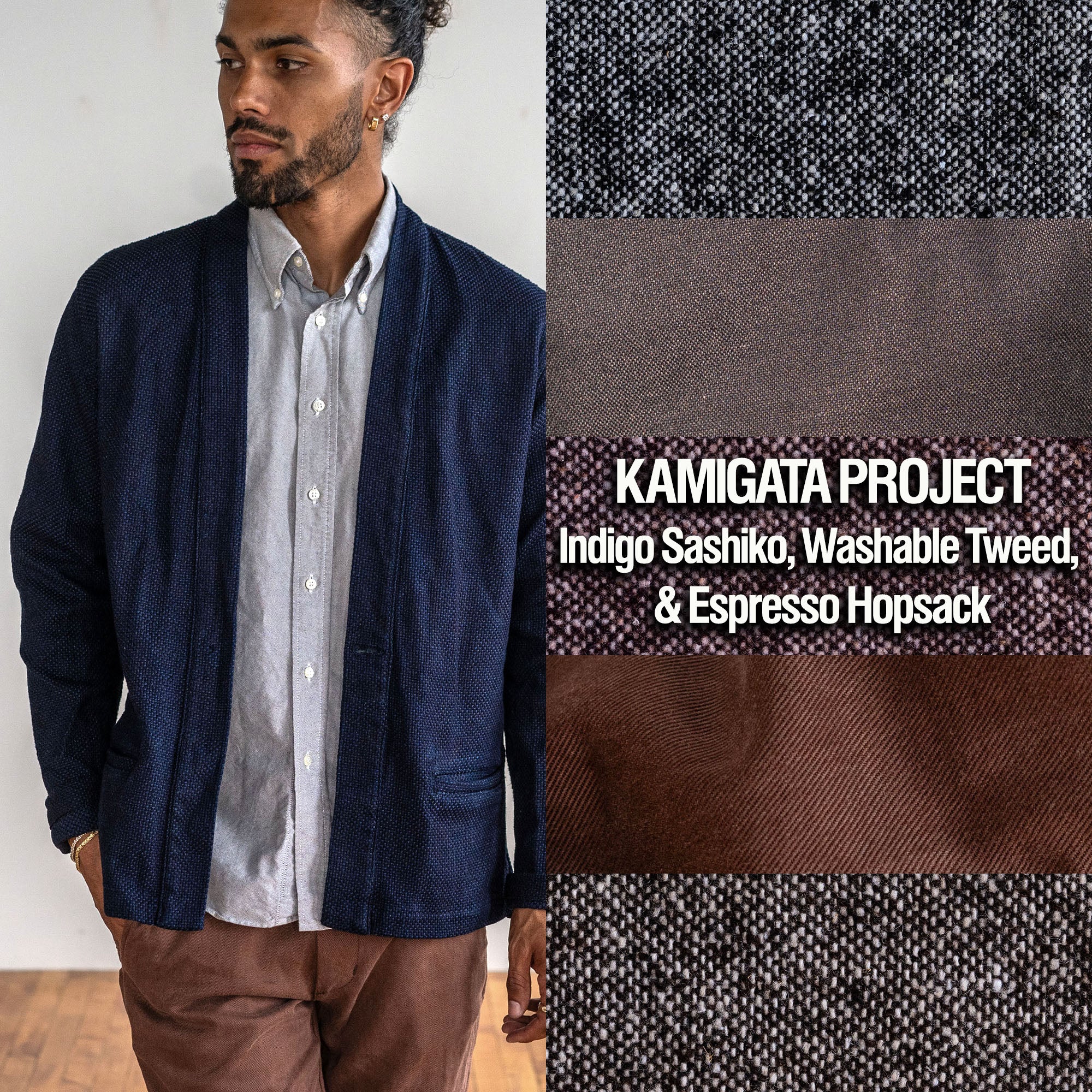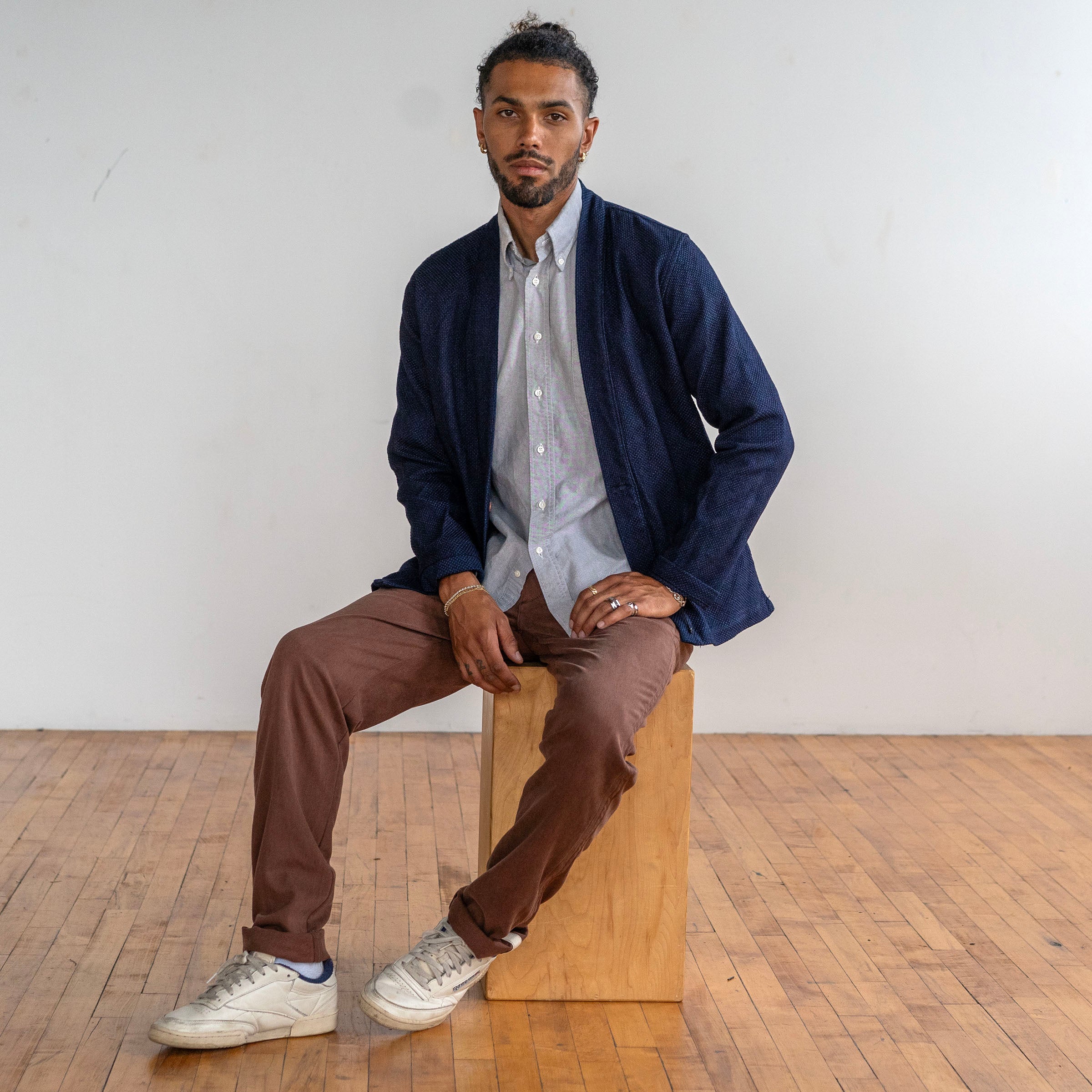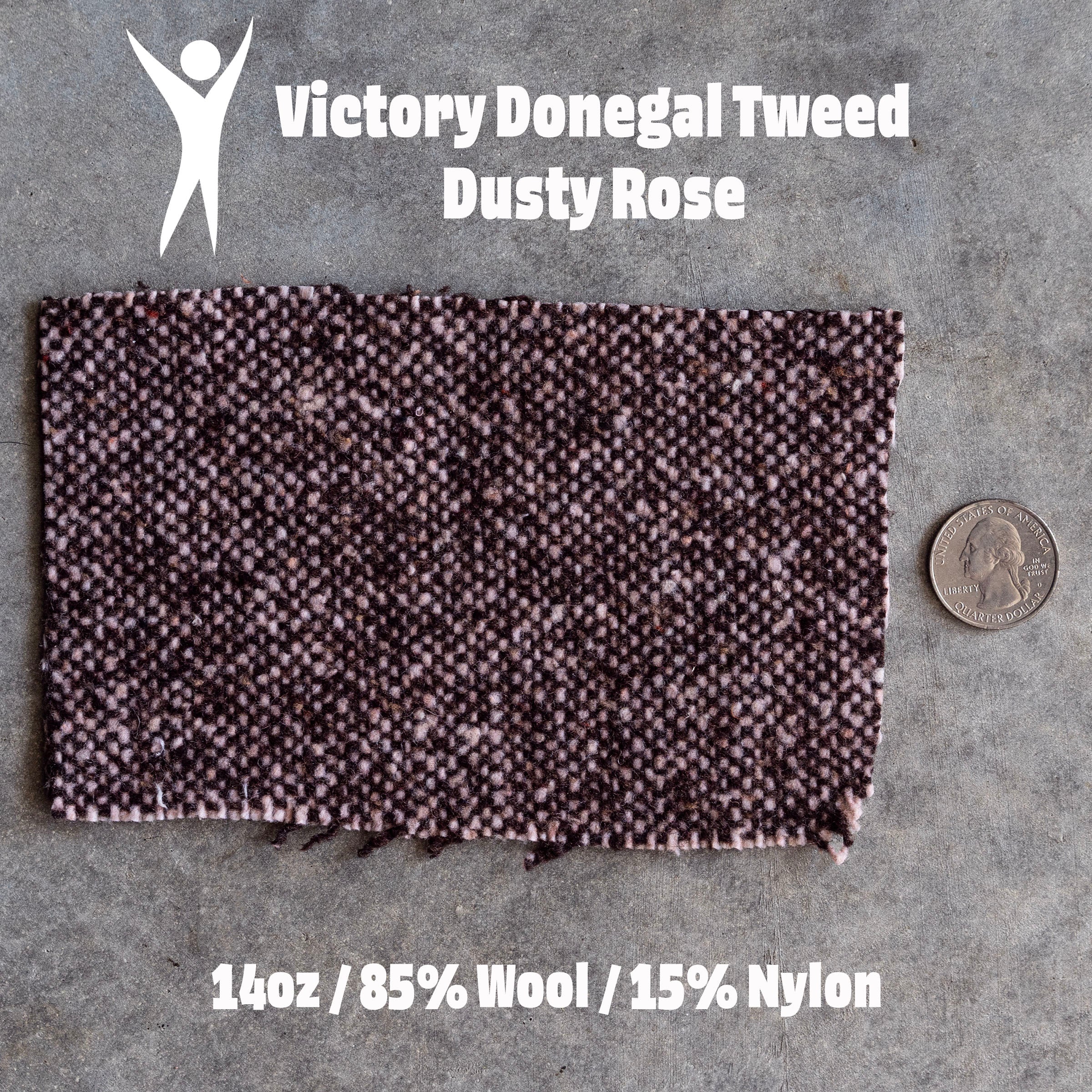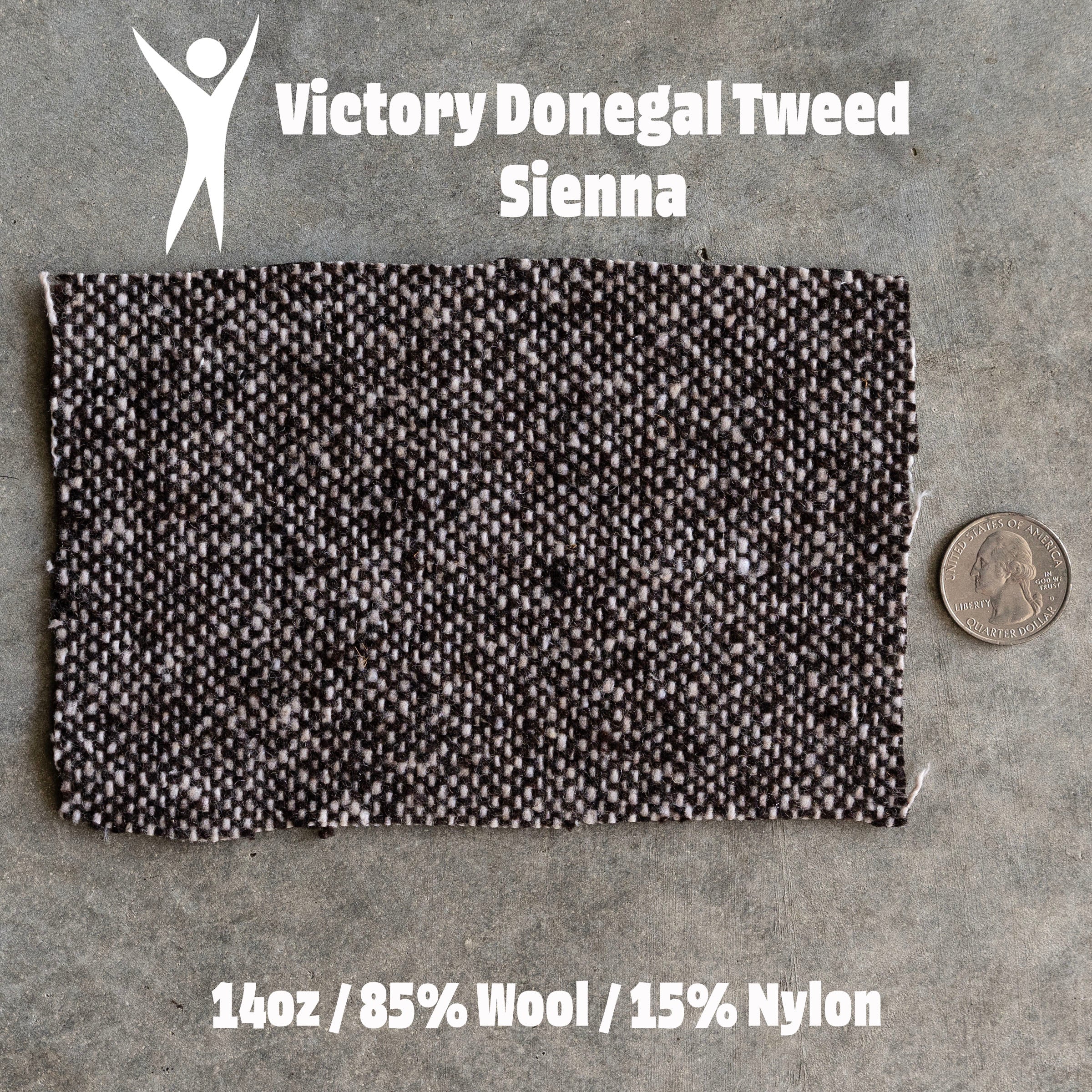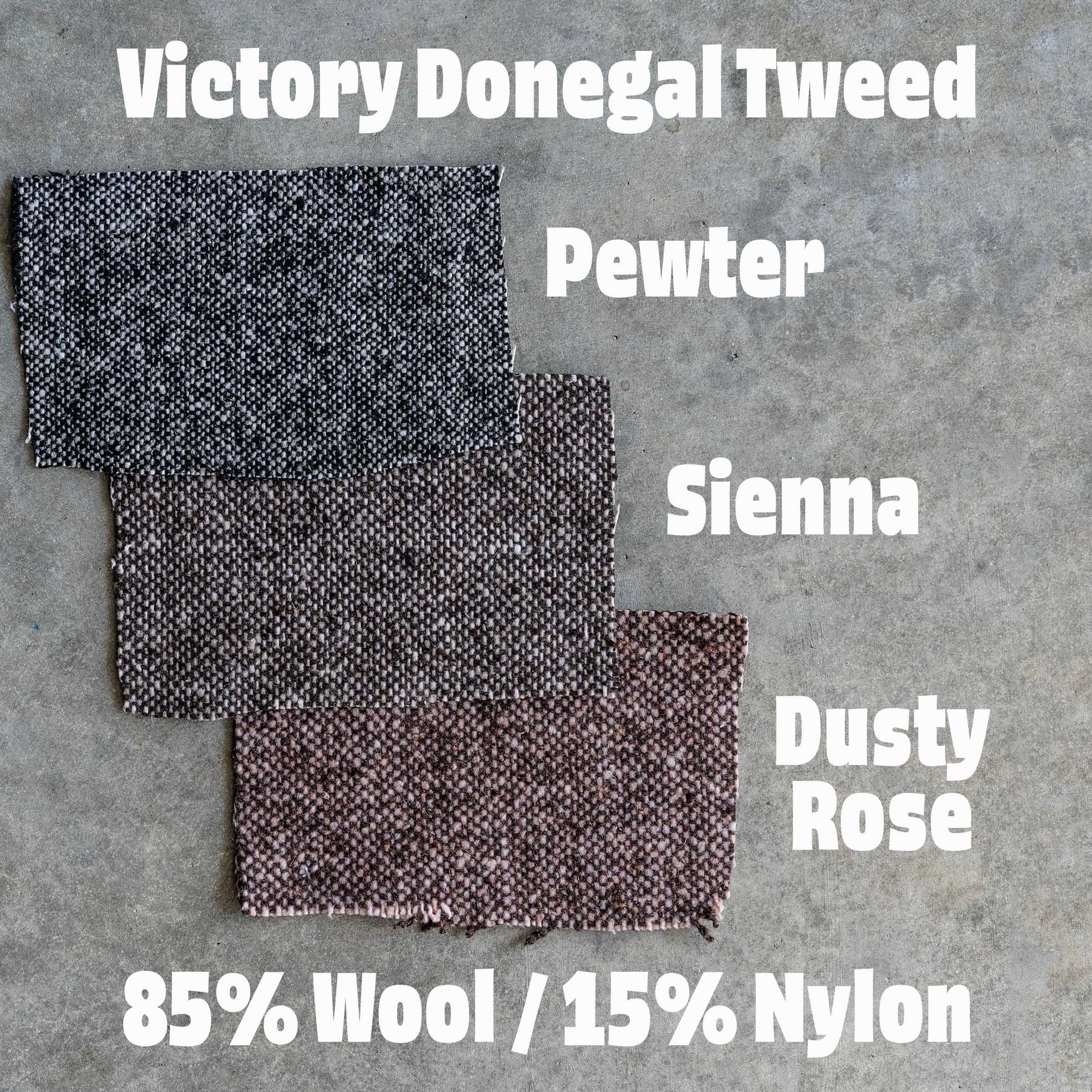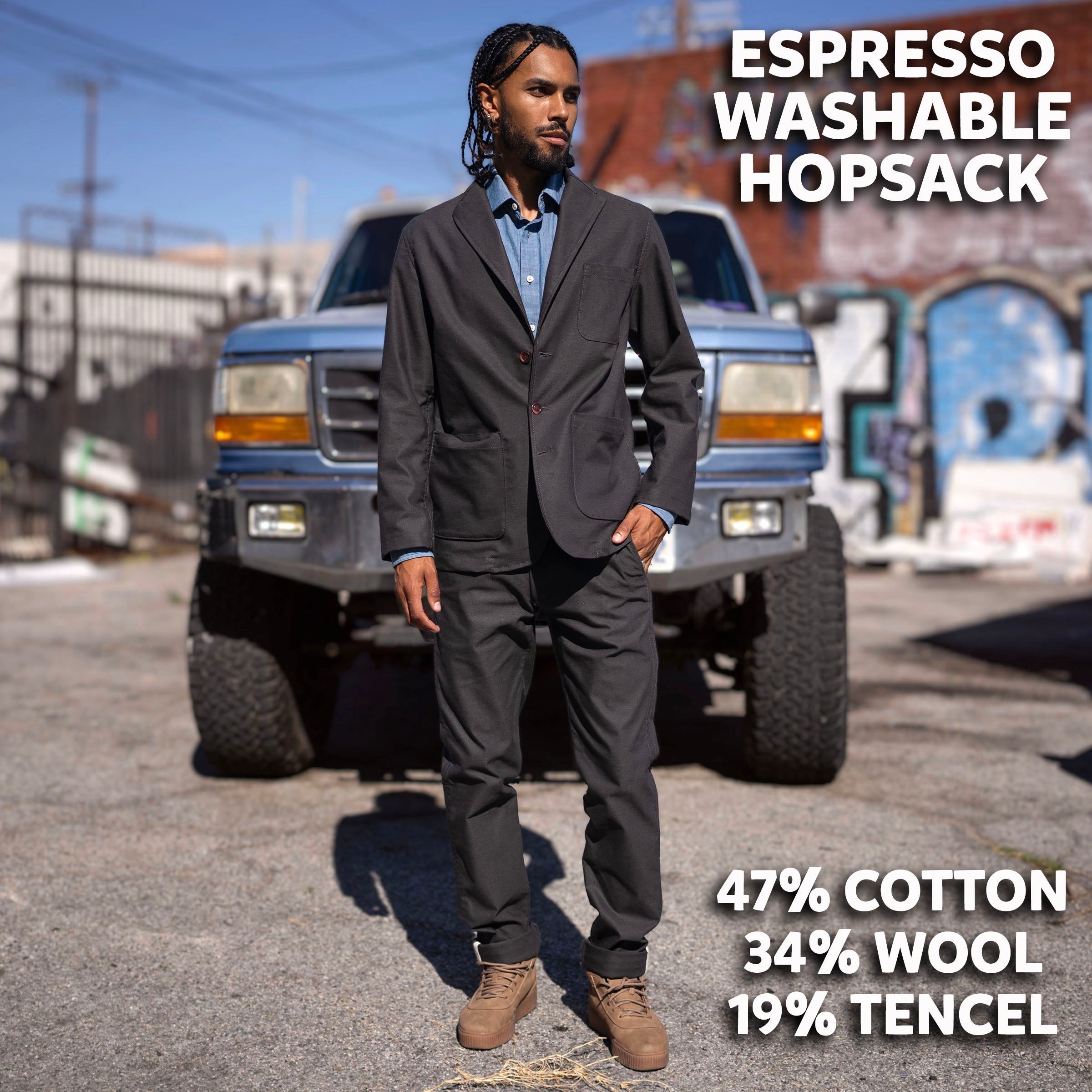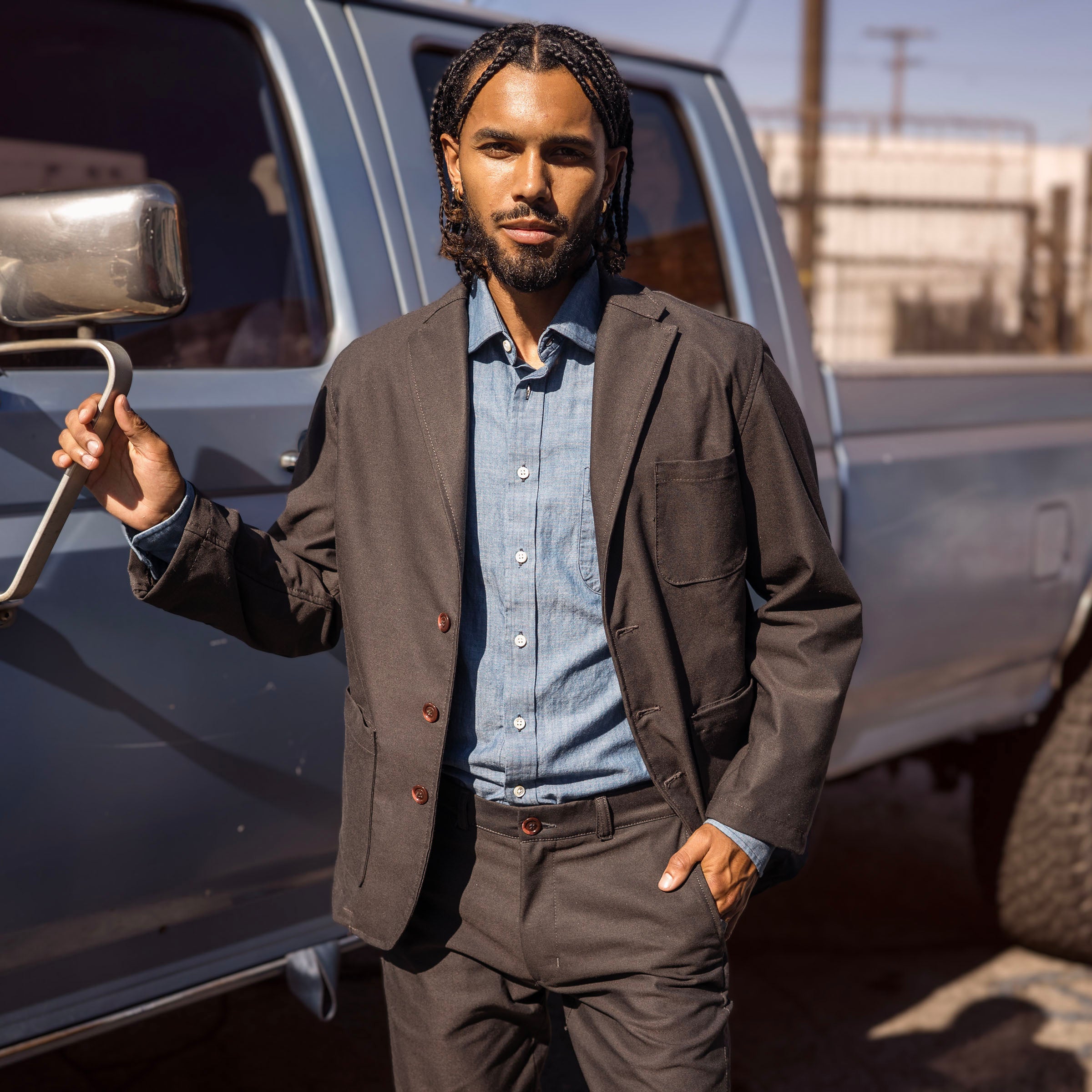 Kamigata Project: Indigo Sashiko, Washable Tweed, Espresso Hopsack
---
This is a preorder project that will ship in October 2023. All sales are final.
Our best-selling and (arguably) coolest piece returns! We're offering our Kamigata Noragi jacket in an incredible range of six beautiful Fall/Winter fabrics! Sizes 36 to 48 are available to order. The finished products will ship in October 2023. Scroll down to learn more about each fabric and view sizing. 

Please note that the Kamigata now has a plain wrist cuff rather than a buttoned one. This makes it easier to roll the cuff back or have it hemmed. 
Rope Dyed Indigo Sashiko
Milled in Japan, our 13oz Rope Dyed Indigo Sashiko is a comfortable year-round cotton that's designed to fade beautifully with use. Our rope dyed yarns are twisted into thick ropes and plunged into repetitive cycles of dye and oxidation. This method saturates the outer fibers but leaves a natural "core" on the inside. As you wash and wear the garment, the surface dye fades, and the inner core shows through, yielding a rich 3-dimensional patina. 
Washable 13oz Donegal Tweed
Woven in Canada, this is one of the best Donegals that I've ever encountered. It's a classic "outdoorsmen blend" of 85% wool and 15% nylon. It weighs in at 14oz, so it's warm and sturdy for the Fall/Winter, but not too hot to comfortably wear indoors. It's totally machine washable and has a soft and comfortable hand. This is a great option if you're typically sensitive to wool against your skin. 
Espresso Washable Hopsack
This is a comfortable blend of cotton, wool, and Tencel. The weight is 9oz, so it's wearable year round. These three fibers work nicely together.. the cotton is breathable, the wool gives it structure and drape, and the Tencel offers a soft hand and a smooth top finish. 
Austrian 9oz Russet Tencel Twill
Comfortable, soft, and easy, this fabric is a gorgeous Tencel twill from Austria. Derived from cellulose wood fibers, Tencel offers a soft, silken hand and a sturdy tensile strength. It absorbs moisture 50% better than cotton, and it has superior breathability.
The Kamigata Noragi
The Kamigata is our take on the traditional Japanese farmer's jacket. In keeping with its inspiration, it has a banded shawl placket and a square bottom. We've added additional functionality with hip besom pockets, plain cuffs, and a hidden interior button that allows you to close the jacket in front. You can wear it with the sleeves down or rolled up. Button the jacket to wear it like a cardigan or leave it open.
Measurements & Sizing
"Note: All measurements are shown in inches. For the Doyle jacket, "Chest" is measured from one seam under the armpit to the other. "Shoulder" is measured from one shoulder seam to the other, on the rear of the shirt. "Sleeve" is measured from the shoulder seam to the end of the sleeve. "Length" is measured from the base of the collar (where it attaches to the jacket body) to the bottom of the tail.
KAMIGATA JACKET SIZE CHART
| | | | | |
| --- | --- | --- | --- | --- |
| SIZE | Chest | Sleeve | Shoulder | Length |
| US 34 | 19" | 24" | 17" | 27" |
| US 36 | 20" | 24.5" | 17.5" | 27.5" |
| US 38 | 21" | 25" | 18" | 28" |
| US 40 | 22" | 25.5" | 18.5" | 28.5" |
| US 42 | 23" | 26" | 19" | 29" |
| US 44 | 24" | 26.5" | 19.5" | 29.5" |
| US 46 | 25" | 27" | 20" | 30" |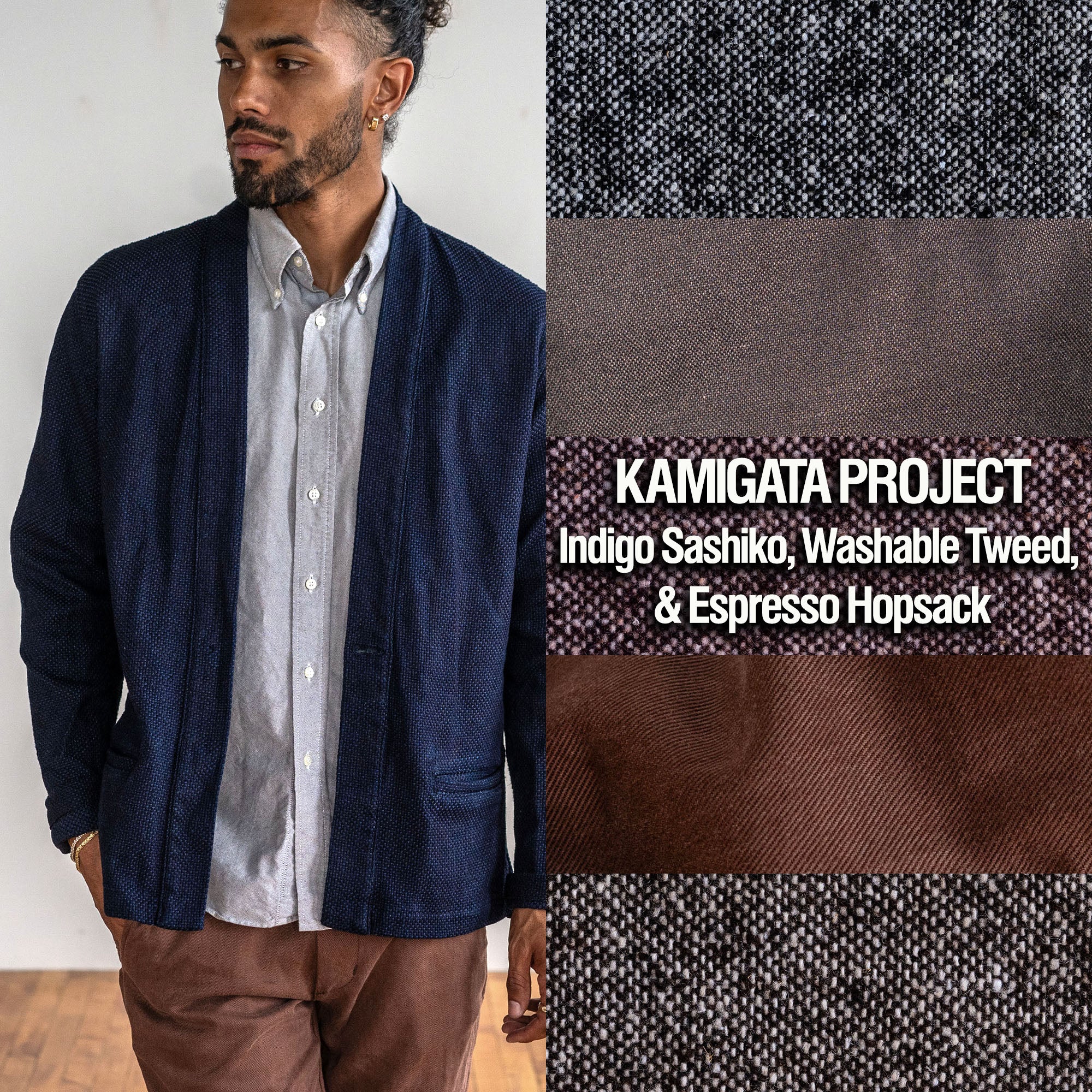 This product has no reviews yet.