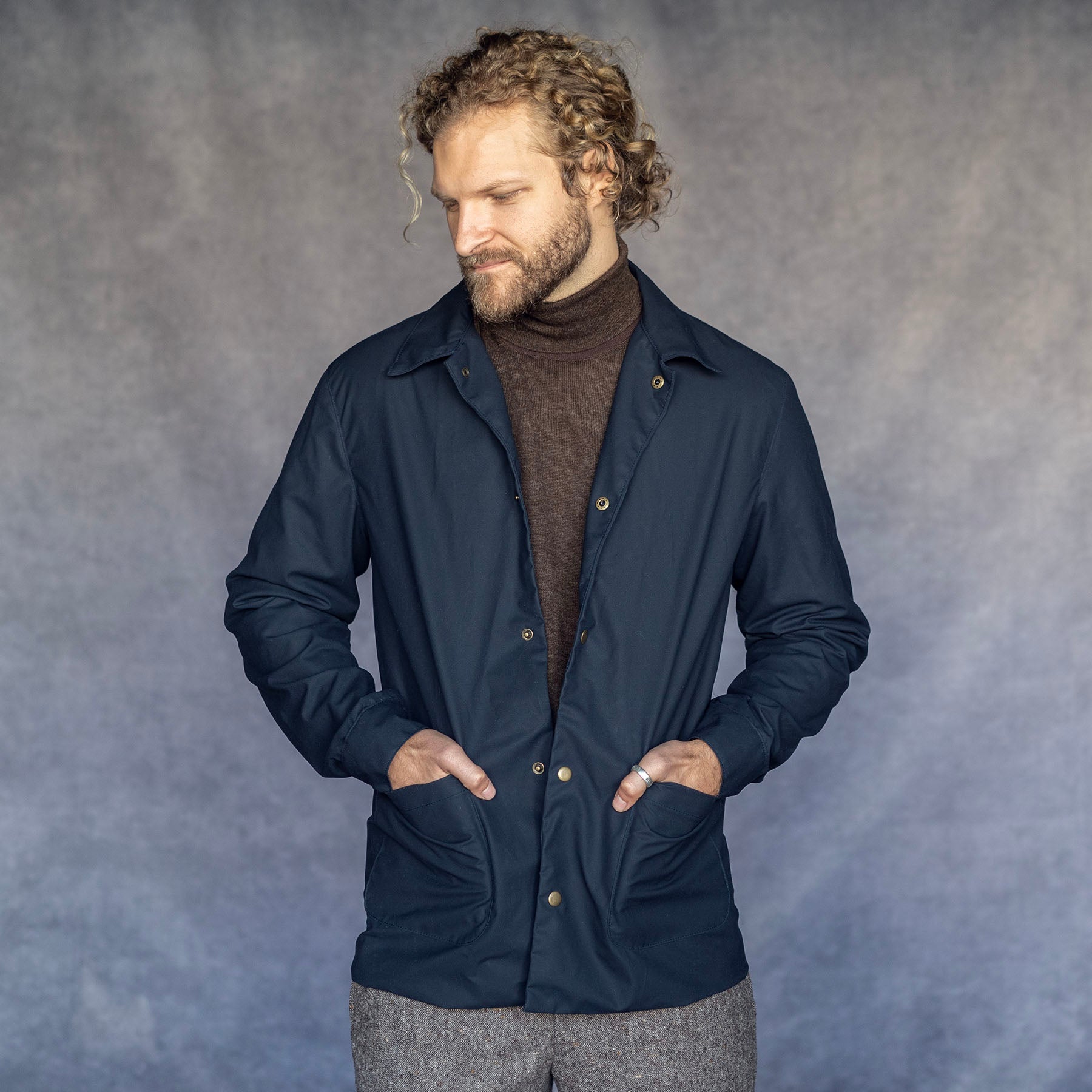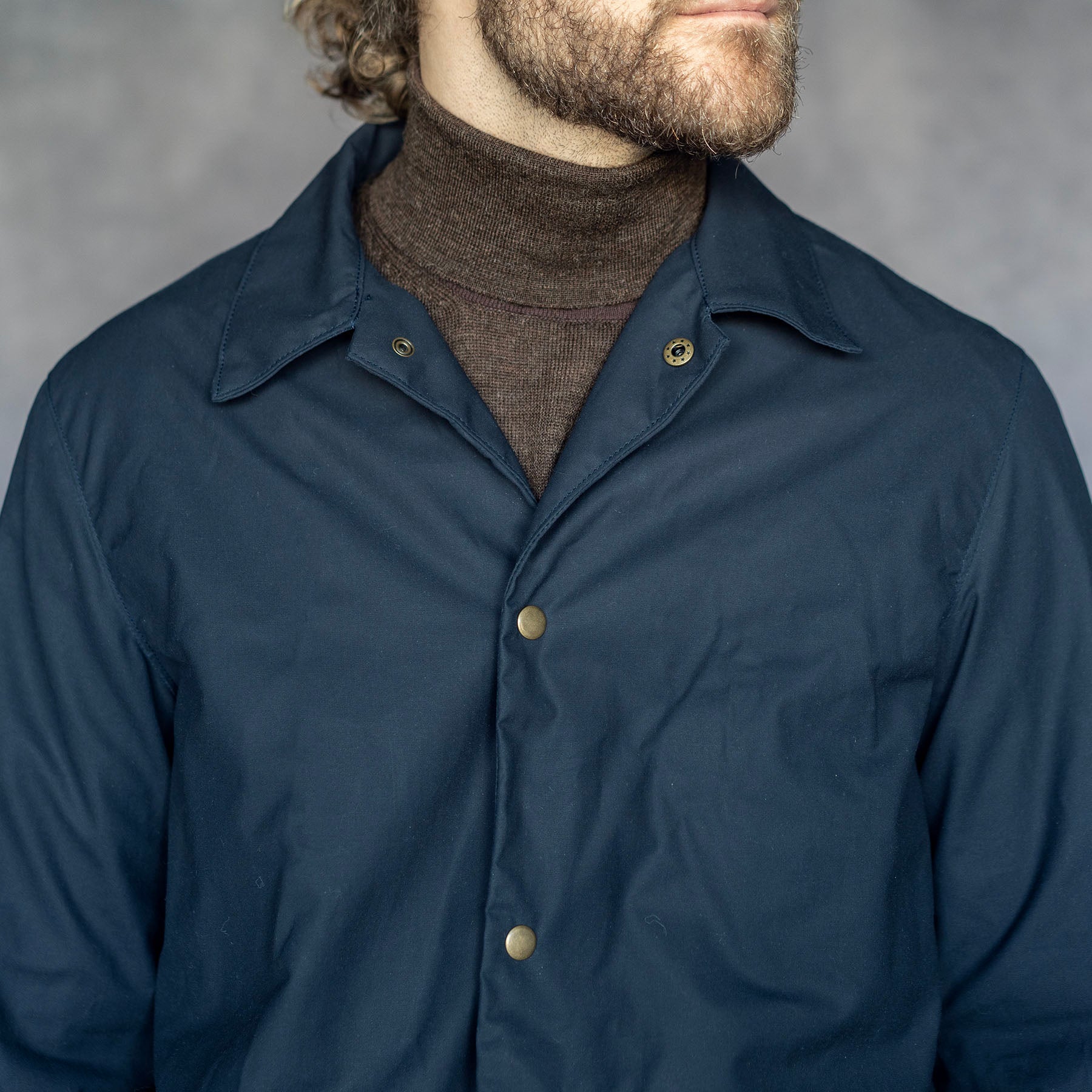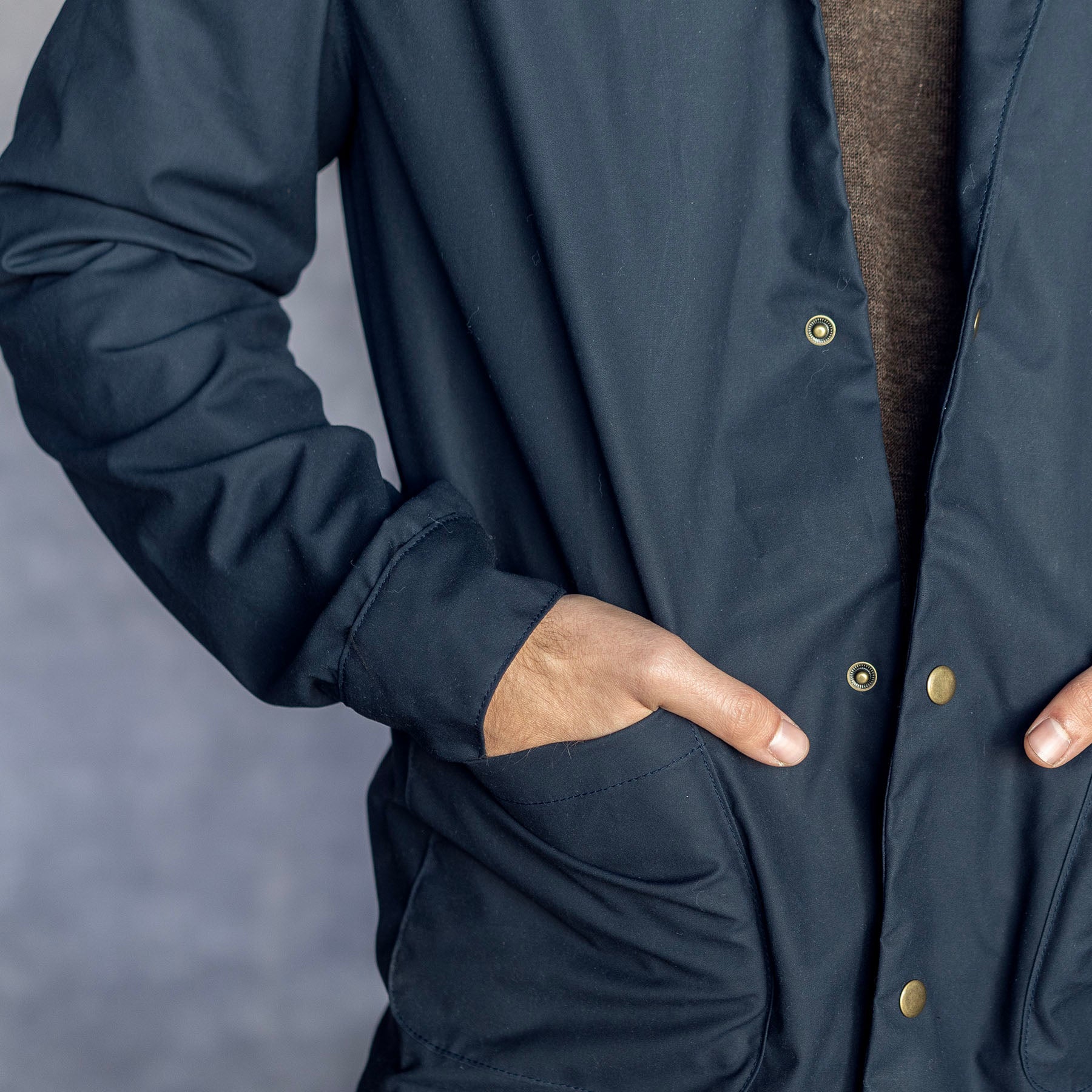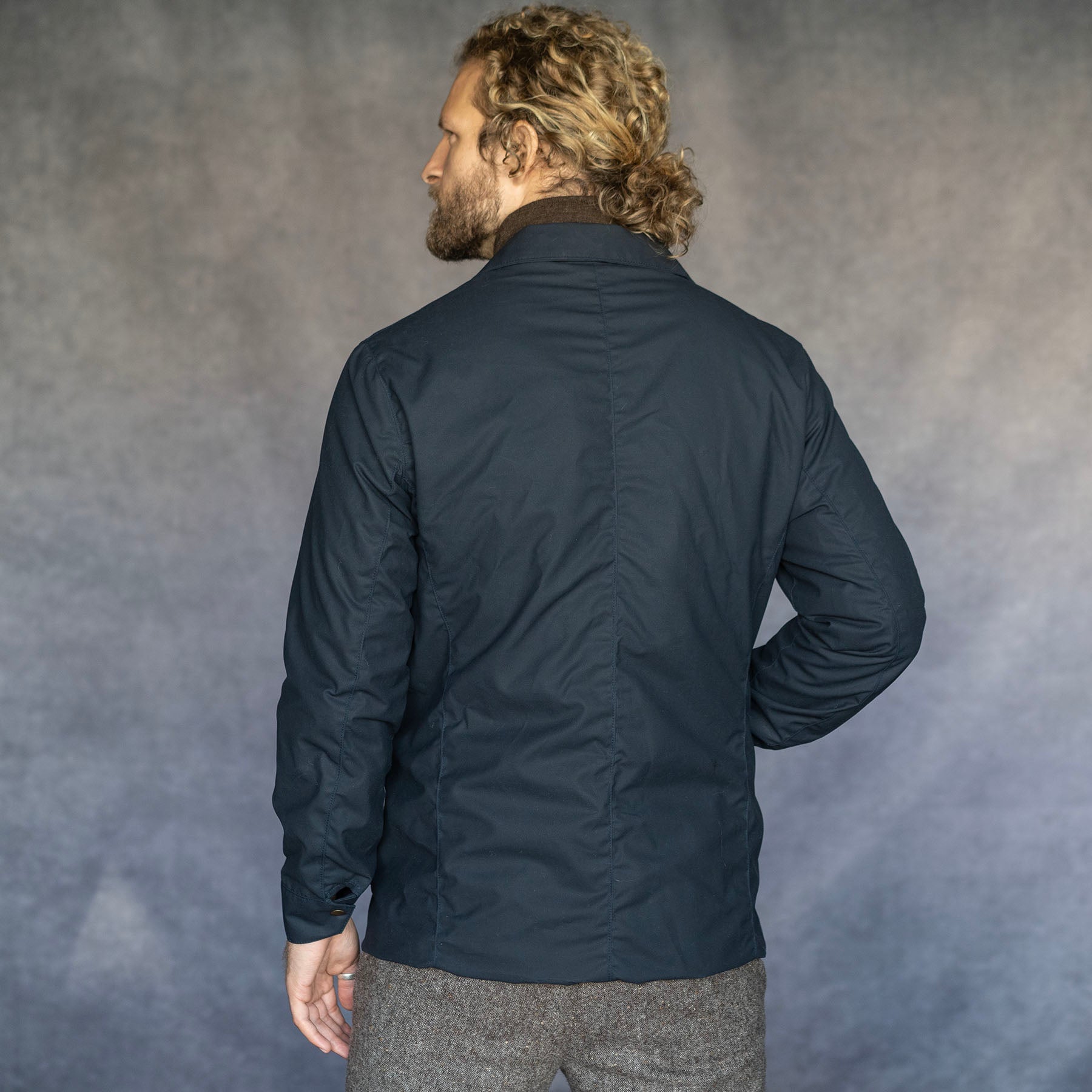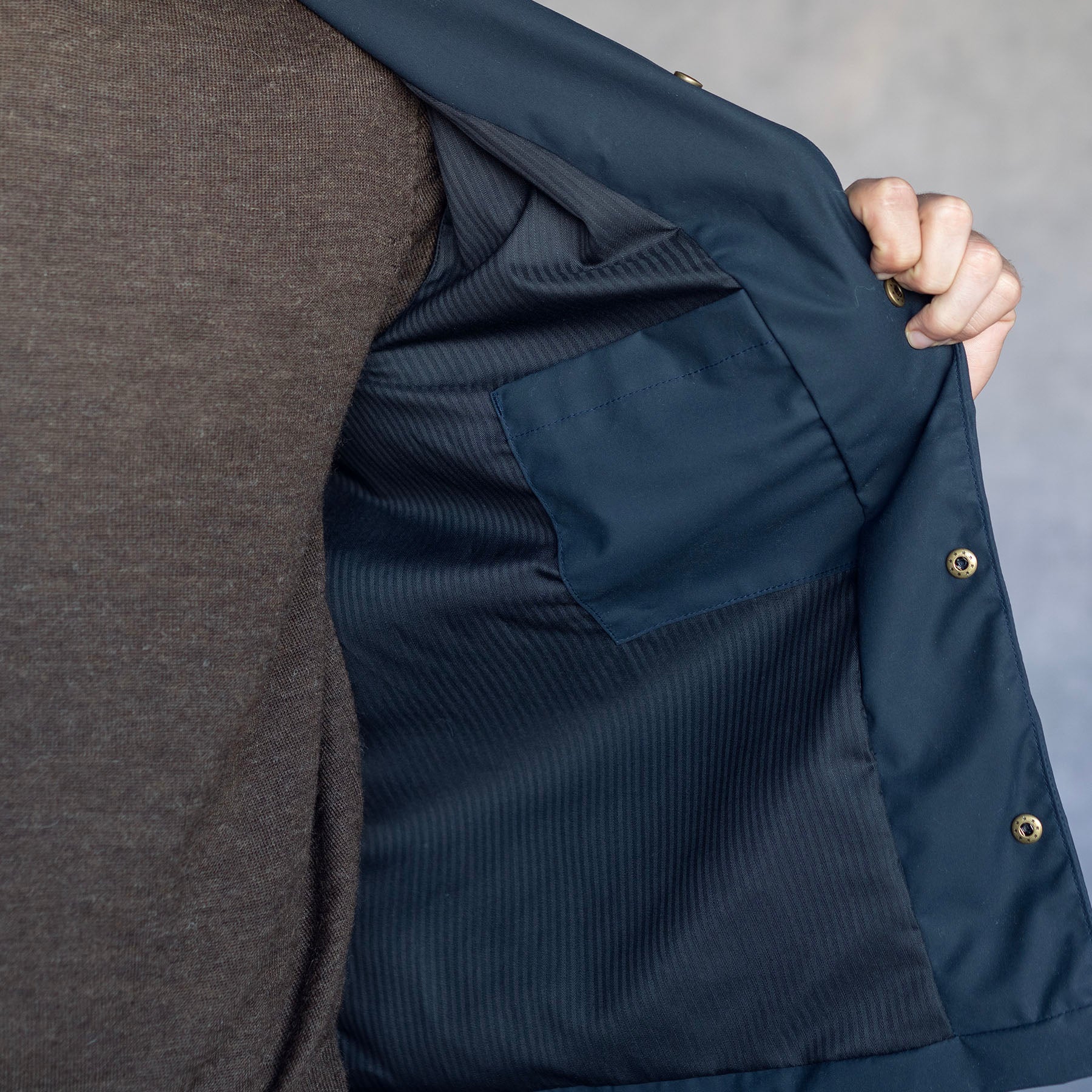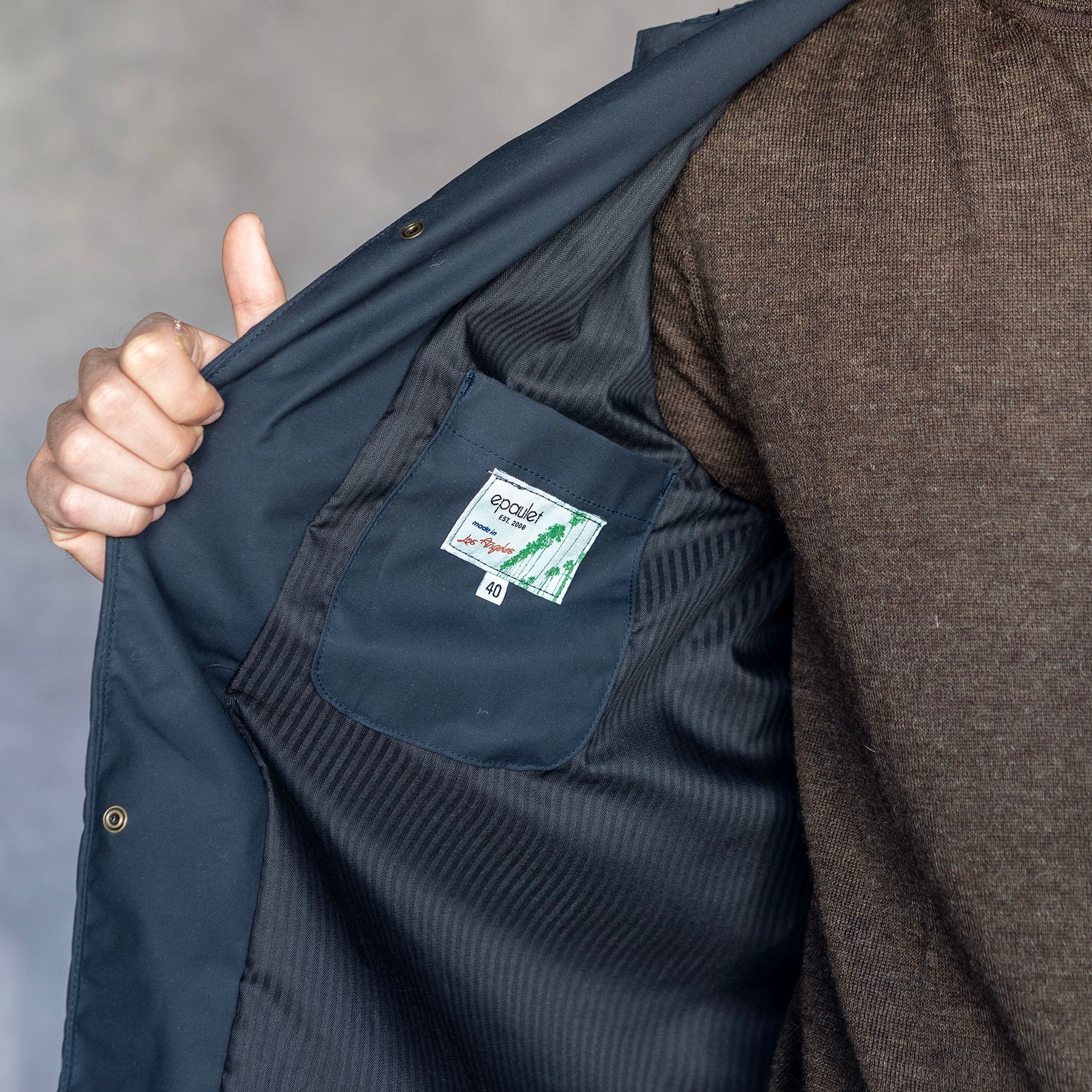 Karras Washable Waxed Cotton Jacket Navy Sz 42
---
PLEASE NOTE: All markdown items are FINAL SALE. No returns and exchanges can be accepted for these items. 
The "Karras" is our fully-lined midweight outerwear jacket.

Working with our iconic Doyle shape, we modified some key details to reflect the original piece. It has antique brass snaps, open patch hip pockets, a lightweight textured nylon full liner, two interior pockets, functional snap cuffs, and a plain unvented back. It's clean, minimal, and infinitely versatile to wear. 

Our cloth is the amazing 7.5oz "Staywax Sahara" from British Millerain. This UK mill is famous for supplying waxed cloth to the likes of Barbour and Nigel Cabourn, and they are considered to be the best source on earth for this fabric. This medium weight waxed canvas is warm enough to keep the wind out and offers significant water resistance when the skies open up. This color is a deep navy blue. 
And most importantly - it is fully machine washable with cold water. This is huge! Most waxed cotton can only be hand-cleaned. These can be easily tossed into a machine on the delicate cycle and then hung out to dry. The fabric has a smooth and dry finish that's not oily or overly waxy. And like any waxed cotton, it will gain a beautiful patina with wear. 
The Karras in waxed cotton is simply... the perfect 3 season jacket. It's an easy shape to dress up or down. Its warm and weather resistant, but still light and comfortable. When it's cool or blustery outside, you'll find yourself reaching for this day in and day out. 
Its design was inspired by a windbreaker in "The Exorcist." One of the main characters... Father Damien Karras... is pictured wearing a classic coach's jacket with set in sleeves, a spread collar, and open patch pockets at the hip. When our founder Eva Kuhle saw this piece on the screen, she knew it was time to "resurrect" it. 
Sizing is one-to-one with our Doyle jackets. You'll note that the chest and the shoulder measurements are a touch larger, but this is to compensate for the internal liner. The overall fit and feel is the same, so we advise ordering your typical size.