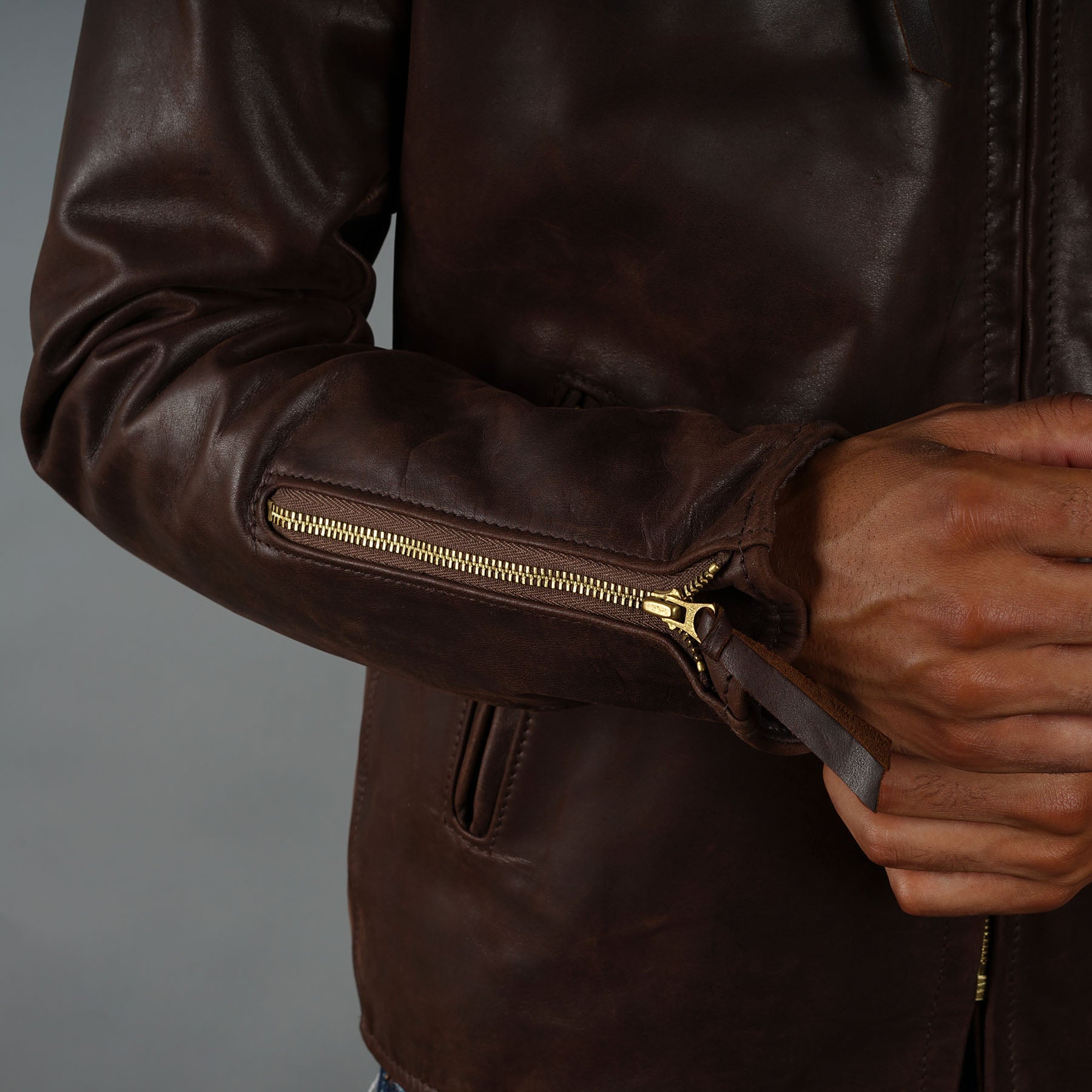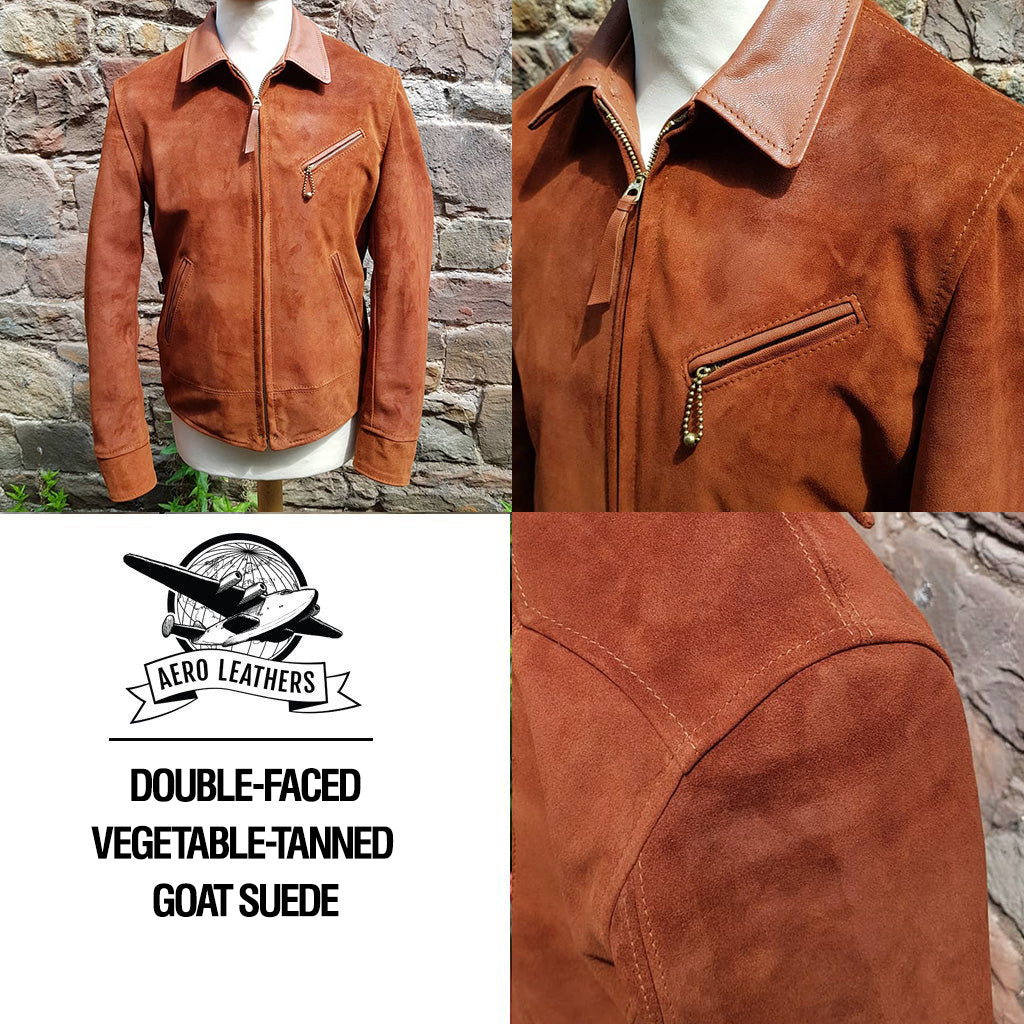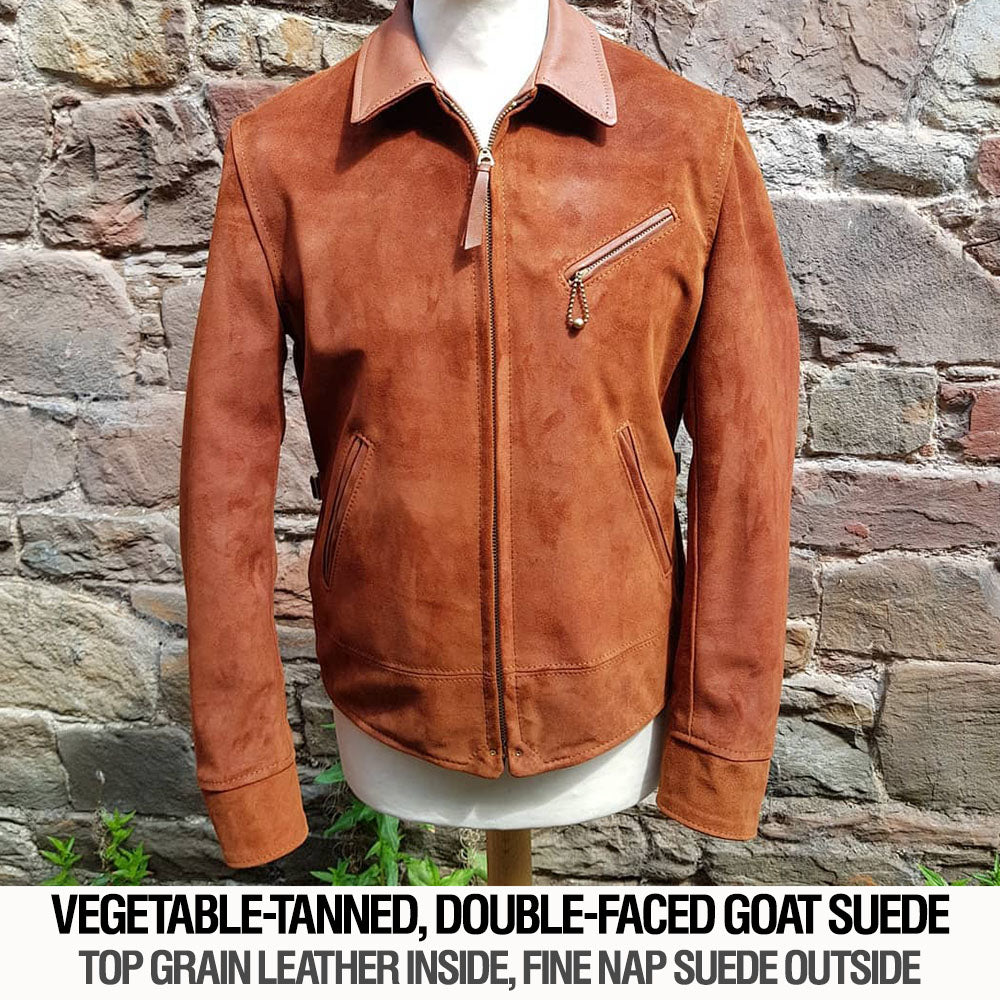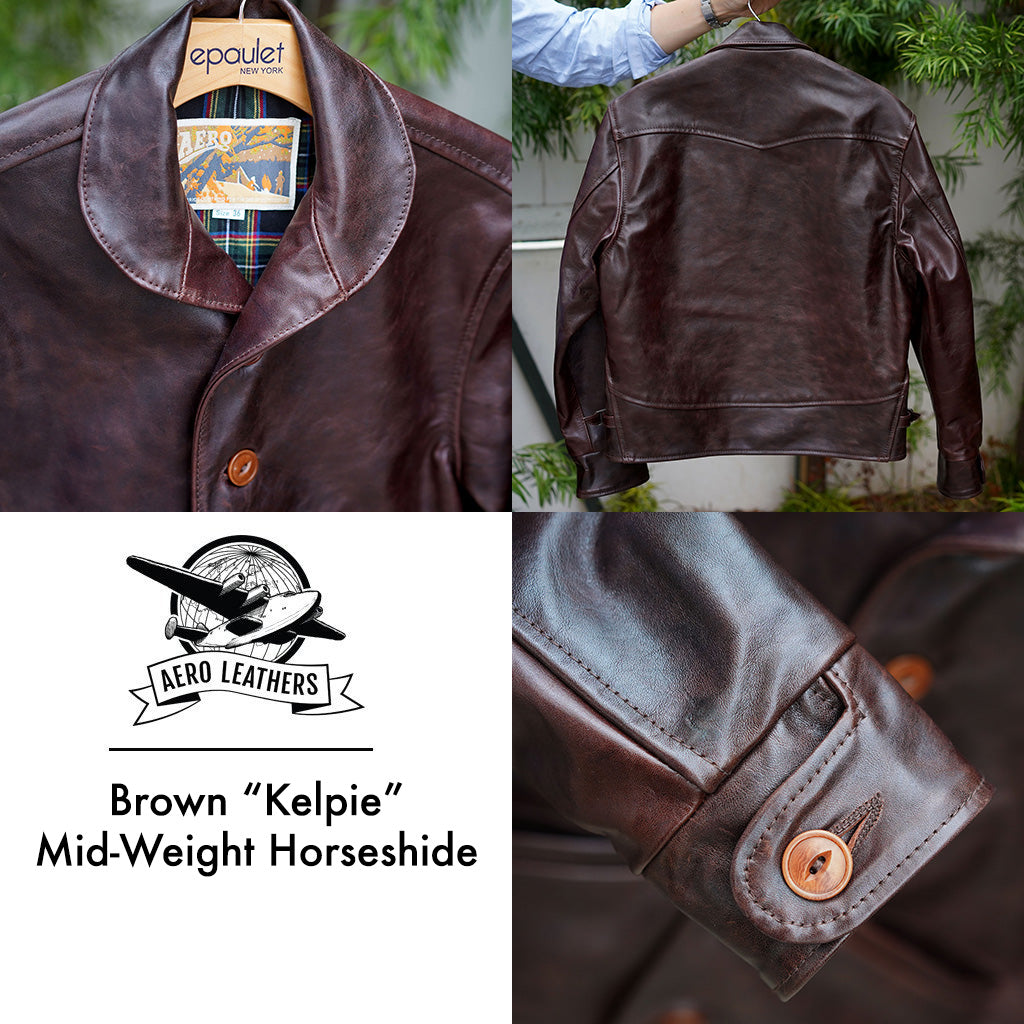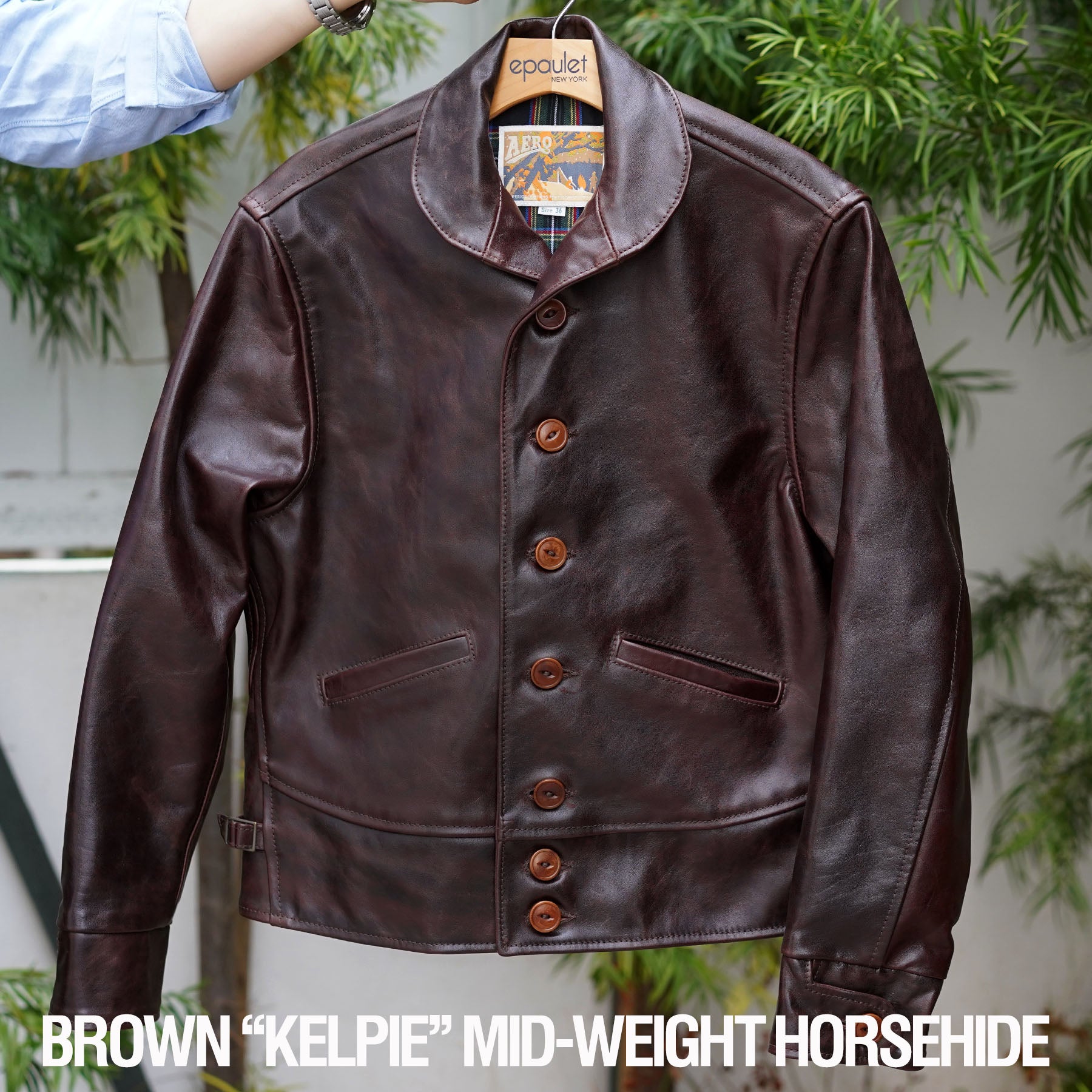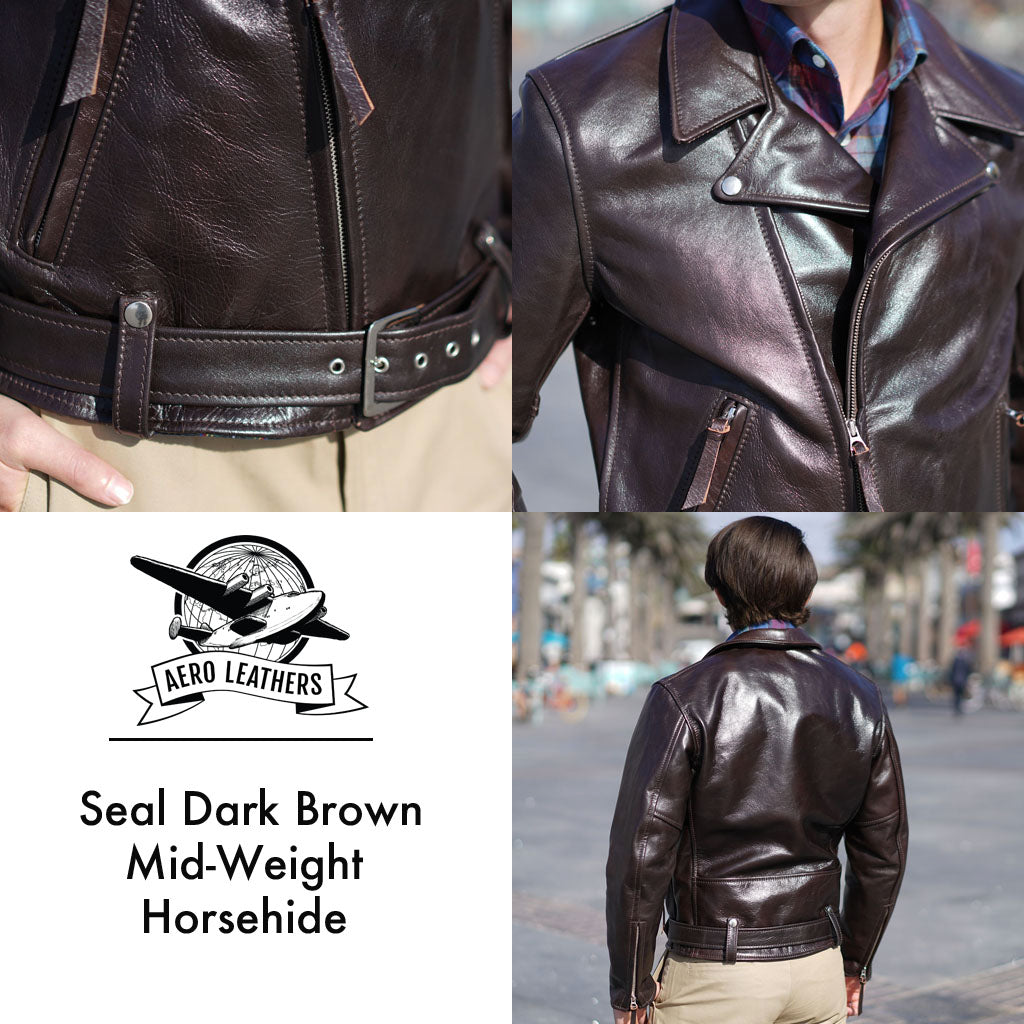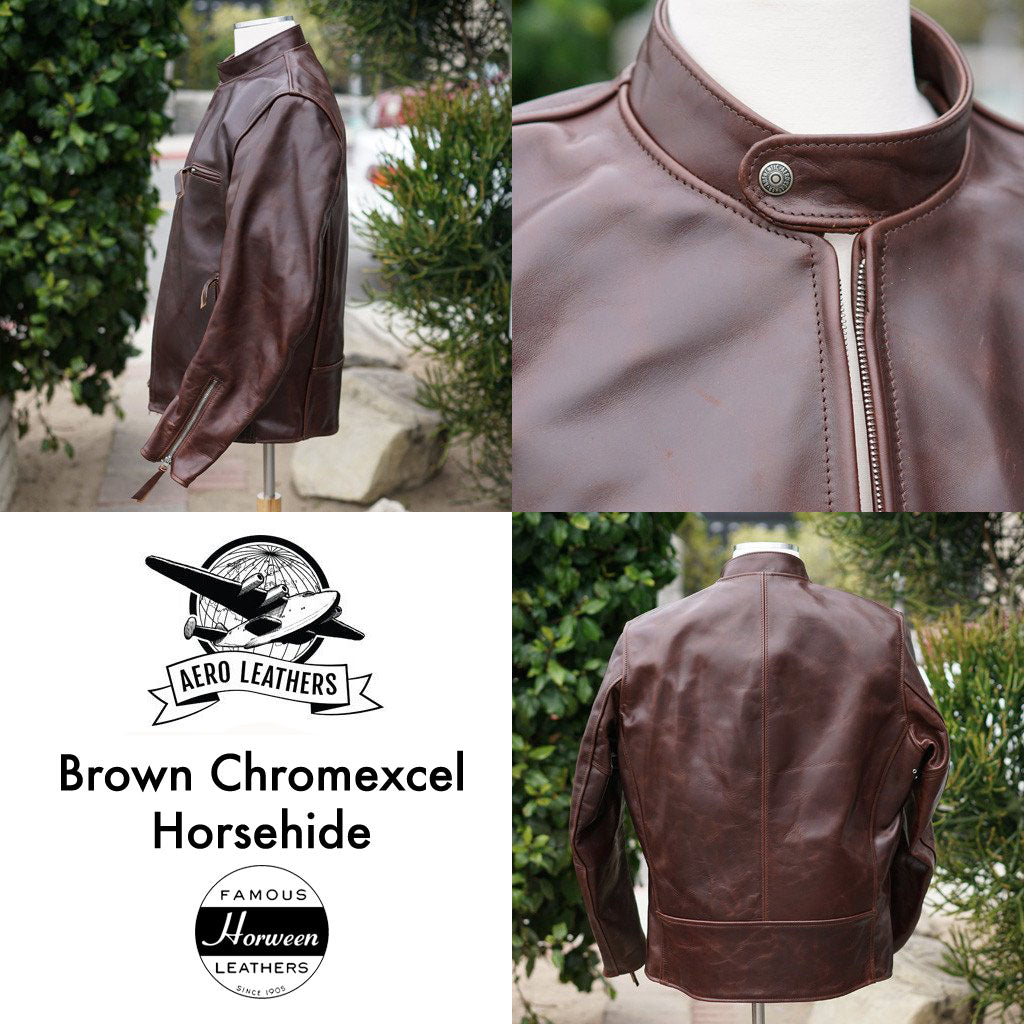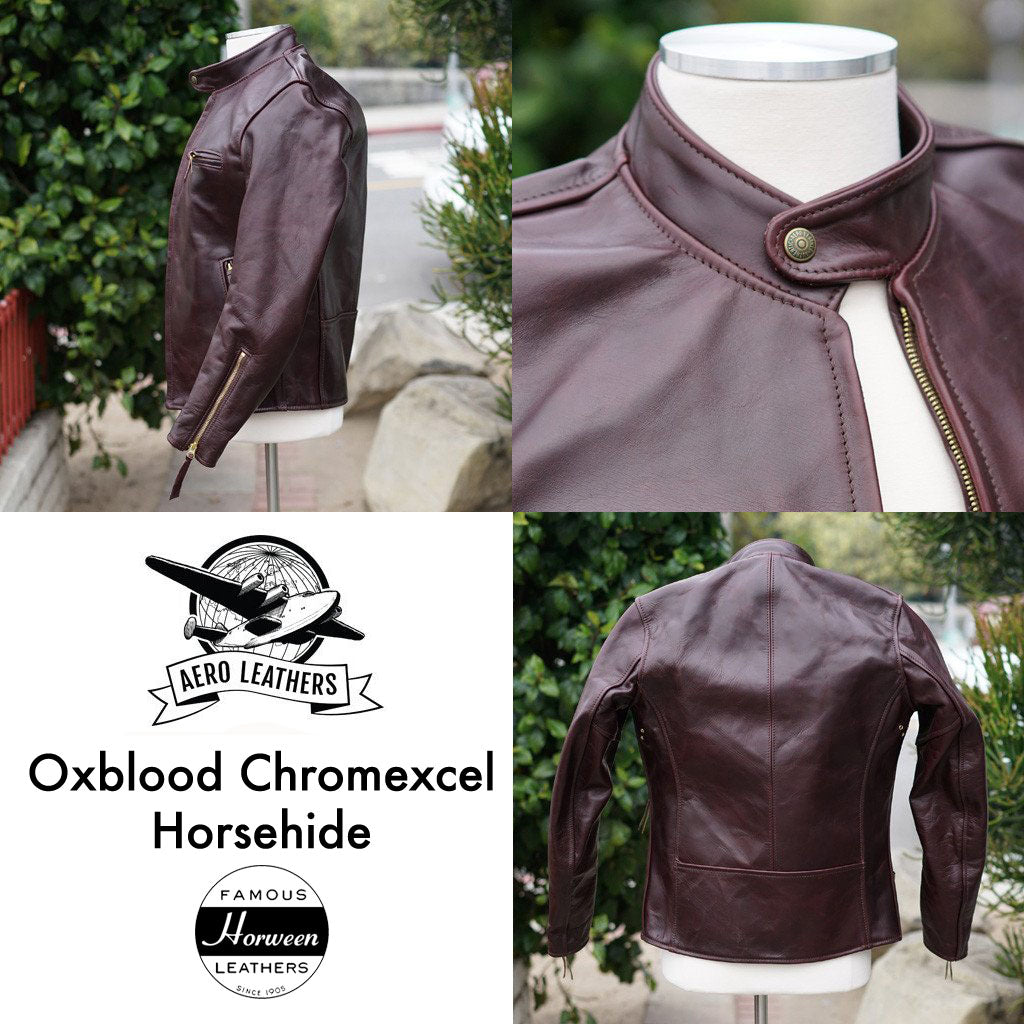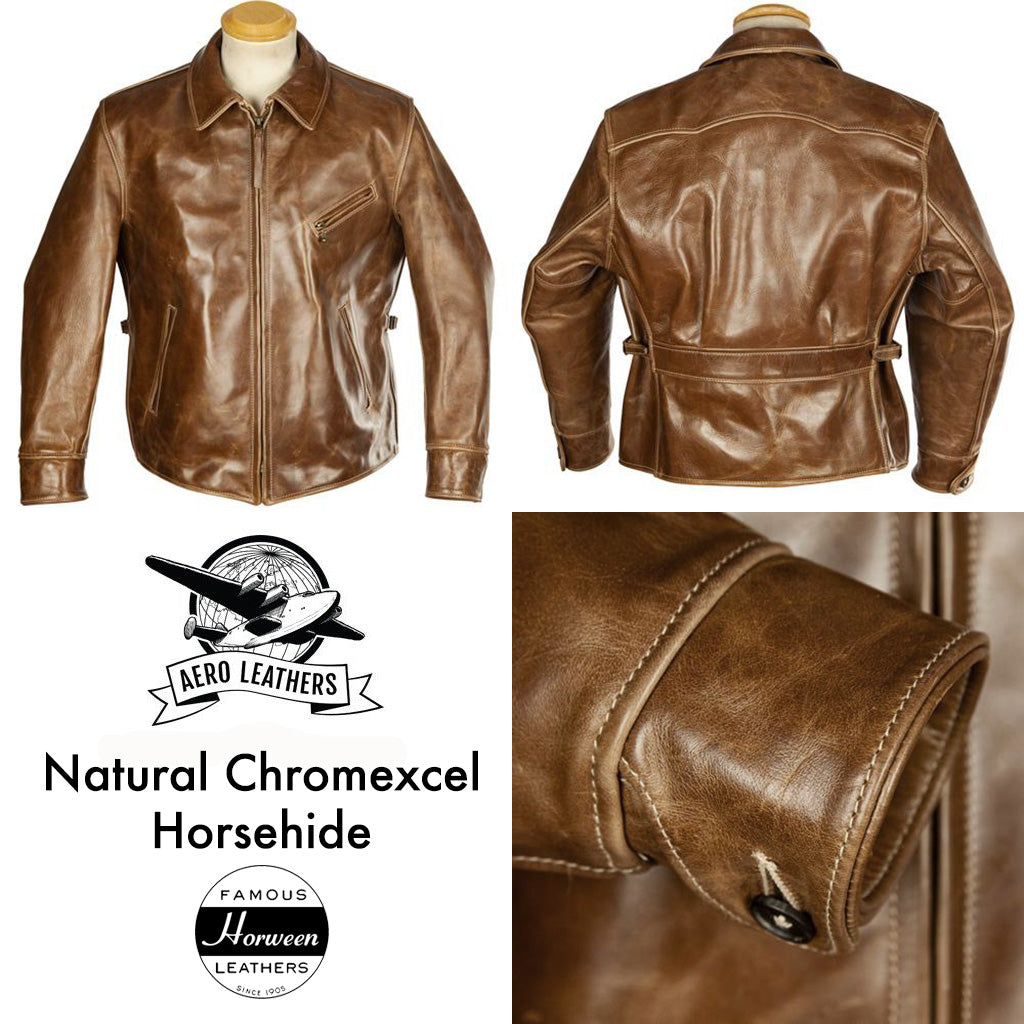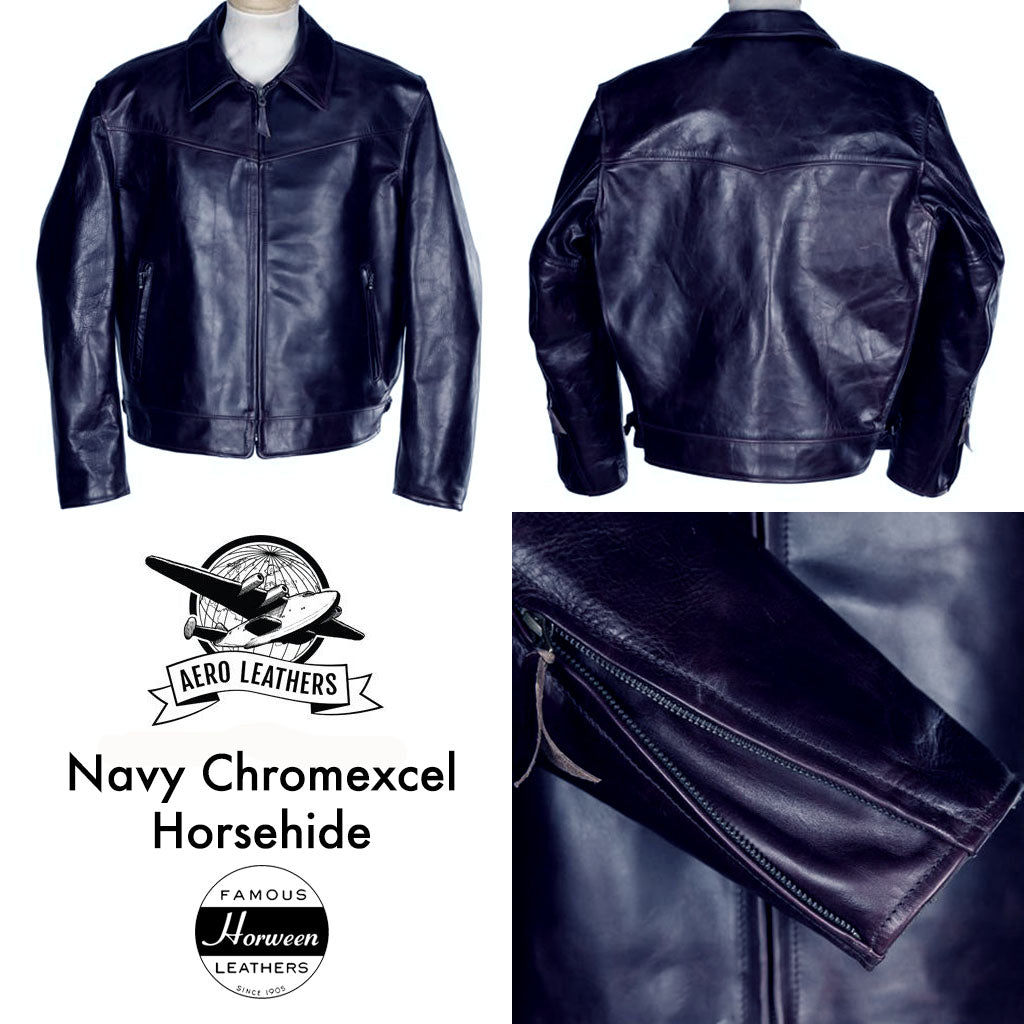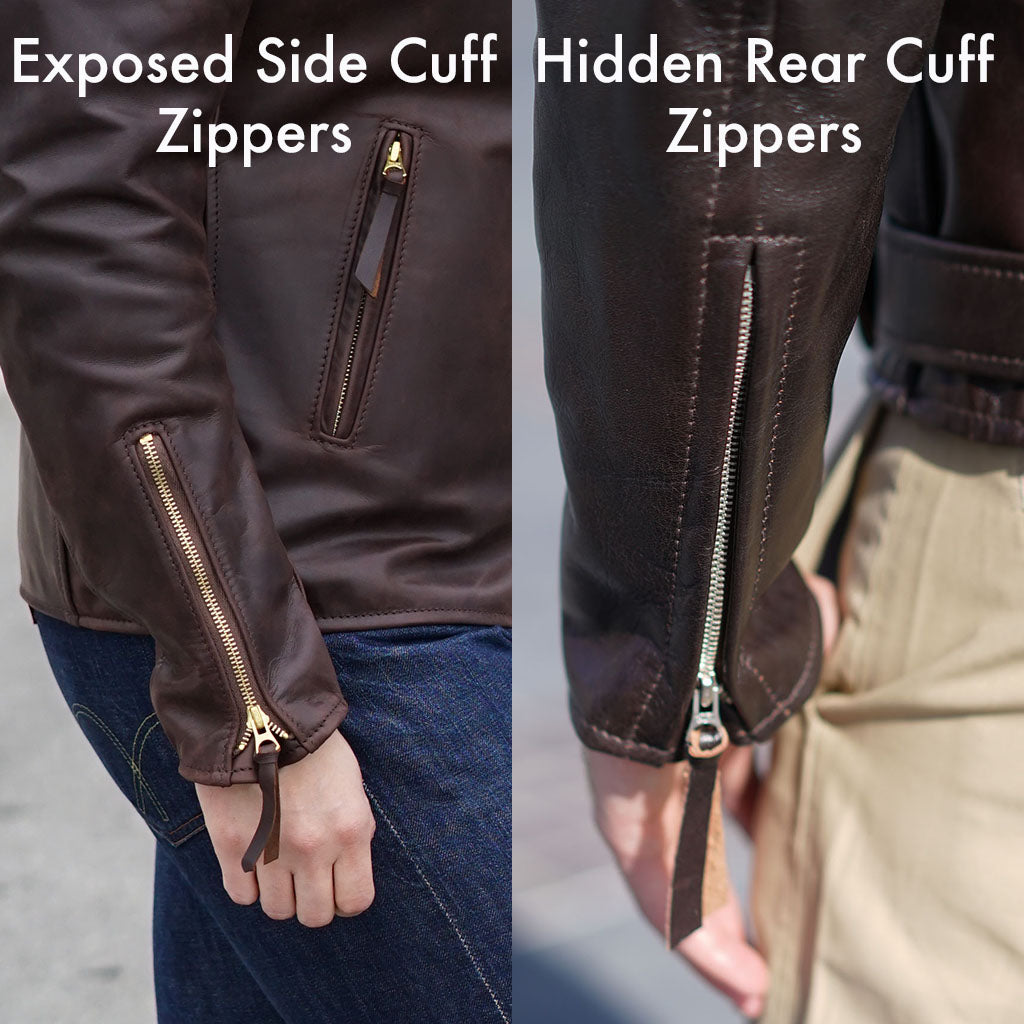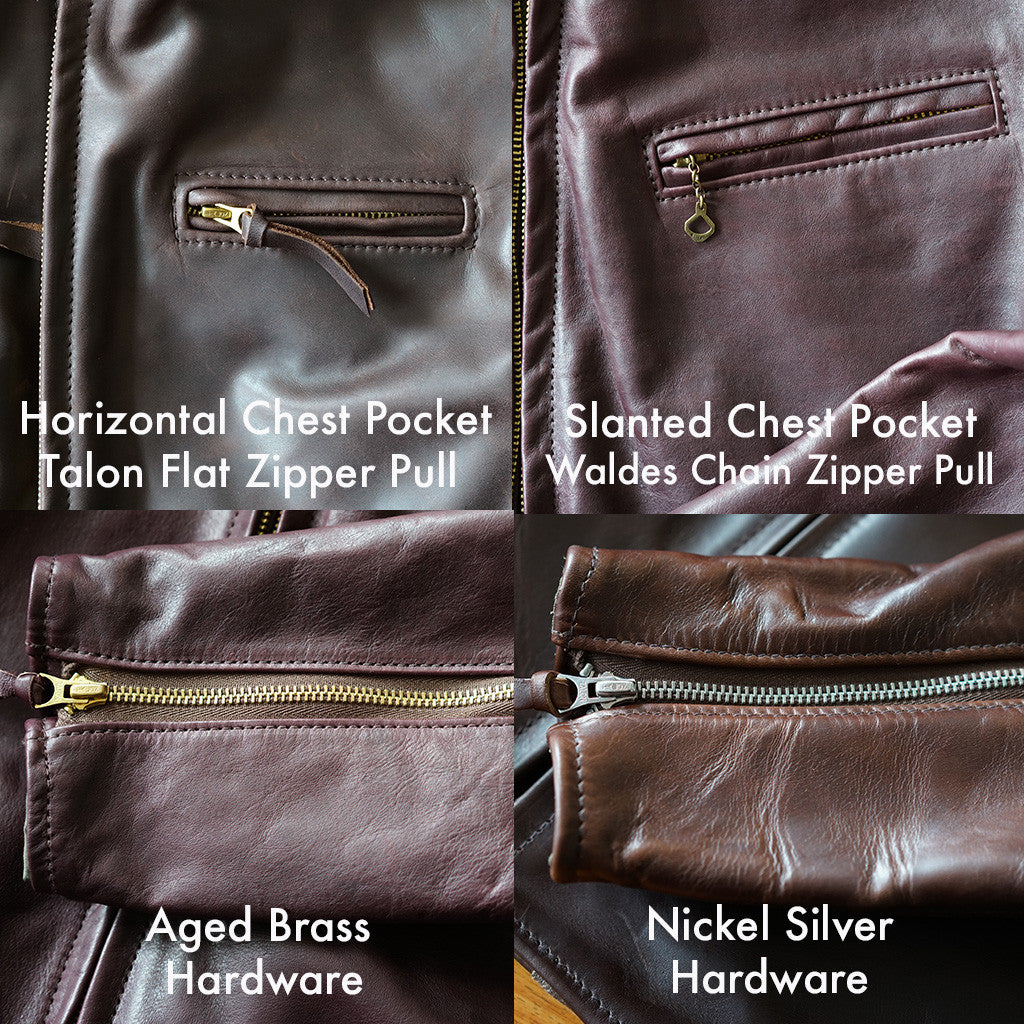 Made to Order Leather Cafe Racer Jacket DEPOSIT
---
This item is a deposit payment for either $650 or $700 (depending on leather choice). An equal balance payment of $650 or $700 will be payable when your custom jacket is ready to ship. 
Crafted in Scotland by the esteemed Aero Leathers, this handsome Cafe Racer jacket is available for individual design in a range of leathers, liners, pockets, and hardware configurations. It's a true heirloom piece that's designed to last for decades, and our pricing for this piece is extremely competitive.

This minimal banded-collar cafe racer is designed to fit consistently with our typical Epaulet shirts and jackets. It's a classic style that's always relevant.. and Aero executes it with perfect precision. With a full range of sizes and a variance of up to 2" in both body and sleeve length, we can provide you with an entirely customized fit. Matched to jeans, chinos, or trousers, this versatile piece will quickly become a beloved staple in your wardrobe.
To style your jacket, start with one of Aero's gorgeous full-grain leathers:
Badalassi Midweight Steerhide: Tanned in Italy, this offers a lighter weight and luxe alternative to the thicker horsehide leathers. It has a remarkably supple hand and a gorgeous, consistent finish. It's going to age beautifully with wear!
Rust Double-Faced Suede: This unique and exclusive skin has smooth top grain on the inside and a fine brushed suede nap on the outside. It offers the elegance of a suede jacket with the strength and weight that Aero is famous for. It's a loving reproduction of suedes from the 1930s, and unlike anything else you've seen! 
Brown "Kelpie" Horsehide: This mid-weight horsehide has a beautifully complex oiled finish. Named after a Scottish mythical creature, Kelpie Horsehide has a mottled finish with a subtle interplay of lighter and darker tones. It's reminiscent of the "museum calf" leathers used for footwear.
Seal Mid-Weight Front Quarter Horsehide (Dark Brown & Black): Similar in weight to the Kelpie, Seal is available in brown or black. It remarkably consistent grain and tone. It has a slightly waxy and polished look, and will perform better in wet conditions. 

Horween Front Quarter Horsehide Chromexcel (Four Colors): Heavyweight and thick, with Chromexcel's famous finish and deep color The leather has pronounced grain and character, and is extremely resistant to water and stains. We offer: Brown (a medium chocolate tone), Oxblood (brown with a burgundy cast), Natural (a beautiful light tan/taupe) and Navy (dark midnight blue). 

After that, choose your hardware color, pocket layout, and liner. Your jacket will be made expressly for you and delivered within approximately 6 to 16 weeks. Detailed measurements are available, and we are always happy to assist customers via phone or email to achieve the best sizing.
Working with our exclusive model, you'll be able to customize your leather jacket with these options:  
Jacket Leather: Choose from 8 leathers
Body Length & Sleeve Length: Order our standard, or adjust length in .5" increments from dropdown menu.
Chest Pockets: Choose horizontal or slanted, 1 pocket, 2 pockets or none.
Hip Pockets: Order standard slanted pockets or none.
Cuff Zipper Placement: Zippers can be prominently exposed on the side cuff or hidden behind two besom seams in the back. 
Zipper Style: Choose Talon flat zipper pull or Valden chain pull. Also, choose brass or nickel.
Liners: Choose from solid cotton or a classic Scottish tartan.
MEASUREMENTS
Chest is measured from the front, laid flat, from one side to the other at 1 inch below the armpit seam. Shoulder is measured from the back, laid flat, from one shoulder seam to the other. Sleeve is measured from the shoulder seam to the end of the cuff. Length is measured from the back, laid flat, from where the collar attaches to the jacket to the bottom of the tail
Please note: you must allow up to 0.5" in variance from all measurements shown.
Folding and sewing thick pieces of leather can and will result in slight differences from the cut piece measurements. This is unavoidable for the initial make of the jacket, but it becomes a non-issue with a bit of wear. Each leather jacket molds to you and softens with use. Measurements change and tend to even out. Small inconsistencies tend to go away as the jacket takes on your personal shape and develops its own character.
| | | | | |
| --- | --- | --- | --- | --- |
| SIZE | CHEST | SHOULDER | LENGTH | SLEEVE |
| 36 | 20 | 17 | 25 | 24.25 |
| 38 | 21 | 17.5 | 25.5 | 24.75 |
| 40 | 22 | 18 | 26.25 | 25.25 |
| 42 | 23 | 18.5 | 27 | 25.75 |
| 44 | 24 | 19 | 27.75 | 26.75 |
| 46 | 25 | 19.5 | 28.25 | 27.25 |
Terms
1. All sales are final. Each piece is cut to order.
2. Delivery is scheduled approximately 6 to 16 weeks from order placement. 
3. All jackets will ship to Epaulet from Aero Leathers and be inspected before shipment to you.
This product is rated 5.0 of 5.0 stars.
It has received 1 review.