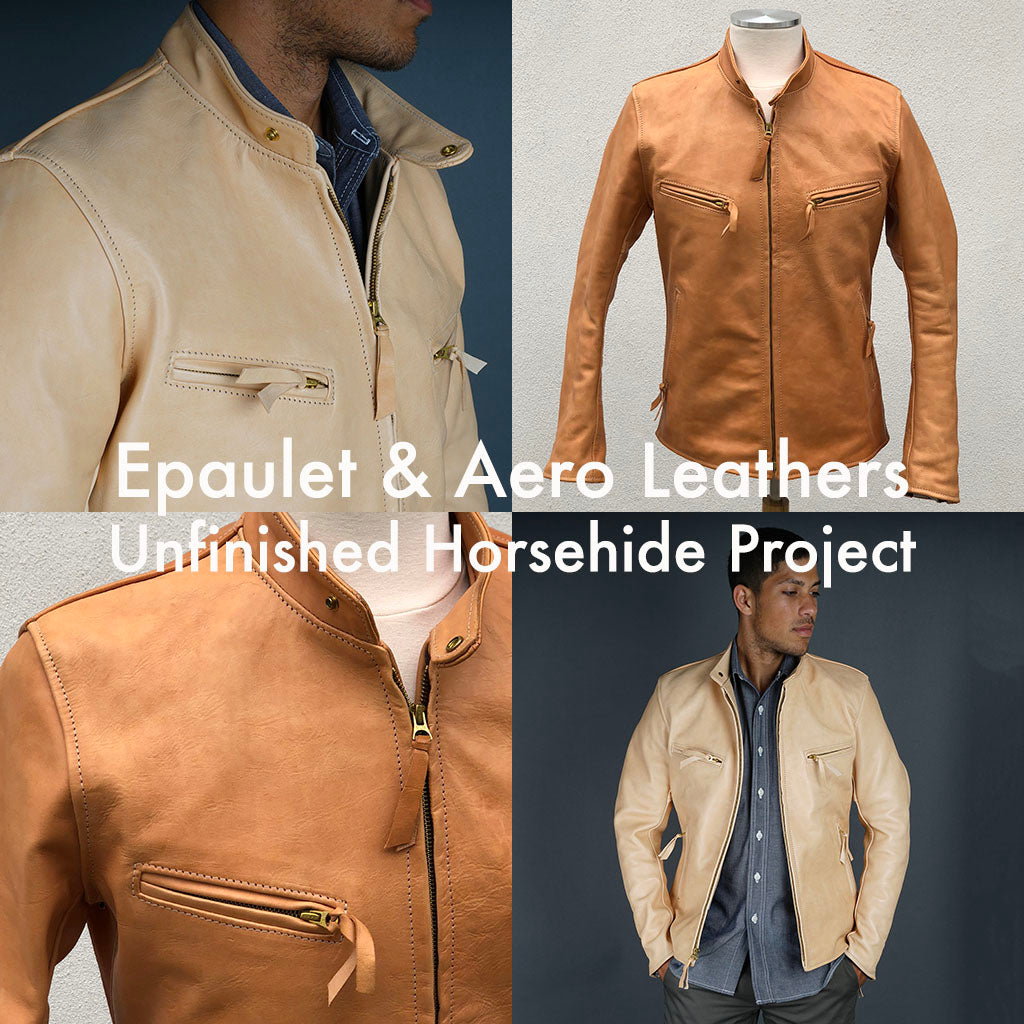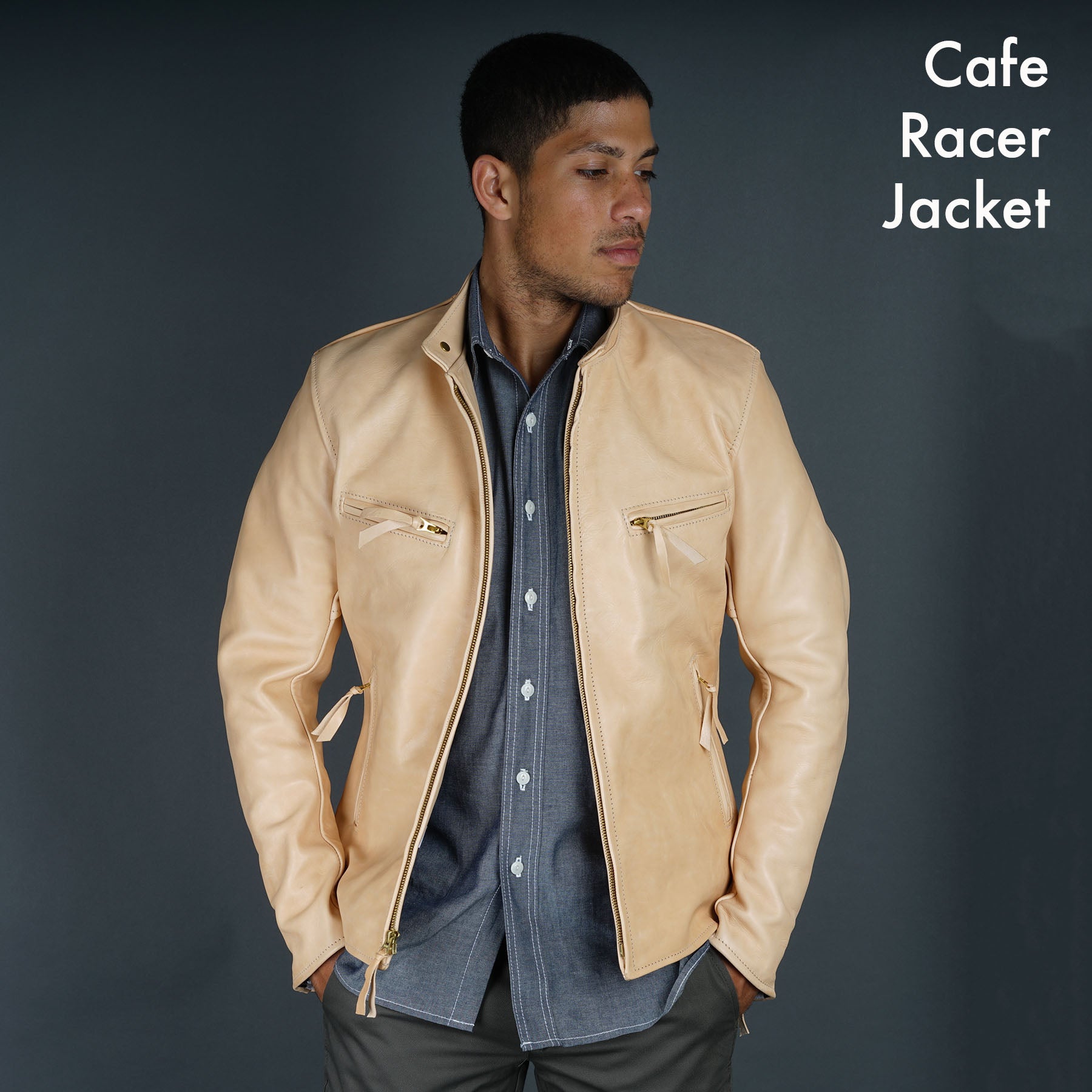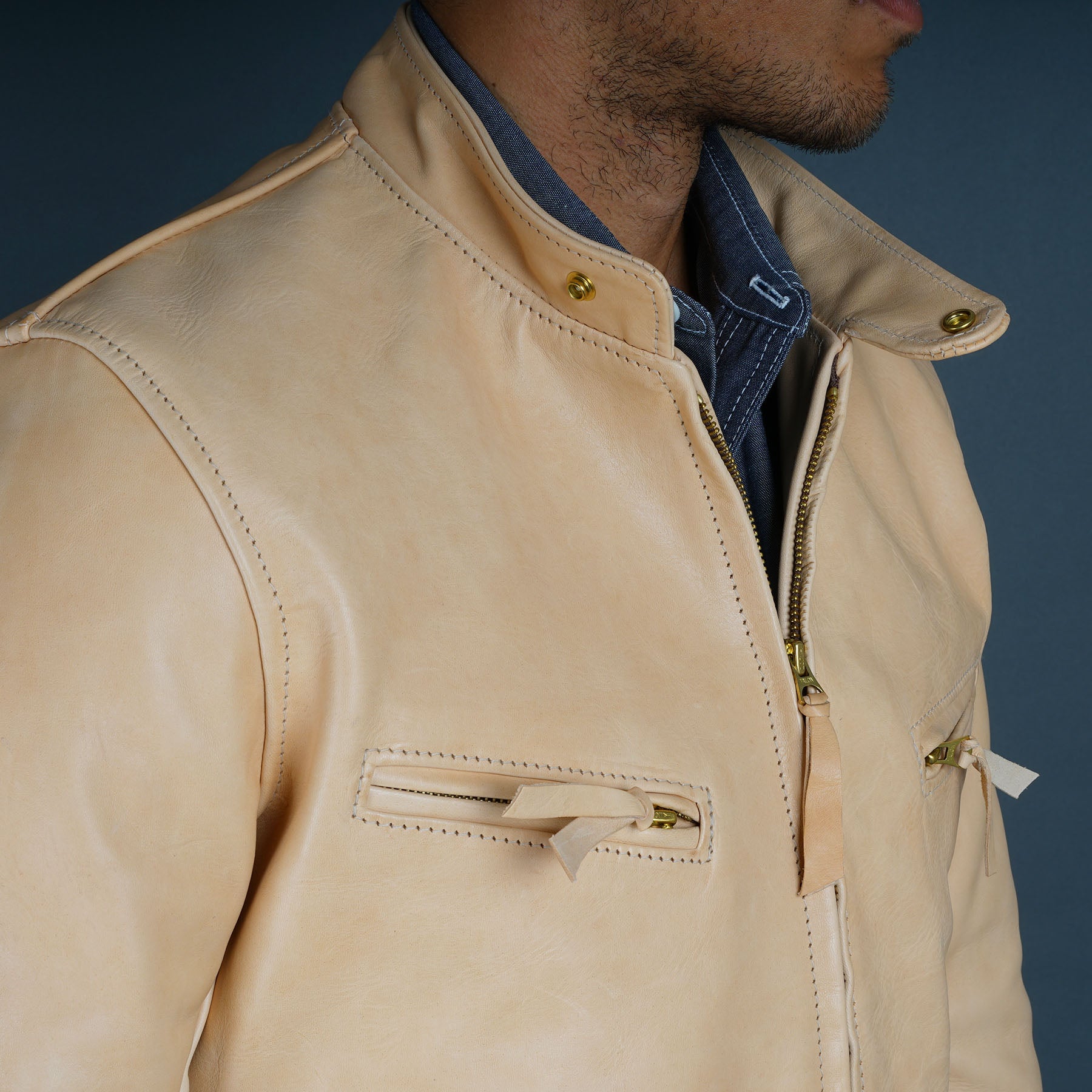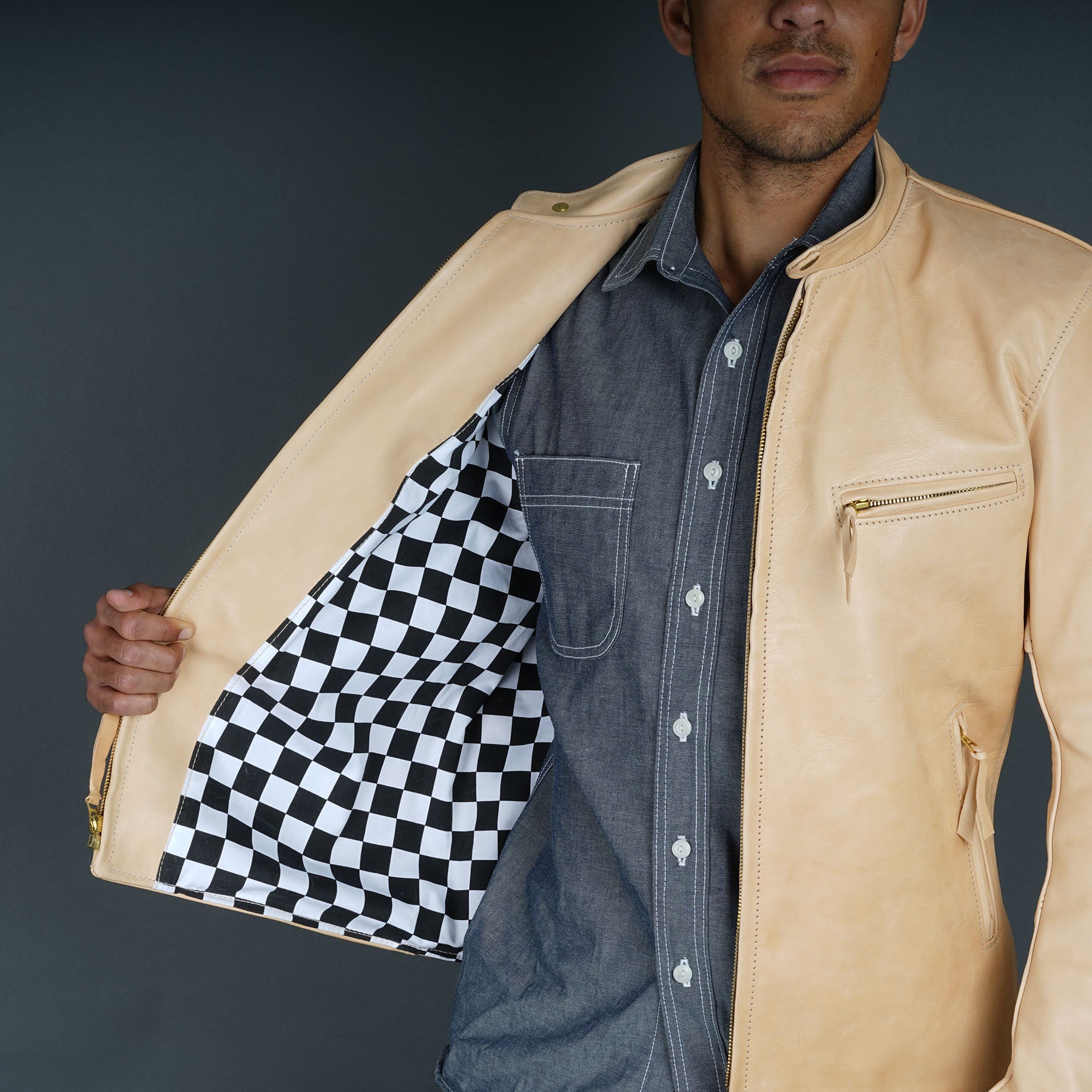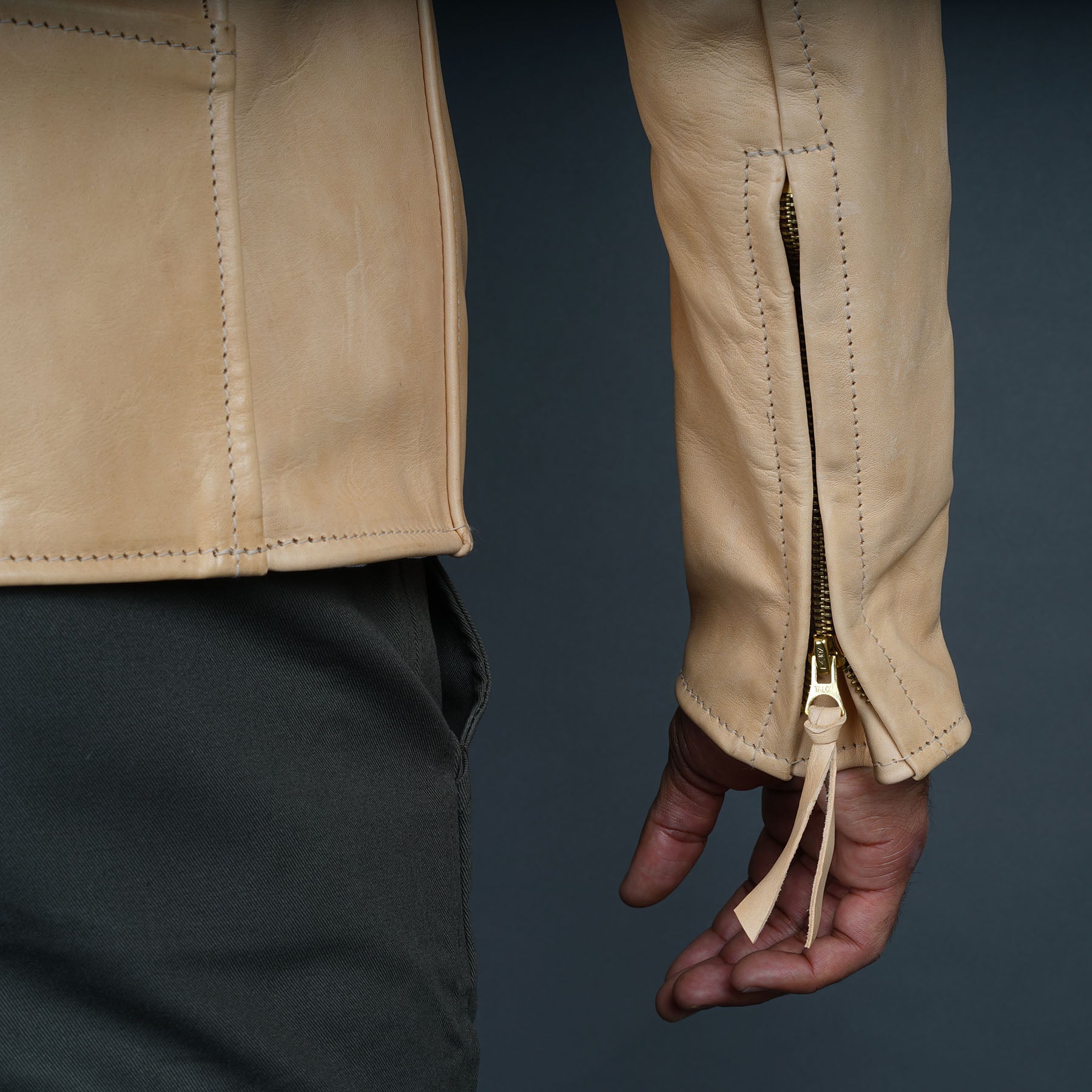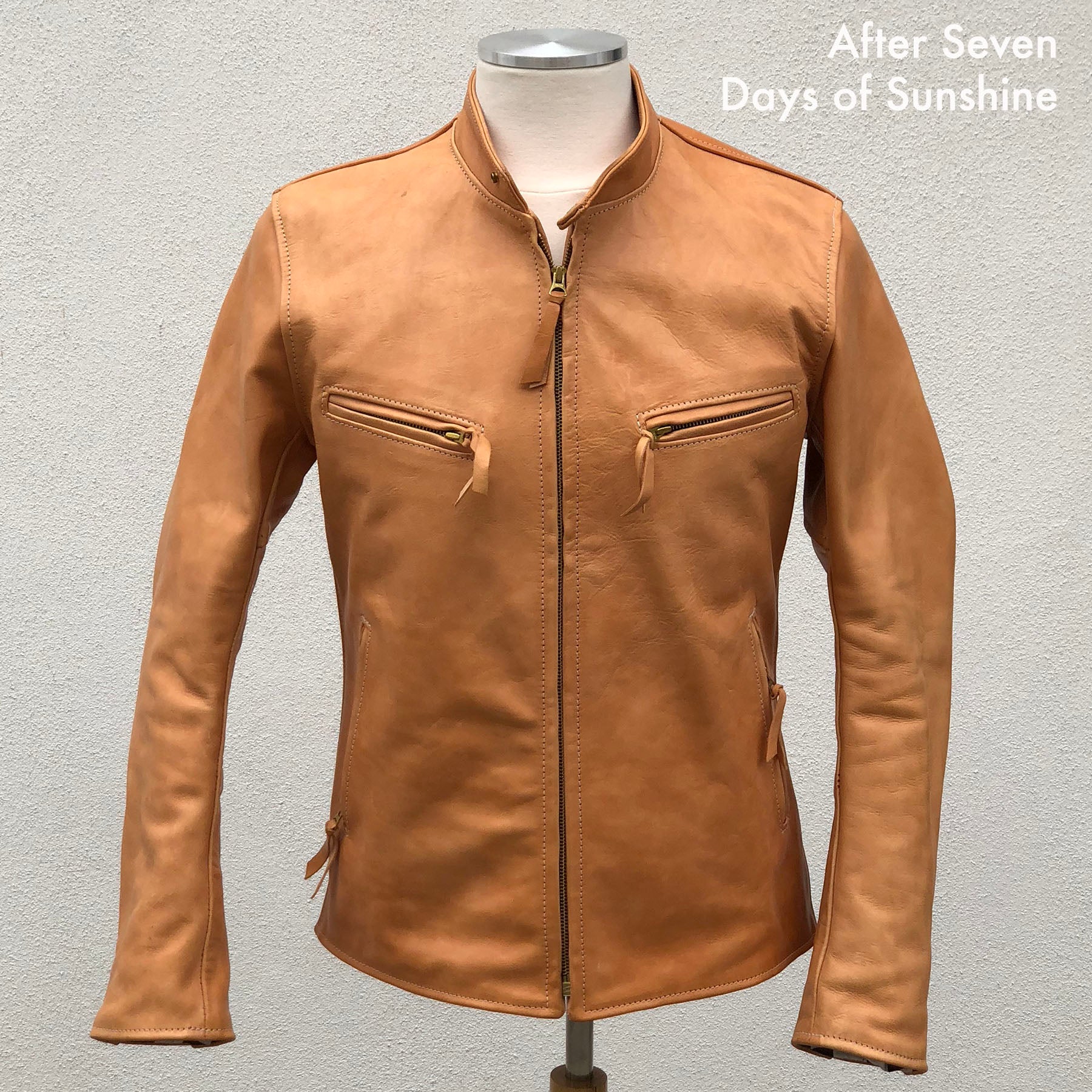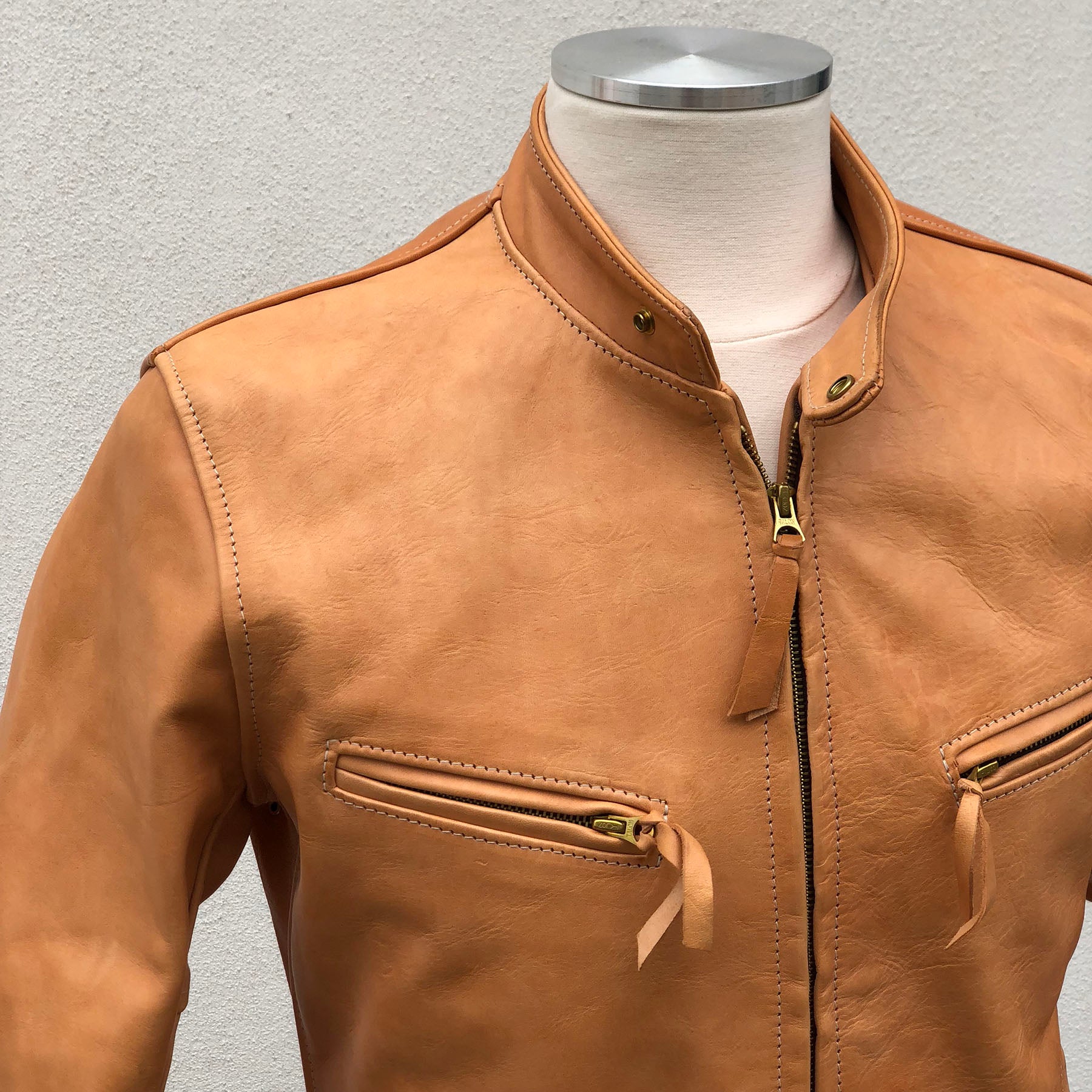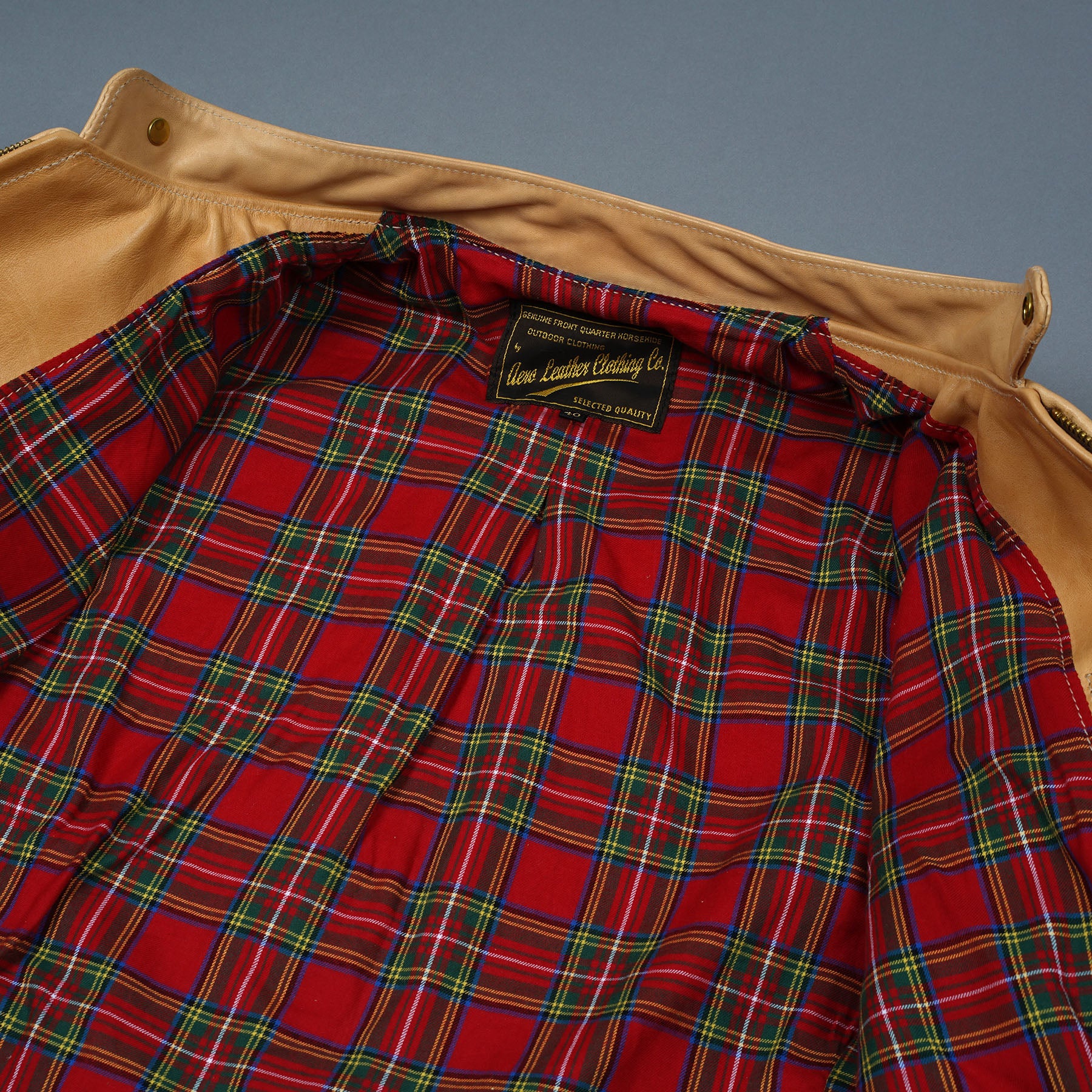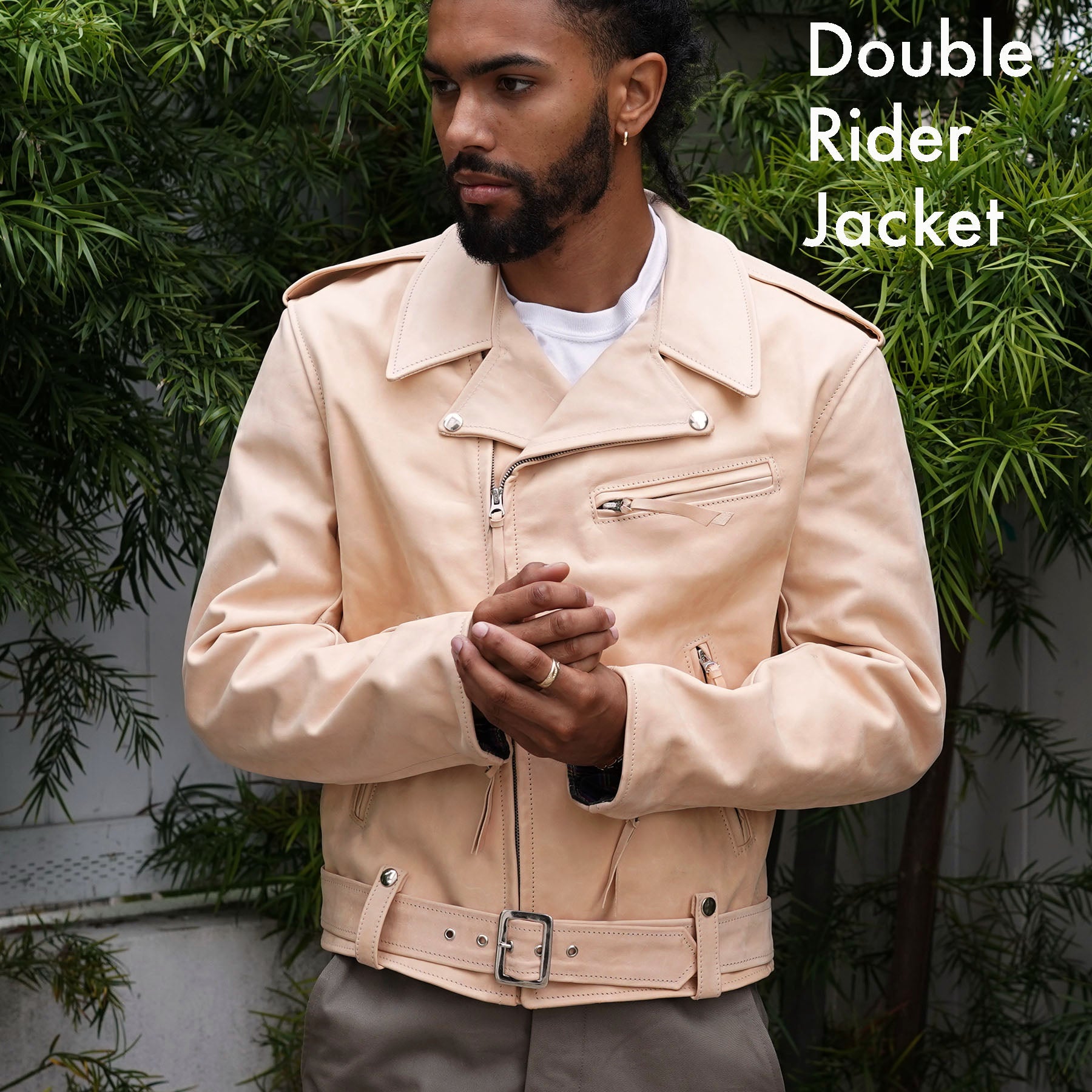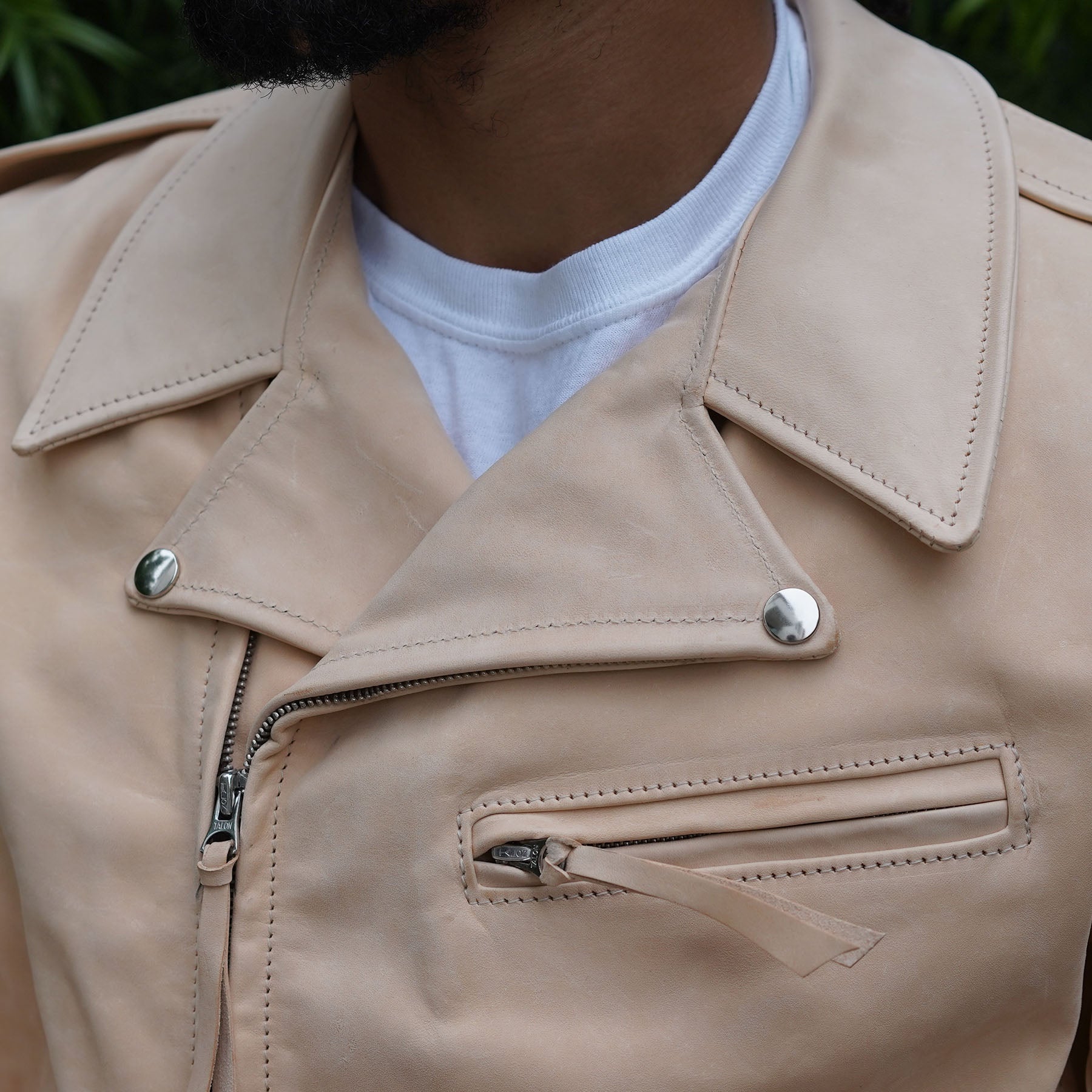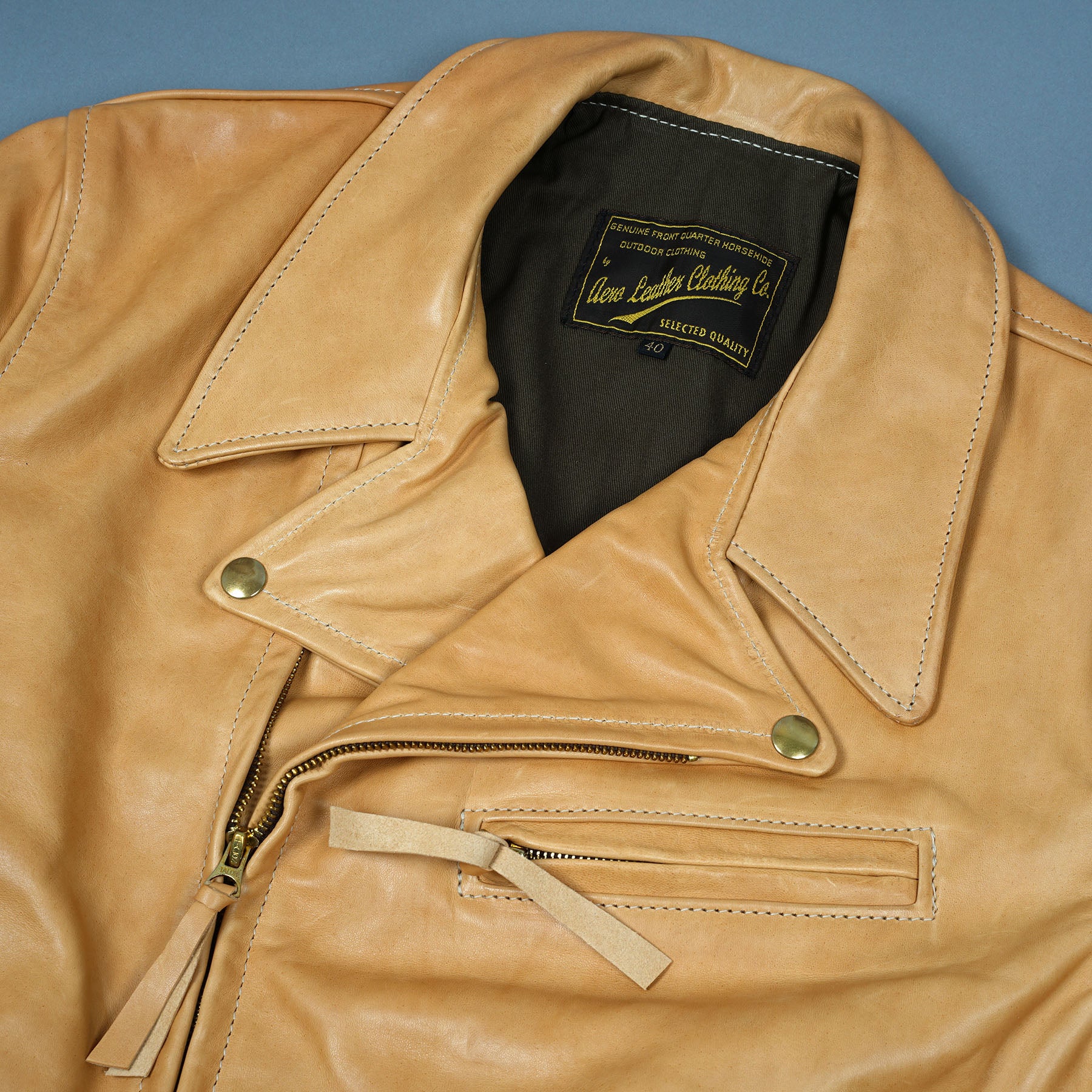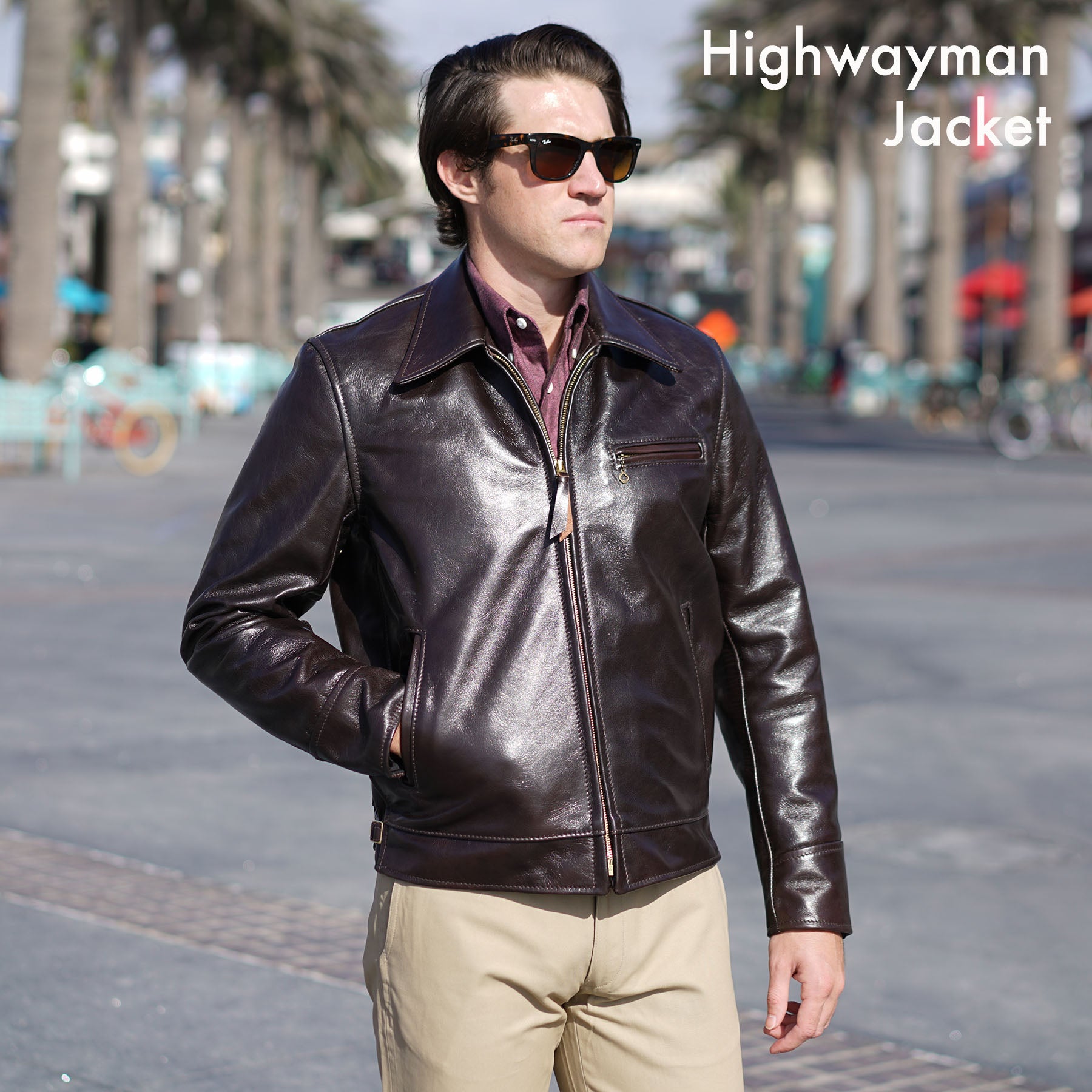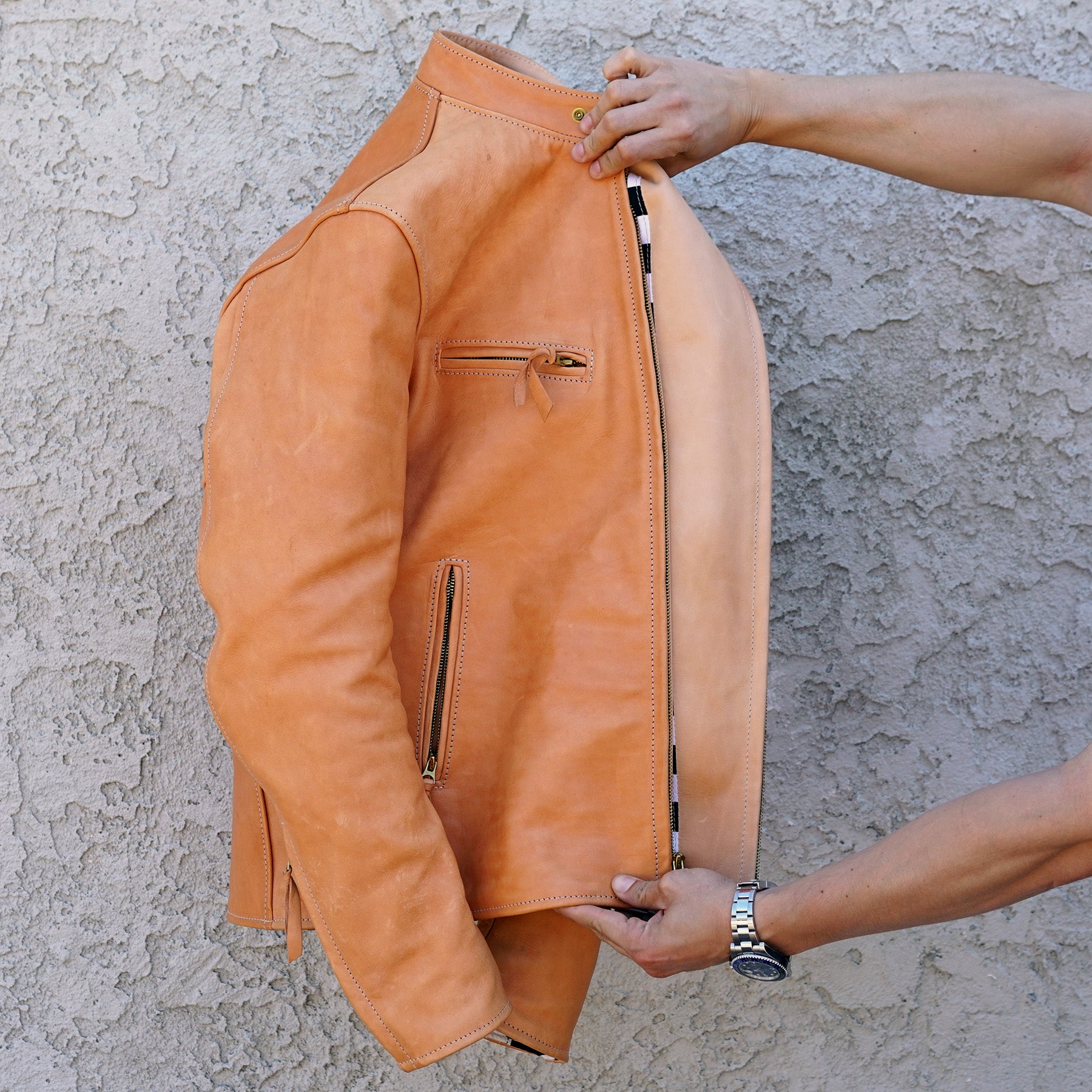 Custom Unfinished Horsehide Leather Jacket Project Deposit
---
This item is a deposit payment for either $673 (Cafe Racer & Highwayman) or $713 (Double Rider). An equal balance payment of $673 or $713 will be payable when your custom jacket is ready to ship. 
May we introduce an exceptional made to order opportunity! This gorgeous and supple leather is one of the premier skins offered by Comipel - one of the finest leather houses in the world. As a Front Quarter Horsehide, its sourced from the most desirable and consistent section of the animal. The skins are vegetable tanned in drums for five weeks and lightly oiled. The final product has all the natural markings and grain of the original skin. Normal wear, moisture, and sunshine will all darken the leather over time - imparting a gorgeous deep caramel patina. 
You can choose from our Cafe Racer, Double Rider, or Highwayman shapes. These exclusive fits are designed to work consistently with our typical Epaulet shirts and jackets. With a full range of sizes and a variance of up to 2" in both body and sleeve length, we can provide you with entirely customized measurements.
After that, choose your hardware color, pocket layout, and liner. Your jacket will be made expressly for you and delivered in approximately 6-12 weeks.

Detailed measurements are available, and we are always happy to assist customers via phone or email to achieve the best sizing.
Working with our exclusive model, you'll be able to customize your leather jacket with these options:  
Body Length & Sleeve Length: Order our standard, or adjust length in .5" increments from dropdown menu.
Chest Pockets: varies per design
Hip Pockets: varies per design
Cuff Zipper Placement: Zippers can be prominently exposed on the side cuff or hidden behind two besom seams in the back. 
Zipper: Choose Talon flat zipper pull or Valden chain pull. Also, choose brass or nickel.
Liners: Choose from solid cotton or a classic Scottish tartan.
MEASUREMENTS

Chest is measured from the front, laid flat, from one side to the other at 1 inch below the armpit seam

Shoulder is measured from the back, laid flat, from one shoulder seam to the other

Sleeve is measured from the shoulder seam to the end of the cuff

Length is measured from the back, laid flat, from where the collar attaches to the jacket to the bottom of the tail

Please note: you must allow up to 0.5" in variance from all measurements shown. Folding and sewing thick pieces of leather can and will result in slight differences from the cut piece measurements. This is unavoidable for the initial make of the jacket, but it becomes a non-issue with a bit of wear. Each leather jacket molds to you and softens with use. Measurements change and tend to even out. Small inconsistencies tend to go away as the jacket takes on your personal shape and develops its own character.
| | | | | |
| --- | --- | --- | --- | --- |
| SIZE | CHEST | SHOULDER | LENGTH | SLEEVE |
| 36 | 20 | 17 | 25 | 24.25 |
| 38 | 21 | 17.5 | 25.5 | 24.75 |
| 40 | 22 | 18 | 26.25 | 25.25 |
| 42 | 23 | 18.5 | 27 | 25.75 |
| 44 | 24 | 19 | 27.75 | 26.75 |
| 46 | 25 | 19.5 | 28.25 | 27.25 |
Final Sale Terms - All sales are final. Each piece is cut to order.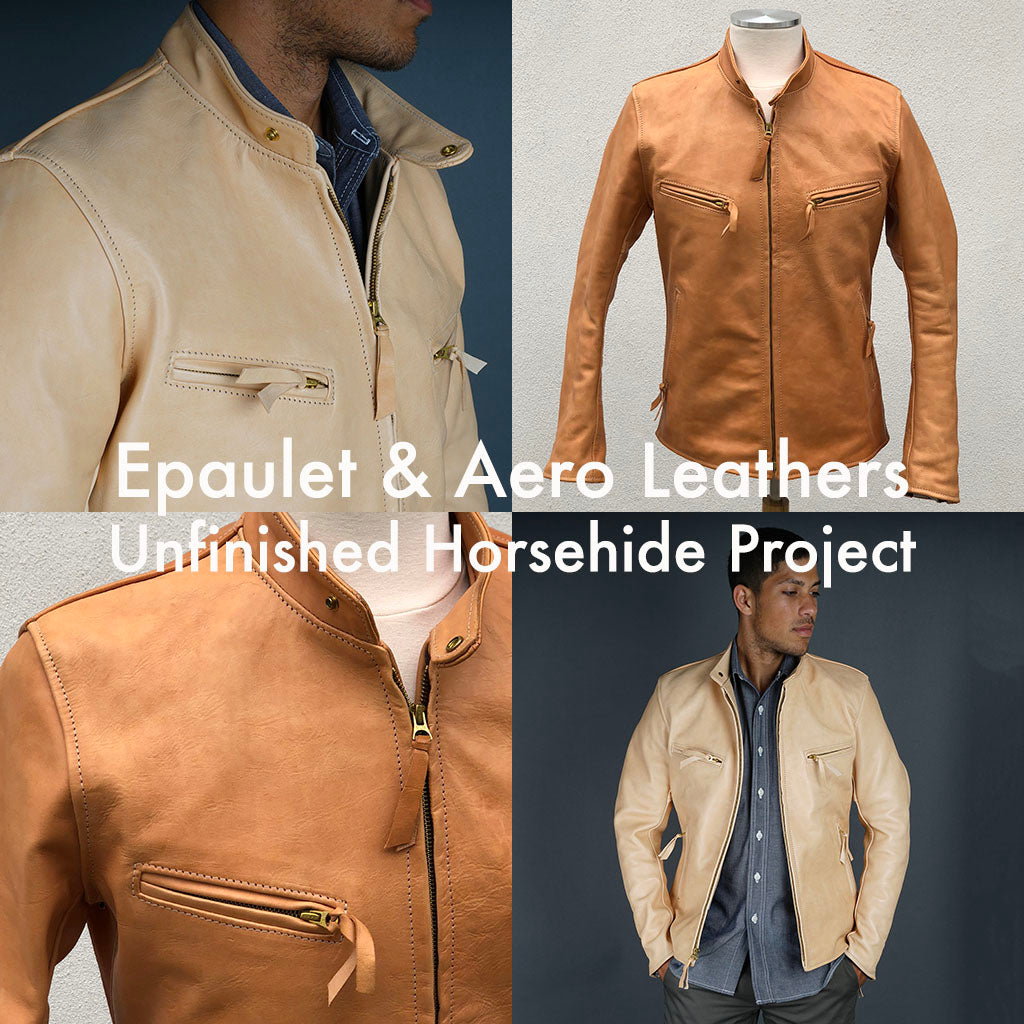 This product has no reviews yet.