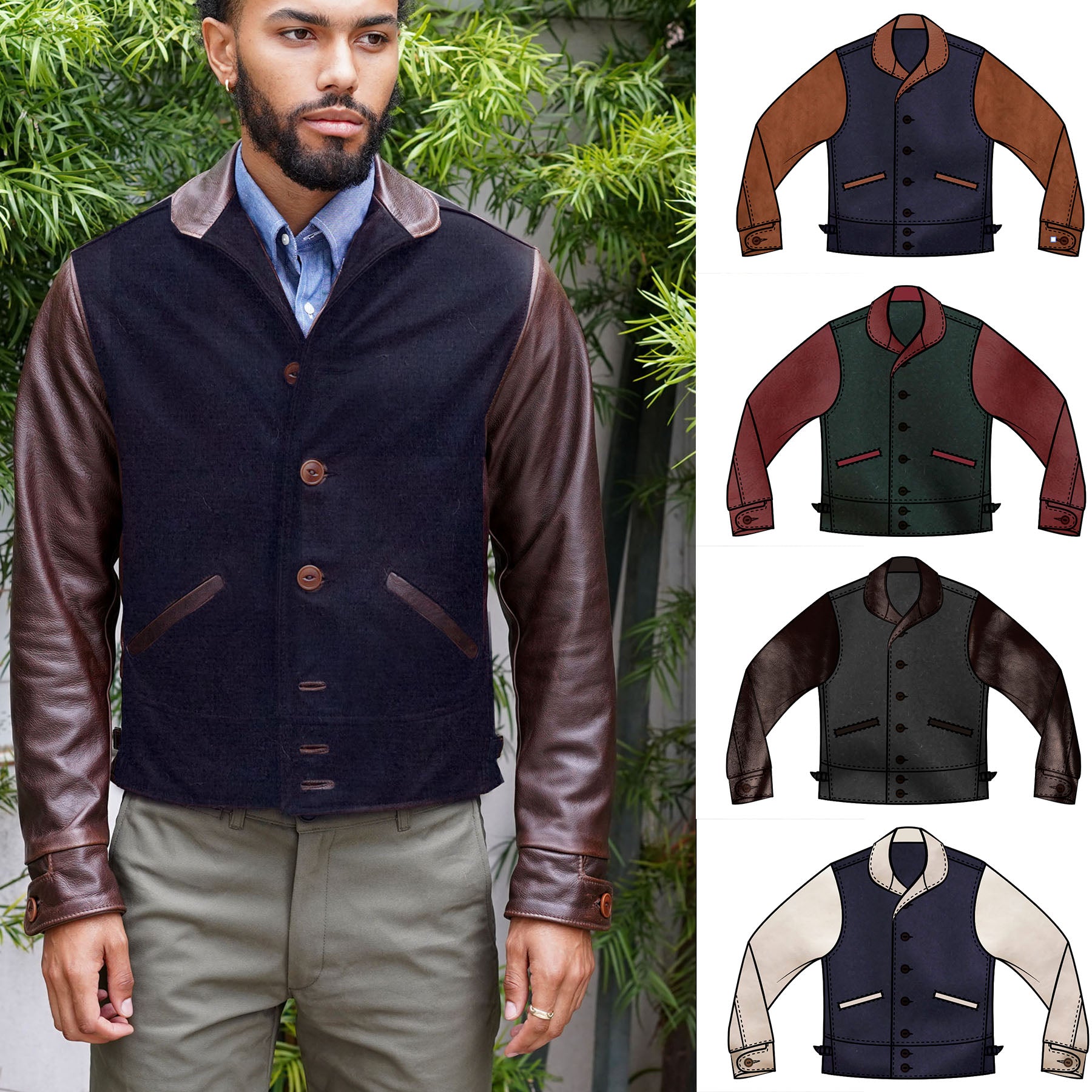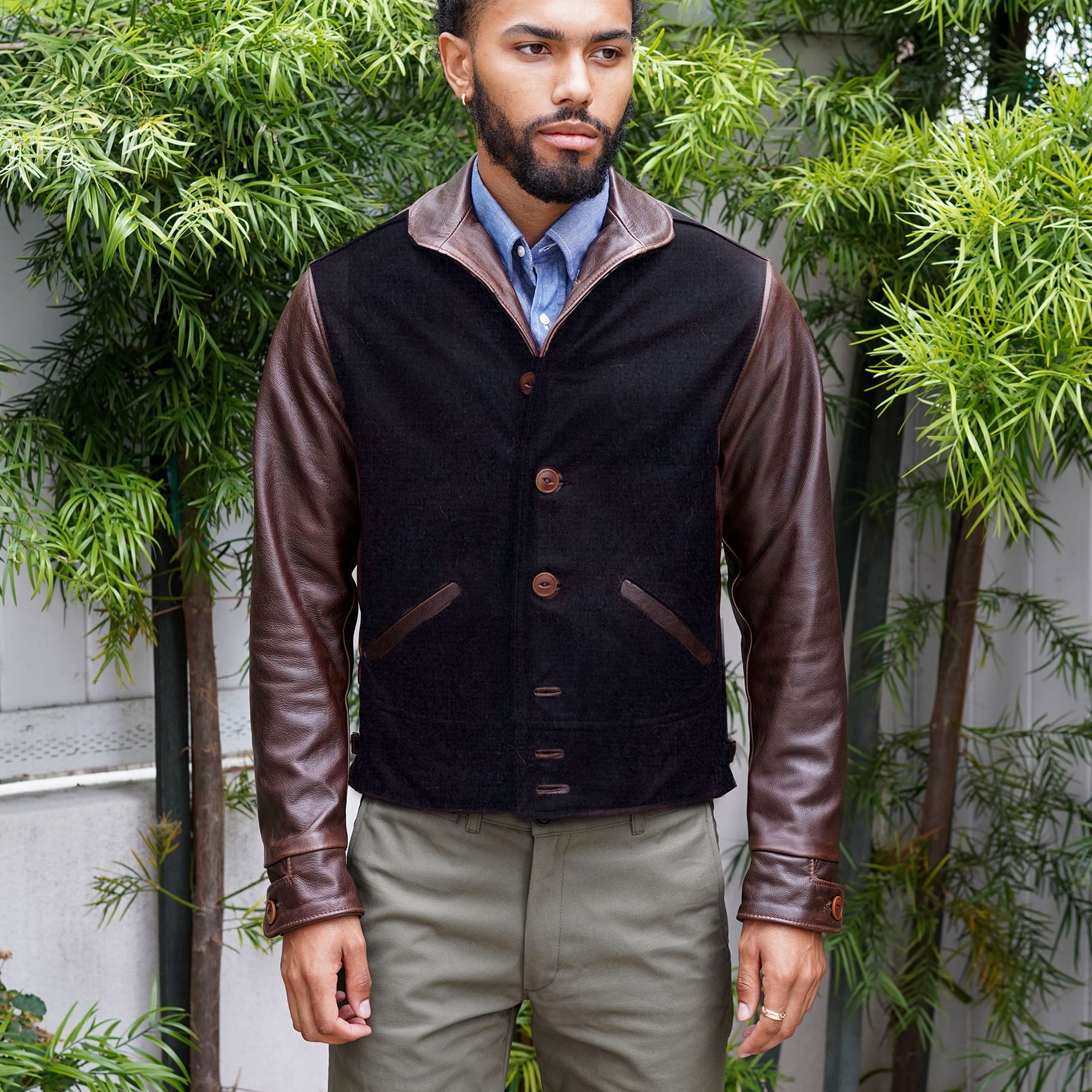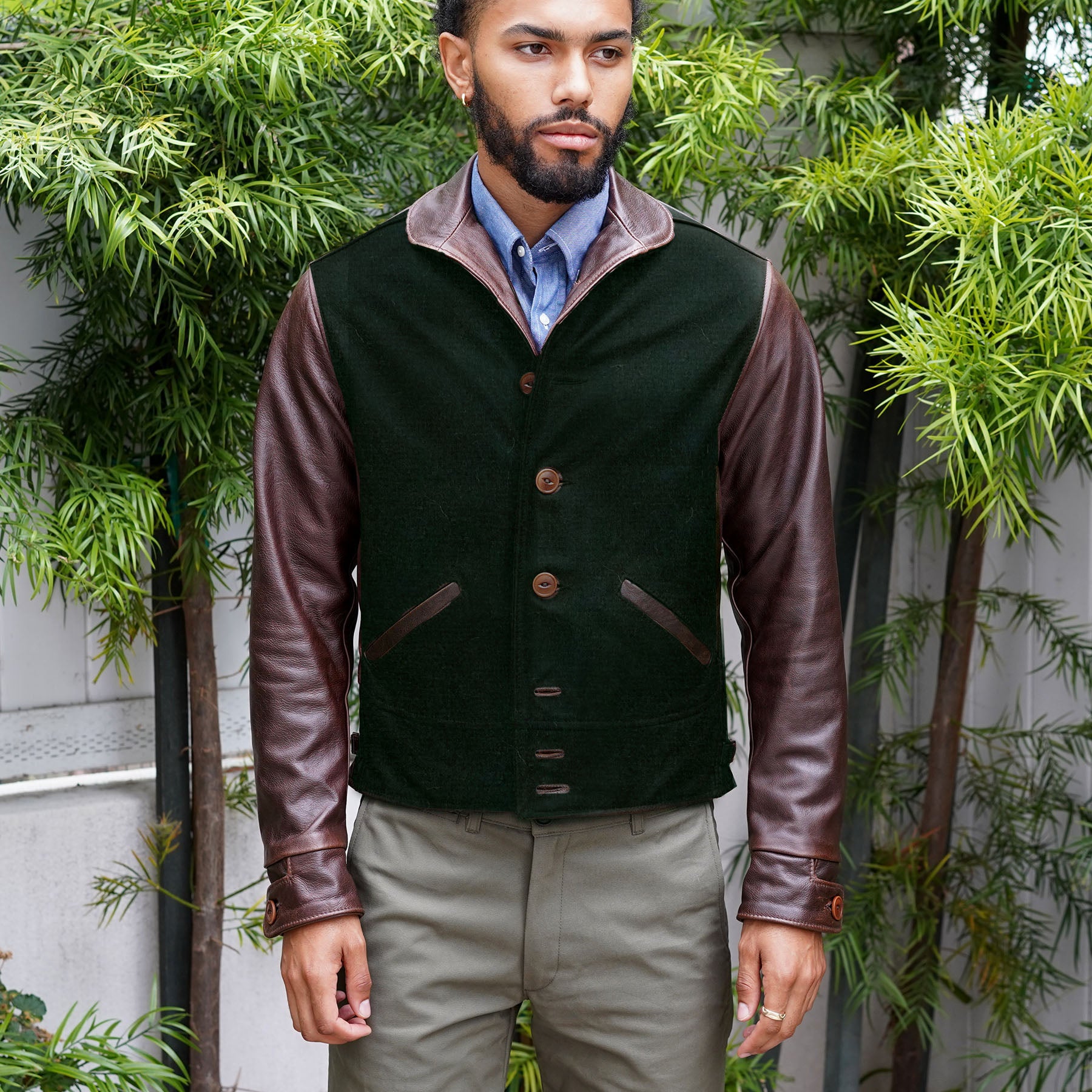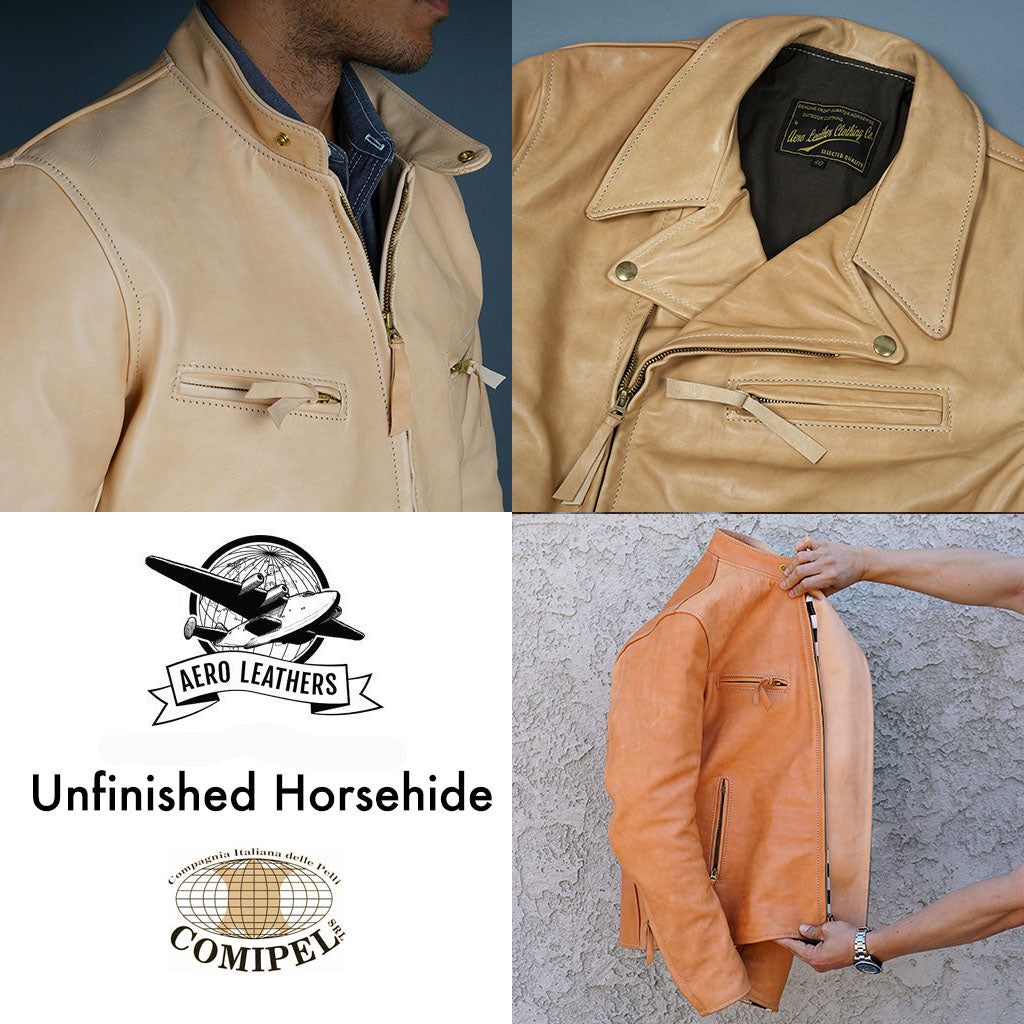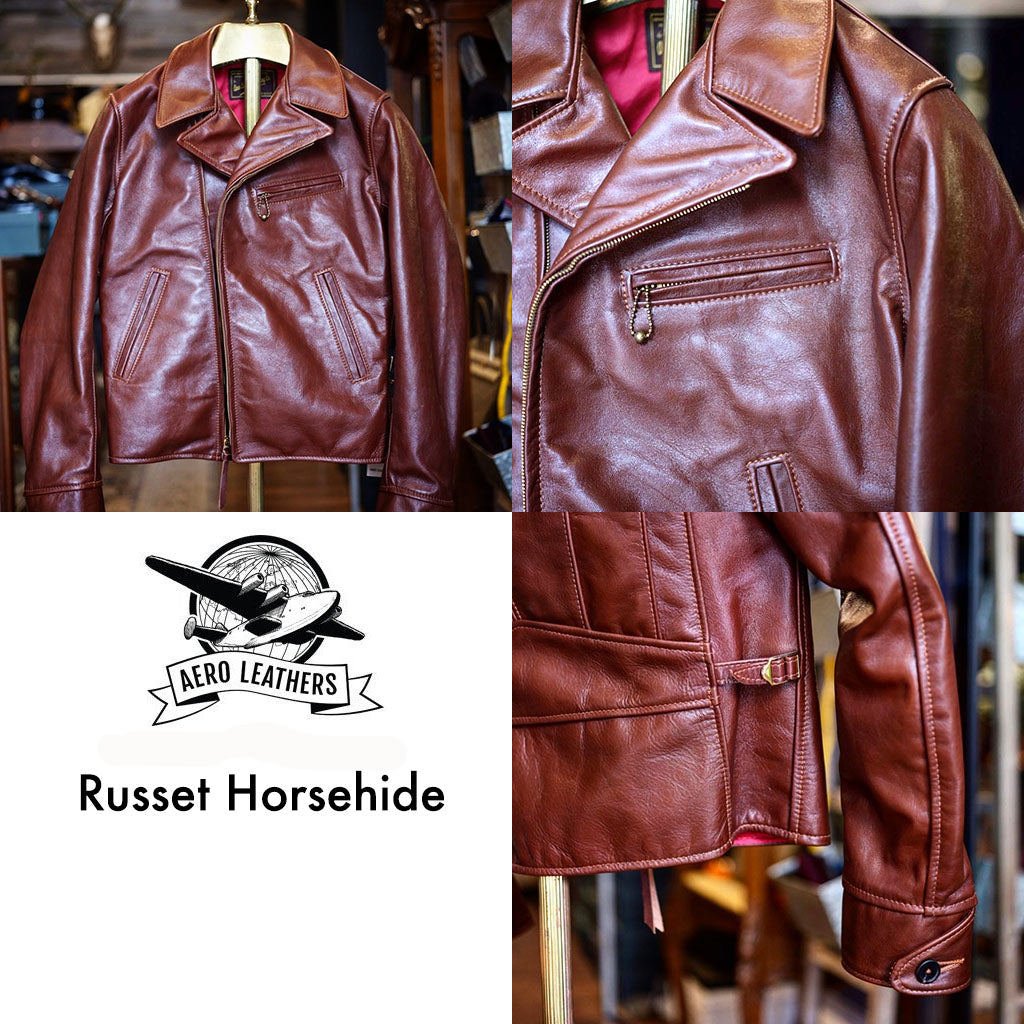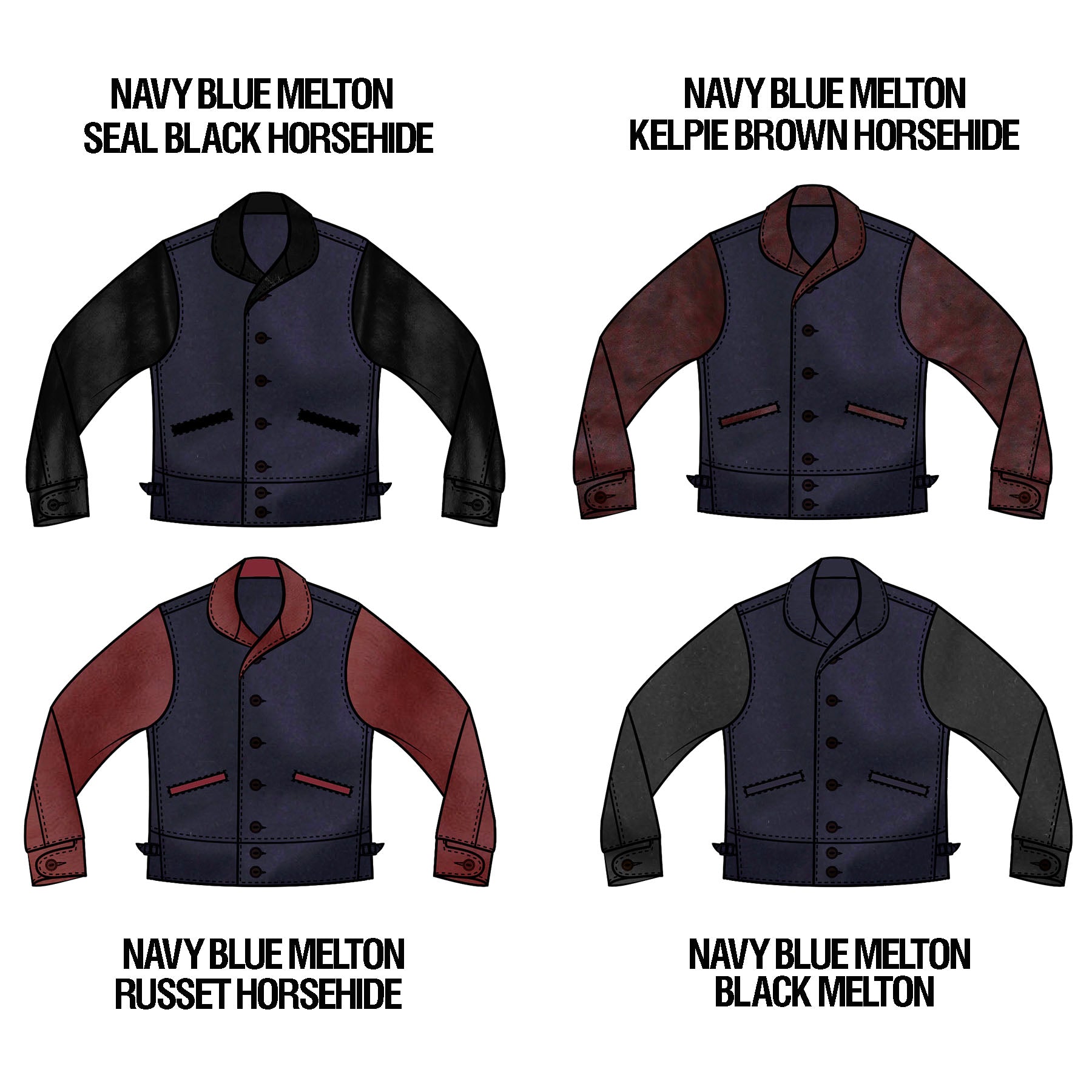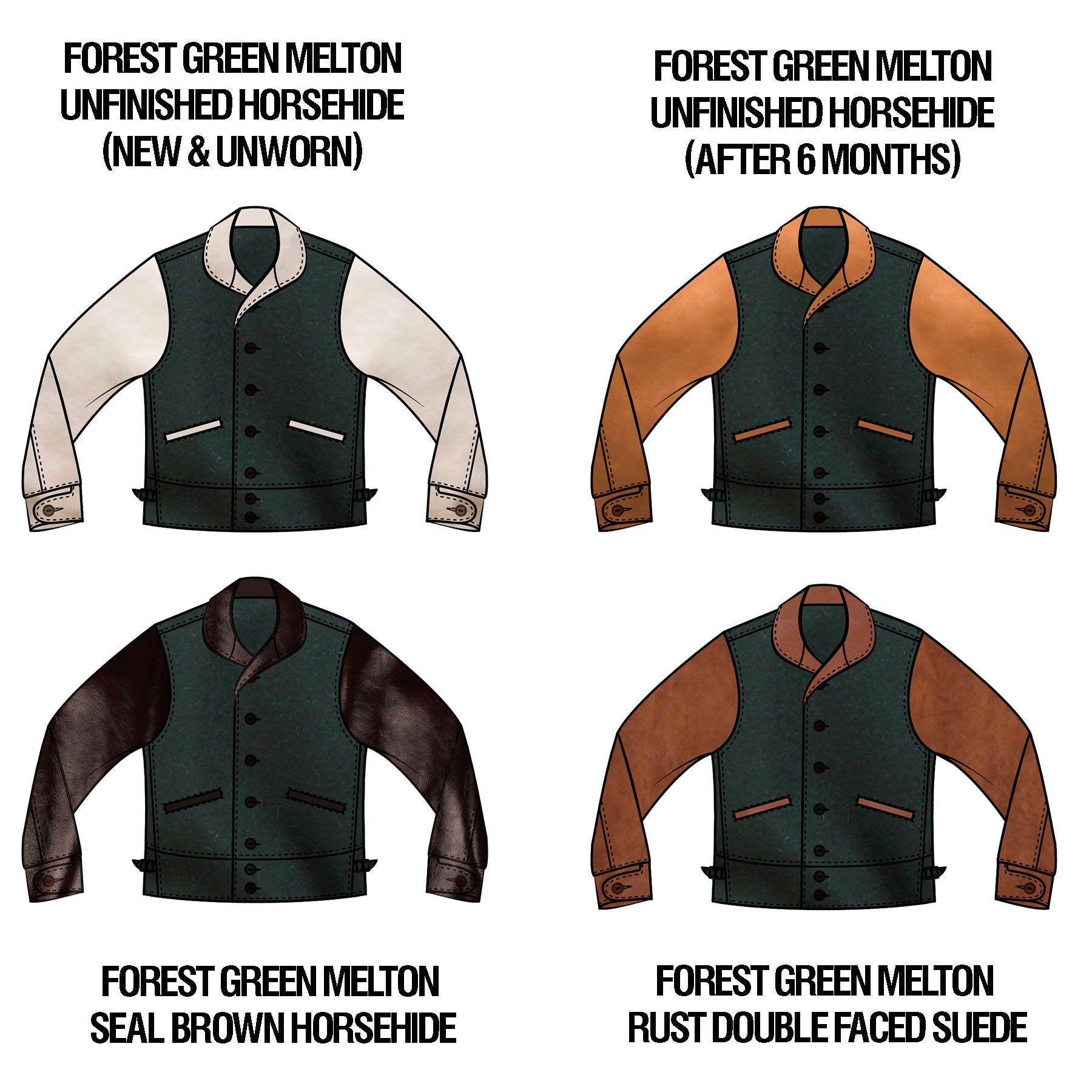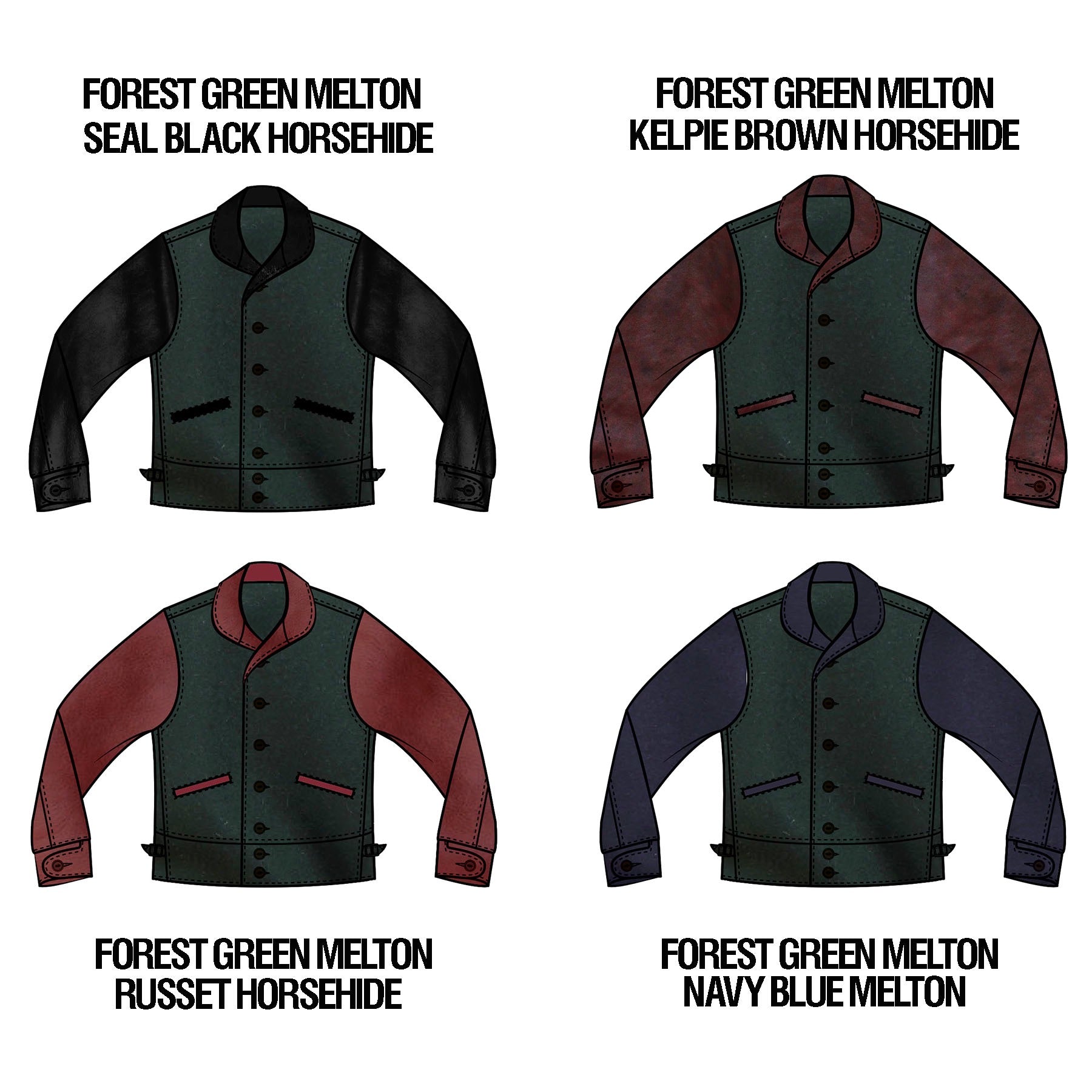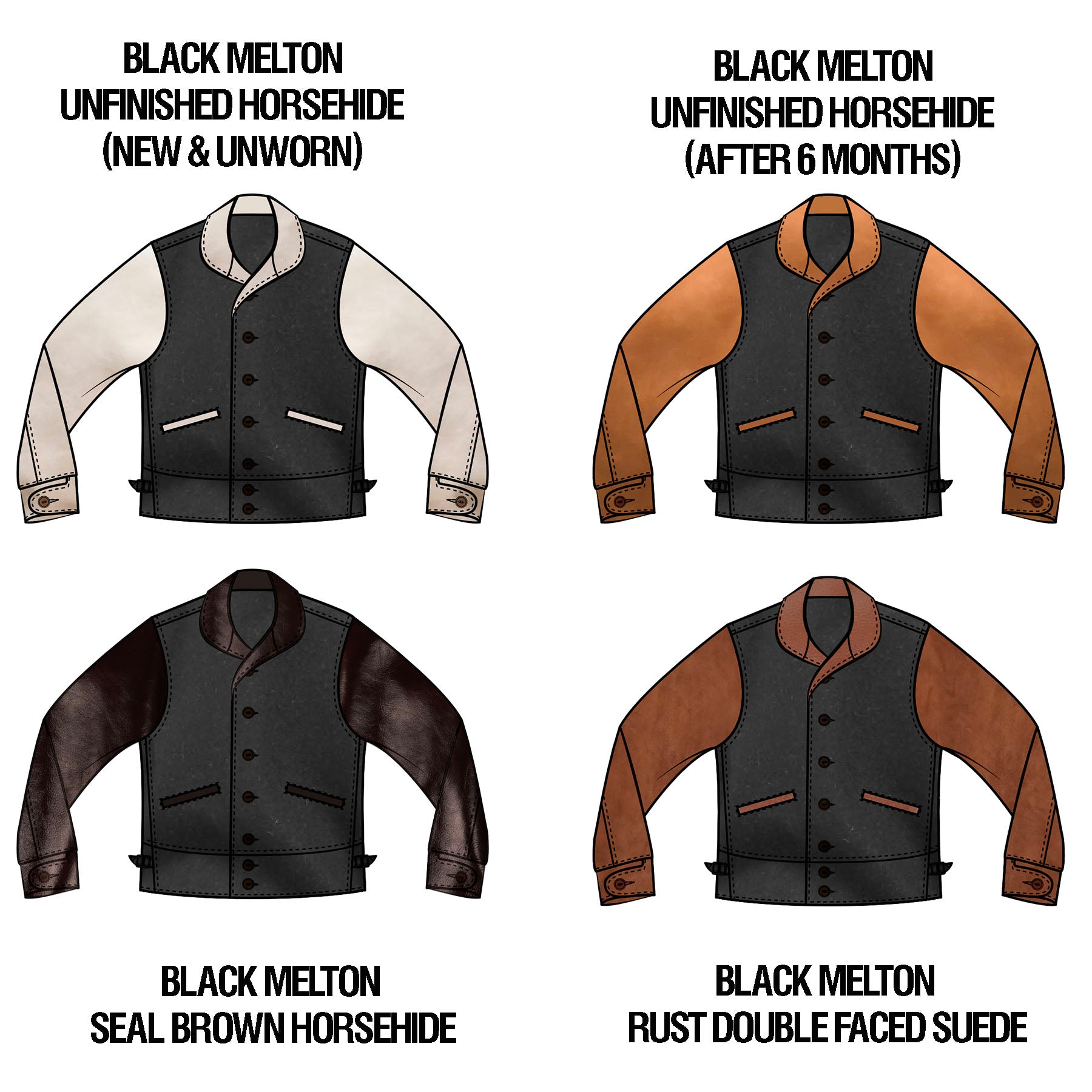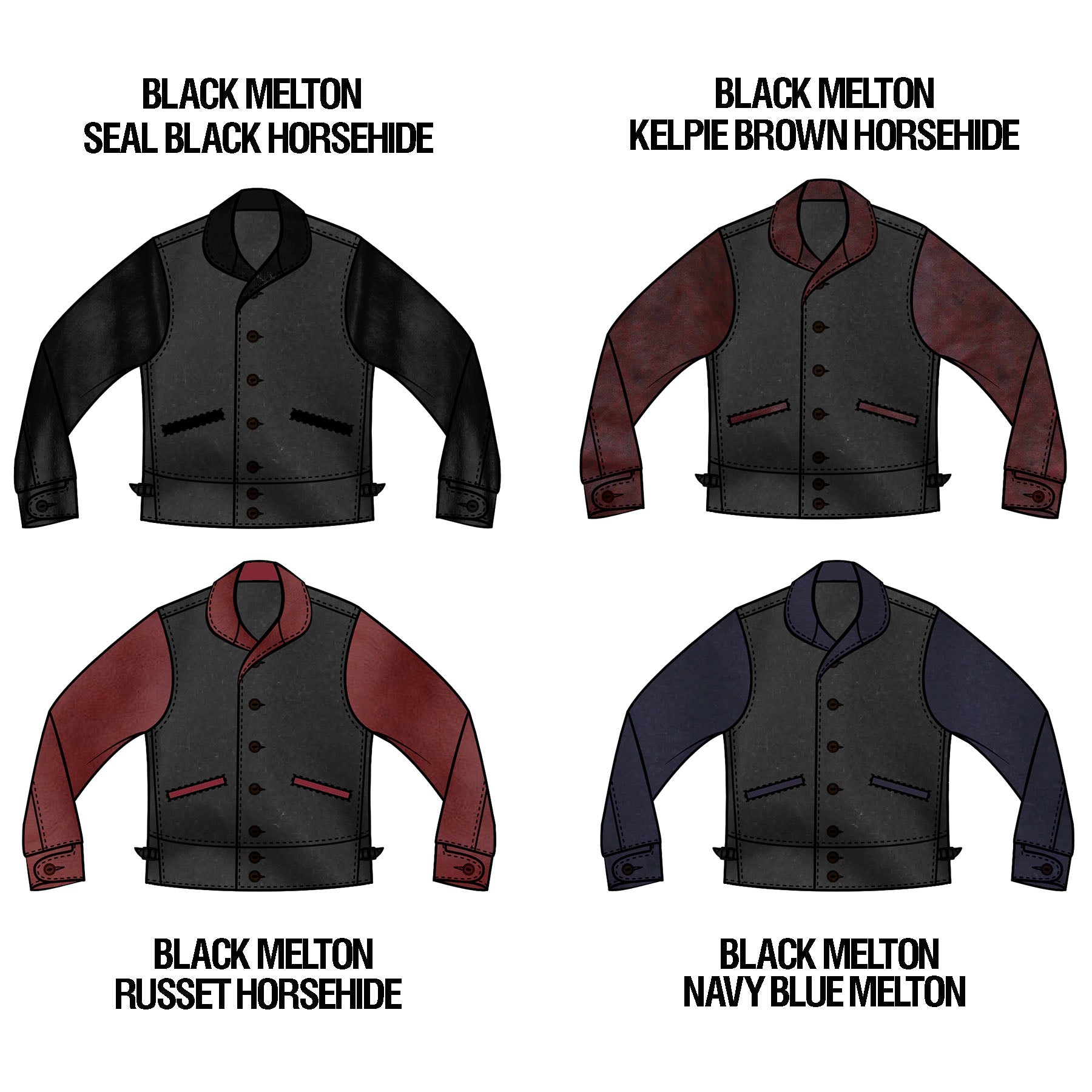 Made to Order Wool & Leather Thorpe Varsity Jacket DEPOSIT
---
This item is a deposit payment for $450 to $550 (depending on leather choice). An equal balance payment of $450 to $550 will be payable when your custom jacket is ready to ship. 
The "Thorpe" is our exclusive collaboration design with Aero Leathers of Scotland. This modern varsity jacket pairs a sturdy 21oz British Melton Wool body to your choice of six different leathers. for the sleeves, collar, cuffs, and trim. 
You can choose the base wool color, the sleeve & collar leather, sizing & length, and the body liner for an entirely customized piece. Each Thorpe jacket will be meticulously crafted in Scotland by Aero Leathers, and dispatched within approximately 8 to 12 weeks. 
The resulting piece is a fresh and current take on the classic varsity jacket. The quality of the materials and craftsmanship is absolutely peerless, and your Thorpe will be a true heirloom piece to cherish for countless years to come. Each of these leathers will gain a gorgeous patina with use... particularly our exclusive unfinished horsehide. 
This old-school design hearkens back to flight jackets of the 1920s. It has a comfortable shawl collar, an easy button-front closure, quarter top waist pockets, button cuffs, and waist adjusters.  Its well at home with denim and boots, but also supremely easy to dress up with trousers and more formal looks. 

Here's a rundown of all the available accent leathers. You can also opt to have the sleeves and collar done in a contrasting or matching melton wool. 
Brown "Kelpie" Horsehide: This mid-weight horsehide has a beautifully complex oiled finish. Named after a Scottish mythical creature, Kelpie Horsehide has a mottled finish with a subtle interplay of lighter and darker tones. It's reminiscent of the "museum calf" leathers used for footwear.
Unfinished Front Quarter Horsehide: this gorgeous and supple leather is one of the premier skins offered by Comipel - one of the finest leather houses in the world. The skins are vegetable tanned in drums for five weeks and lightly oiled. The final product has all the natural markings and grain of the original skin. Normal wear, moisture, and sunshine will all darken the leather over time - imparting a gorgeous deep caramel patina.  
Rust Double-Faced Suede: This unique and exclusive skin has smooth top grain on the inside and a fine brushed suede nap on the outside. It offers the elegance of a suede jacket with the strength and weight that Aero is famous for. It's a loving reproduction of suedes from the 1930s, and unlike anything else you've seen! 
Russet Mid-Weight Front Quarter Horsehide: This rich and distinctive leather has a gorgeous reddish-brown tone, a smooth matte finish, and an incredibly soft hand that's comfortable from the first wear. 
Seal Mid-Weight Front Quarter Horsehide (Dark Brown & Black): Similar in weight to the Russet Horsehide, Seal is available in brown or black. It remarkably consistent grain and tone. The brown is a very dark brown, and the black is jet black. It has a slightly waxy and polished look, and will perform better in wet conditions. 

This piece is designed to fit consistently with our typical Epaulet shirts and jackets. With a full range of sizes and a variance of up to 2" in both body and sleeve length, we can provide you with an entirely customized fit. Matched to jeans, chinos, or trousers, this versatile piece will quickly become a beloved staple in your wardrobe.

MEASUREMENTS
Chest is measured from the front, laid flat, from one side to the other at 1 inch below the armpit seam. Shoulder is measured from the back, laid flat, from one shoulder seam to the other. Sleeve is measured from the shoulder seam to the end of the cuff. Length is measured from the back, laid flat, from where the collar attaches to the jacket to the bottom of the tail

Please note: you must allow up to 0.5" in variance from all measurements shown. Folding and sewing thick pieces of leather can and will result in slight differences from the cut piece measurements. This is unavoidable for the initial make of the jacket, but it becomes a non-issue with a bit of wear. Each leather jacket molds to you and softens with use. Measurements change and tend to even out. Small inconsistencies tend to go away as the jacket takes on your personal shape and develops its own character.
| | | | | |
| --- | --- | --- | --- | --- |
| SIZE | CHEST | SHOULDER | LENGTH | SLEEVE |
| 36 | 20 | 17.5 | 25 | 24.5 |
| 38 | 21 | 18 | 25.5 | 25 |
| 40 | 22 | 18.5 | 26.25 | 25.5 |
| 42 | 23 | 19 | 27 | 26 |
| 44 | 24 | 19 | 27.75 | 26.5 |
| 46 | 25 | 20 | 28.25 | 27 |
Terms
1. All sales are final. Each piece is cut to order.
2. Delivery is scheduled approximately 6 to 16 weeks from order placement. 
3. All jackets will ship to Epaulet from Aero Leathers and be inspected before shipment to you.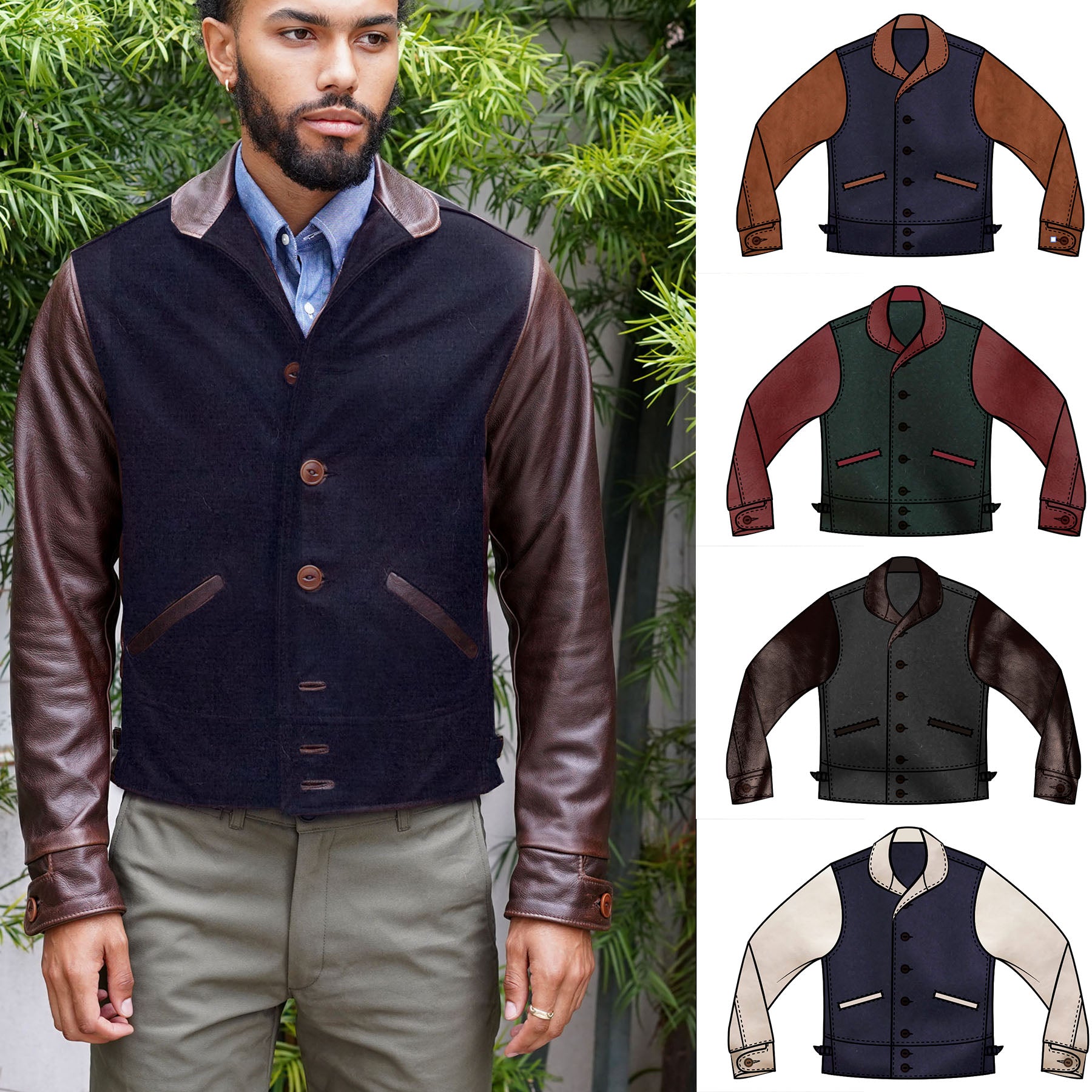 This product has no reviews yet.